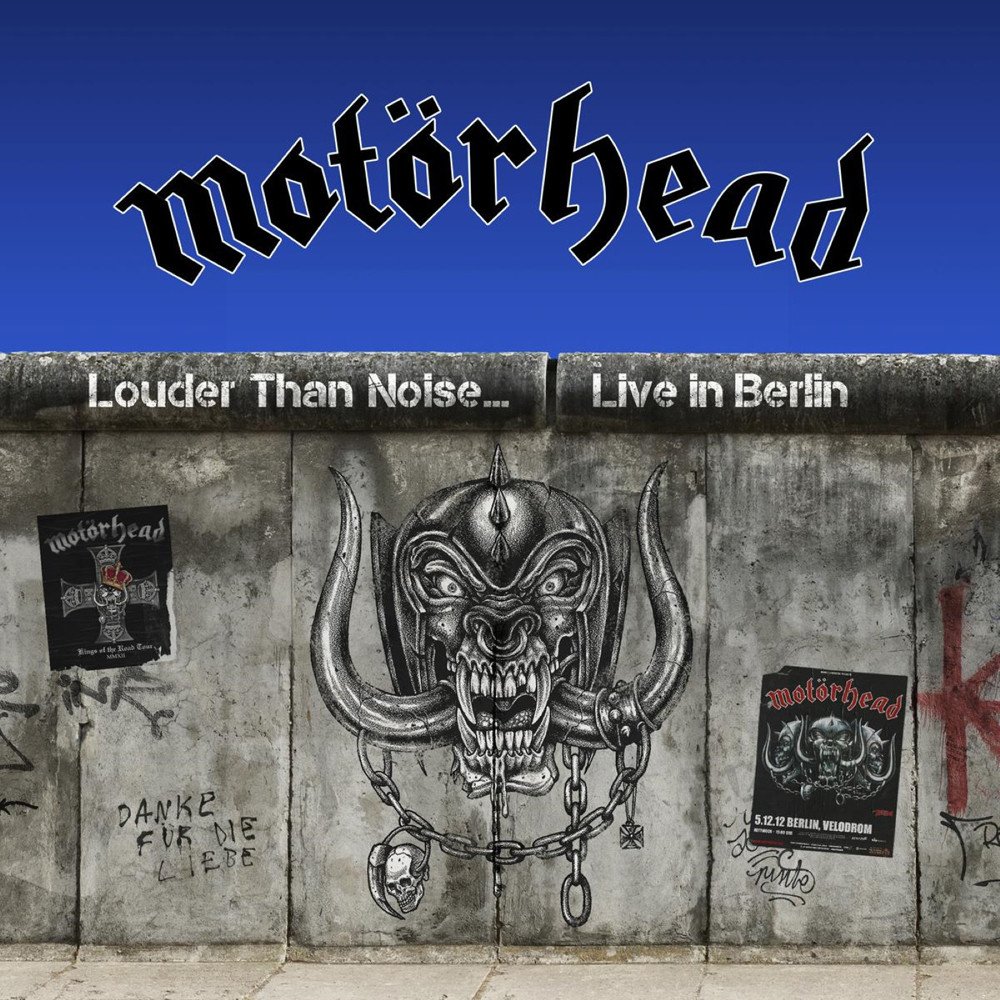 Motörhead–Louder Than Noise…Live in Berlin
Motörhead Music/Silver Lining Music
A new Motörhead live album will be released on April 23rd. The recordings for 'Louder Than Noise… Live In Berlin', are from their performance on December 5, 2012 at Germany's, the 'Berlin Velodrom'. Ian 'Lemmy' Kilmister, Phil Campbell and Mikkey Dee played one of their biggest-ever German gigs to 12,000 delirious, delighted and demented fans during the Kings of The Road Tour.
The ones among us, who have had the privilege of seeing this band live, will likely endorse that a Motörhead show has always been a rock and roll party of the highest quality. And I can speak from my own experience, because I must have seen them about ten times. This beautifully captured show is no exception to that statement. The opening of the show already says it all in that regard.
'Guten Abend…….We are Motörhead…….Are you doing alright?………Philip, if you'd be so kind'
A show that brings back fans to the loud, raspy vocal driven, high energy, raw, blues and rock 'n' roll driven anthems of this legendary band. This live show is captured with all raw elements and energy you can wish for. The sound of the recordings is excellent. Longtime producer Cameron Webb did a great job with the mix. I also took a small glance at the video of ,,Over The Top" that is already online, and from what I have seen, the show is also beautifully taped for the DVD that comes as a bonus with the CD.
This is truly a great moment captured in time, from a power trio that was on top of their game. A set list that feels like a greatest hits compilation. A best of the band catalogue, right until 2012.
From classics like 1979's ,,Overkill", 1980's ,,Ace Of Spades" and 1984's ,,Killed By Death" all the way to 'newer' work like 1991's ,,The One To Sing The Blues", 1992's ,,You Better Run" or 2010's ,,I Know How To Die".
Many fans still mourn the death of the legendary Lemmy, but this is certainly a beautiful moment in time, that has been recorded and perhaps it will ease the missing of this legend a bit.
In any case, I am convinced that this is a great product that fans will be able to appreciate and maybe even some new fans will be introduced to this legendary band. This album lends itself perfectly to get an impression of who Motörhead was.
This album is definitely a must for fans of this band and a little tip from me, PLAY IT LOUD !!!!
Track Listing:
,,I Know How To Die"
,,Damage Case"
,,Stay Clean"
,,Metropolis"
,,Over The Top"
,,Doctor Rock"
,,String Theory"
,,The Chase Is Better Than The Catch"
,,Rock It"
,,You Better Run"
,,The One To Sing The Blues"
,,Going To Brazil"
,,Killed By Death"
,,Ace Of Spades"
,,Overkill"


#motorhead