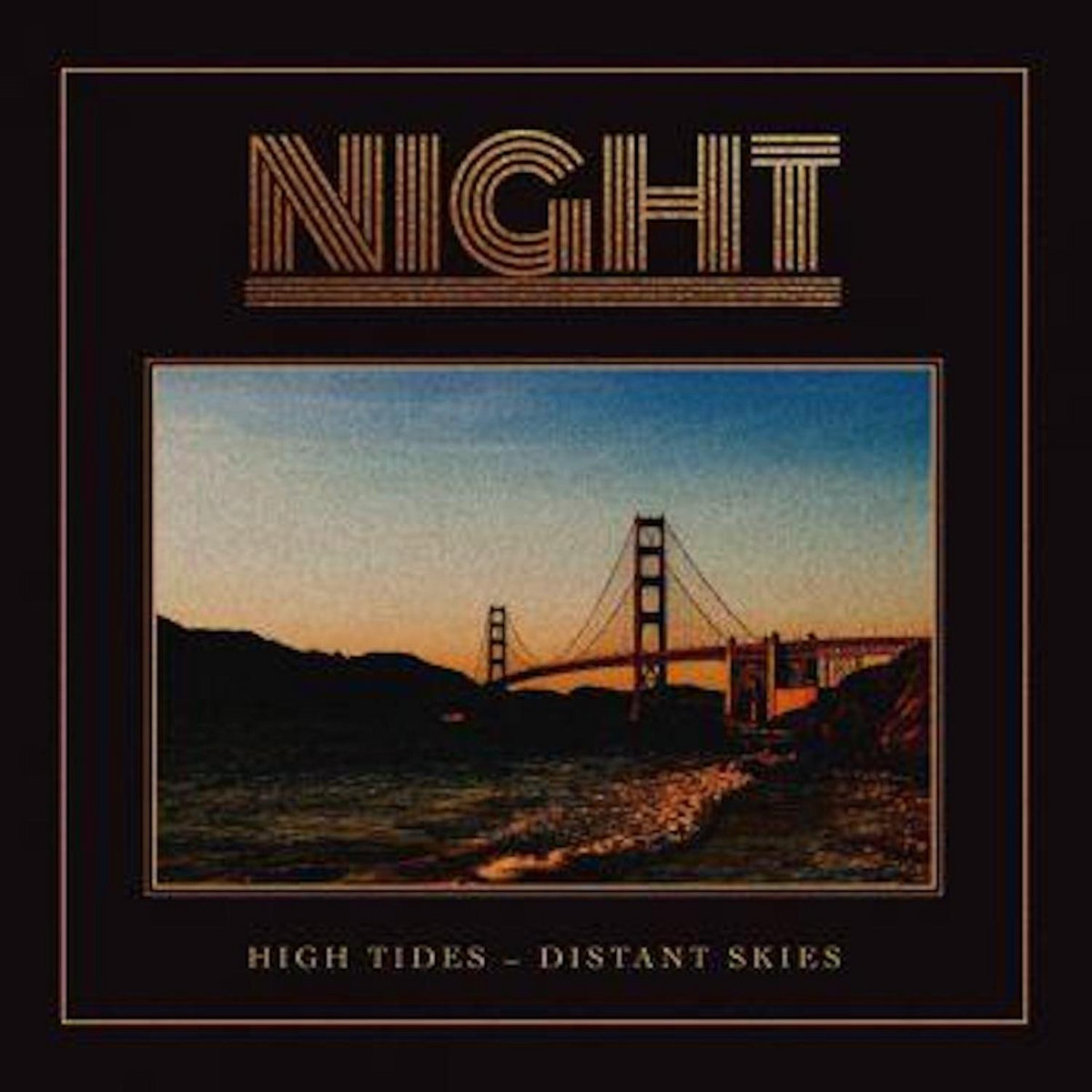 NIGHT-High Tides, Distant Skies
The Sign Records
Night is the band that once started as an almost tribute band for Judas Priest and Saxon. They welded the classic ingredients of the two NWOBHM bands together and released a debut album that created minimal ripples instead of waves. With their roots dominantly pawing in the classic metal scene and relaying on their guitar driven melodic hard (or heart) the band has slowly emerged from anonymity. 2017 release 'Raft Of The World' already pushed towards a more Thin Lizzy and 70s Scorpions like sound. 'High Tides, Distant Skies' still resonates the metal-packed rock glory and 70s licks, but also whelms with deeper classic ingredients from all over the contemporary rock palate.
If you like to be warped back to the days our airwaves were committed to quality music, then Night is the band for you. They make many classic rooted acts sound rather pale around the noses. Sure, the music is not renewing, nor is it bringing a new sound to the plate. But what Night delivers they deliver insanely well.
They even grip back to the typical organic resonating sound of the 70s when ,,Shadow Gold" stumbles onto us. Swirling guitar licks fired in fine twin tune. The riff is blunt and echoes with vocals reminiscent to BÖC's classic era. ,,Burning Sky" is deeper rooted in the Maiden debuting days and Priest's ,,Sinner" era. Psychedelic tinging vocals add poise and the chorus nests on the spot. Greta Von Fleet has to bow down deep to Night if you ask me. It just comes across with more sincerity. Especially when the funky mid-section hits with its clean throbbing bass and 70s funk picking. It's difficult to pin point highlights as the overall quality is high. Recognizability is at hand the Knopfler tinged guitars in ,,Crimson Past", making it instantly appealing. The same flag flies for the plucking guitar -riff interaction of ,,Falling In The Black", the Motörhead-hook of ,,Give Me To The Night" (Hello Budgie!) and the wonderfully opened ,,Under The Moonlight Sky" with its insane twin guitars and throbbing Guess Who bass line. Some Hawkwind twitches add more psychedelic elements and the chorus immediately evokes the Blue Öyster Cult vibe of their 80s ('Revolution By Night') releases. ,,Running Away" has a nesting entrance with Thin Lizzy like strut. Gorham definitely will listen in with jealousy, even though the song echoes more Sad Café / Scorpions fused melodies. Unfortunately, it only lasts for 9 tracks and within 40 minutes the fun comes to an end…. Much like vinyl records in those days did (actually).
'High Tides, Distant Skies' is a square cut of 70s classic rock and it radiates with quality. The best part however is the sincerity and love for the era it breathes. It just captures the elemental organic (hippy) honesty of those classic days and revives the days of Woodstock better than Von Fleet. I'm sorry for upsetting you fans!
#night #classicrock #hbls #headbangerslifestyle #awayoflife