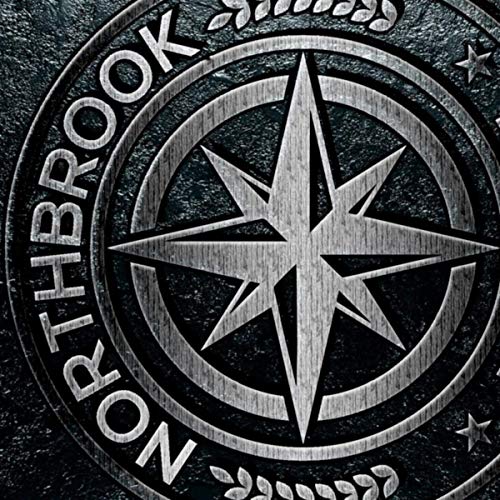 NORTHBROOK-Northbrook
Independent
Making raw heavy riffs collide with mega melodic harmonies and a jumpy forward drive, Northbrook reports to the front with their self-titled debut. With the band's influences raging from King's X, Metallica and Dream Theater all the way to Jimmy Eat World and Clint Lowery, I was triggered to listen in. Bringing together a wide array of influences in your bio is one, living up to that diversity is, of course, something entirely different.

Though formed in 2016 and rather young of posture, Northbrook definitely managed to overthrow me upon first listen. The band's rousing charisma is blended with impressive heavy rooted riffs and thunderous groove, drenched in a brooding pool of melodies and perfectly dosed hooks. The combination of these ingredients we have likely heard before, but Northbrook does deliver it with sincerity unmatched. The 7 tracks on this debut are, to say the least, promising. ,,Clarity" clarifies all the above within only 15 seconds when the guitars takes off with a loud ravishing riff taking them into the dual vocal section that just gels perfectly with the tremendous striving (nu-metallic) bass and drums. Hovering over this potion is a slithering guitar riff and clinging melody that is followed by the multi layered bridge and chorus. Loud roars and melodic howls give it the needed edge and appeal. Tapping a different vein with ,,Fight For Me", Northbrook stirs up emotionally with towering harmonies and ear mingling beauty. It serves off Nickleback as dated immediately. Guitar tandem Luke Sears and Mike Gustafson, Billy Hudson (vox), Nickle Bambauer (bass) and drummer Steve Merritt really possess the quality of being mega melodic without lacking a true punch. My mind drifts towards the accessibility of a slick Volbeat version with King's X magnitude choirs. The band scatters their influences wildly and remain to stay on par uniquely stirring it up as their own. Insanely melodic on ,,Someday", morphing ominous and progressive ,,Active Listeners" that suddenly erupts with a grooving urge, to shift shape again for the drone toned ,,Make It So" that also packs tremendous power. Walls of guitars pull forward to evolve into slick whaling riffs with Hudson delivering impressive emotional vocals. It's sends shivers up and down your spine with impressive guitar and vocal interaction. Crisp and clean solos in close harmony add extra spice to the withheld fire brooding. I love this song!
The pace goes up again for the hard-hitting ,,March On", doing the title justice. Gripping back to a Grohl-ish vocal sized melody that unloads with action packed choruses and anger-laden roars. Again the multi dimensional vocals provide extra depth uplifting it from the modern mediocre masses. The song really kicks up dirt and on YouTube it is put to a gameplay video by one of the band's friends, perfectly matching the magnitude of the deliverance. It also contrasts deeply with the last track of the album ,,Coffee". It is mega melodic, acoustic, containing a feel-good vibe, and lightweight vocals that are sticky and suggestive. The vocal interaction and multi-layered vocals are preserving the King's X ingredients as well as a sub note I always tend to hear with Blacktop Mojo's slower tunes. Exquisitely melodic and with impeccable charisma it enrols in cheer beauty.

Northbrook put themselves on the map with this debut recording. Though there is still room for improvement, it already radiates maturity and confidence, with tracks that are top rank material. Diversity is key and with everything fusing this well, the sky is the horizon. An impressive, not to say 'spectacular', debut putting them on my top 1 spot as hard rock hopefuls.


#northbrook #headbangerslifestyle #hbls #awayoflife #independent