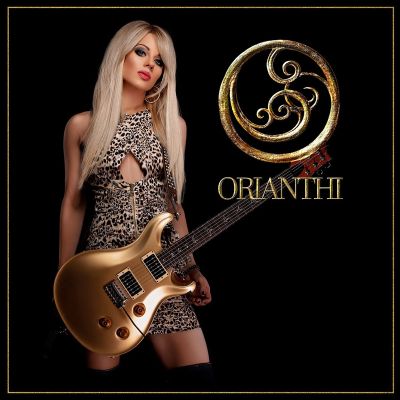 ORIANTHI-O
Frontiers Music srl
Female guitarist/singer Orianthi Panagaris was born in Adelaide, Australia and her very first single ,,According To You'' really got her noticed on an international level. She was asked to play in the band of Michael Jackson, later moved on to Alice Cooper and country star Carrie Underwood while also releasing three albums of her own.
In 2014 she got romantically involved with former Bon Jovi ace guitarist Richie Sambora but that relationship ended four years later soon after the release of their album they recorded under the banner RSO entitled 'Radio Free America'. I can't imagine that album sold a lot of copies as it was not so fantastic.
For her fourth album she hooked up with producer/song writer Marti Frederiksen (Brother Cane, Aerosmith, Ozzy Osbourne and Carrie Underwood) and this record called 'O' has a lot more balls and power than 'Radio Free America'. Marti Frederiksen and Orianthi have chosen for a modern rock record with some steaming guitar work, some potent rockers, a very sensitive ballad (,,Crawling Out Of The Dark'') and some very modern sounding tracks where you can clearly hear the sound becoming more 'mechanical' (,,Sorry'') because of the programming provided by Orianthi and Frederiksen. At least 'O' is a rock album although there are some poppy elements on the record as well (,,Company'' and also ,,Moonwalker''). As an artist Orianthi shows the world she is not only a good guitarist but has also a very decent voice. For fans of very modern rock 'O' is surely worthwhile hearing but if you are a classic rocker this record might be not totally suited for you.
#orianthi #martifrederiksen #hbls #headbangerslifestyle #awayoflife