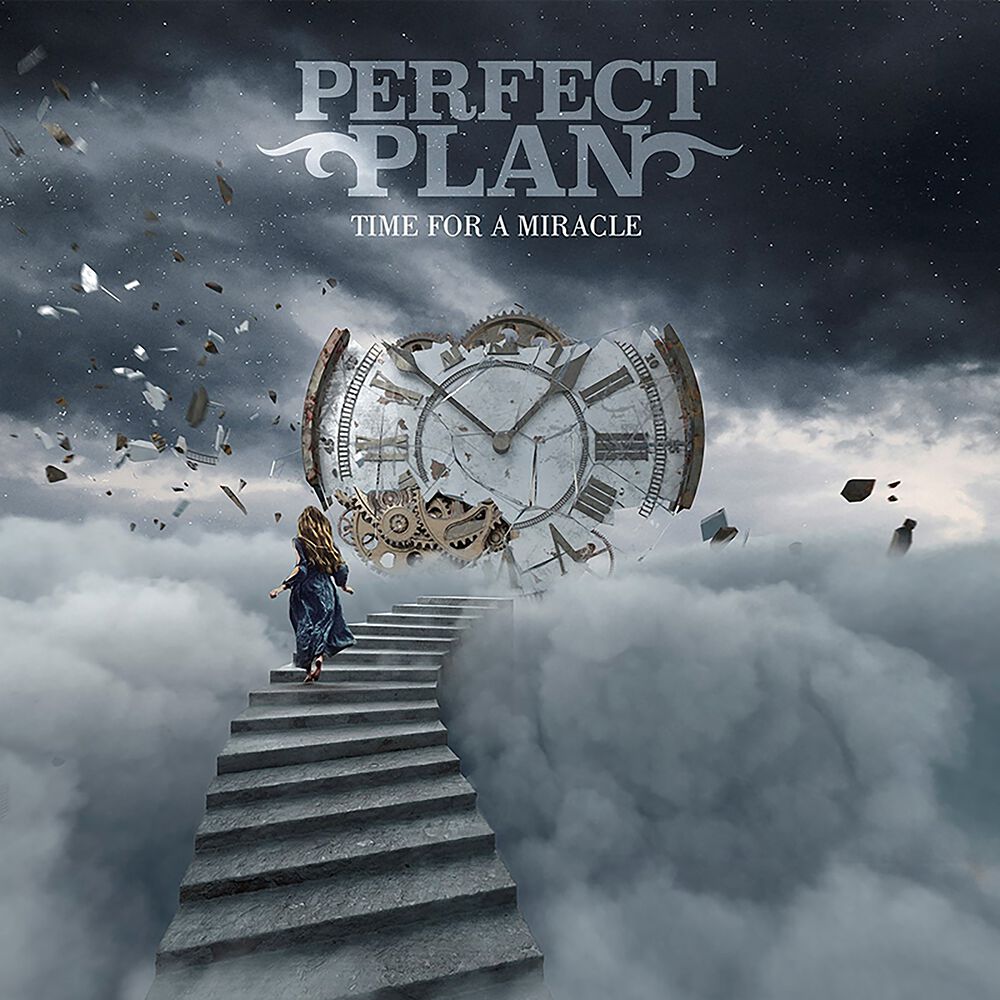 PERFECT PLAN-Time For A Miracle
Frontiers Music srl
If Perfect Plan's 2018 album `All Rise' made one thing instantly clear, it is the fact that we are dealing with a band of high potential. `Rise Up' landed on many fans top 10 list and went in hot rotation. Working towards the release of `Time For A Miracle' the band released the covers EP `Jukebox Heroes', exposing their influences and their own high potential. Rerecording and rearranging AOR classics from Giant, Survivor, Foreigner and (less expected) The Storm, the band and Hilli displayed a cunning approach as well as their love for the genre. Performing classics staying close to the originals but still injecting them with refreshing new panache. And now, there's a brand-new chapter entitled `Time For A Miracle'.

Another flag bearer of the New Wave Of Scandinavian Melodic Rock (NWOSMR) Perfect Plan fuses typical genre ingredients with a modern and fresh approach. `Time For A Miracle' preceded the album on YouTube and generated great reviews and hits. The title track opens the album with a typical Perfect Plan poise. Fredrik Forsberg lays down a marching drum slowly opening the throttle. Cinematic sound effects and swirling keys from Leif Ehlin add extra suspense and open to Rolf Nordström's powerful classic hard rockin' riff and pitch perfect melodies and solos. Kent Hilli's vocal deliverance add to the power packed energy cocktail. Crooning into action with a growl and a howl he pitches up to pit perfect melodic. It is impressive how Hilli switches between registers. Overall, he touches base with a perfect blend between Jimi Jamison (Survivor, Cobra, Target) and Lou Gramm (Foreigner), with little hints of Keith Slack (Steelhouse Lane) and Joey Tempest (Europe) present in the melodic bridges. ,,Better Walk Alone" is another energy packed cock rocker that leans on the shoulders of Foreigner vocally and in its vocal melodies. Combusting around a driven riff and hard hit drumming, the song definitely states the bolder approach of Perfect Plan mapped out on this new record. All music is delivered with undaunted valour confidence. ,,Heart To Stone" I more up-tempo but slicker melodic and wells with emotional tendencies towards its adventurous melodic chorus crafted around short-lived lift towards memorable bridge – refrain action. Nordström's solo is simply magnificent and matches mood and pace. ,,Fighting To Win" is opened in the best Survivor tradition, with menacing piano-vocal interaction. Kent delves deep and shows his immense range making the track radiate. Lyrically everyone can relay to, but it is the way it is delivered winning me over. The song wells with emotion and slowly builds in best melodic rock tradition. ,,Everytime We Cry" is another signature Perfect Plan track with an insane (Peterik) intro, and the song packing insane power and engaging melody. Clearly the new album crystalizes Perfect Plan's style with dominant and audacious power, perfectly illustrated on the following slick rocker ,,What About Love" (Hello Jamison). Bluesier in their core as well, displayed strikingly on the slide-opened groovy ,,Nobody's Fool". Simple and effective, sturdy rocking, it displays Perfect Plan's radiant engagement. ,,Living On The Run" returns back to base with lush arrangements and a subdued (lyrical) urge. It's propelled by Mats Byström's intrinsic bass playing and Ehlin's pompous keys. Progressive dynamic drums and the brass metal enhance the track. Again, Hilli delves deep moving vocally from Jamison to Mark Free and Stan Bush during the pre-chorus. He touches base with all the greats of melodic rock. ,,Just One Wish" opens with Giant-ish melodies to flourish with insane melodies and an immensely attractive chorus that is on the verge of tilting to tacky, but holds up perfectly. ,,Don't Blame It On Love Again" opens with AOR signatures and peaks with another melodic nesting melody and chorus. Though too slick to like (for many), every melodic rocker loves it. Exactly that is injected with large doses on ,,Give A Little Lovin" that is opened with all the tacky sonics of melodic hair metal from the eighties. Choir, nesting melody and it eludes during the melodic breakdown of the song. Heavy rockin' riff and drums keep it on par, but Perfect Plan clearly doesn't shy from the danger of playing the slickest melodic game. The song packs everything from Europe's `Out Of This World' album including the swirling melodic guitar solo and the (ooh and aah) punches and roar of Tempest. The album's closer ,,Don't Leave Me Here Alone" is another example of the band's abilities. The intro is simply astonishing and when acoustic guitars take over the song hints Giant grandeur fused with Signal's most compelling melodic assets. The breakdown of the song is perfect to end this master class of melodic rock.

Perfect Plan displays their band typical qualities and step up to become a crowd pleaser. `Time For A Miracle' packs tremendous poise and exquisite power, all keenly fused with the band's insane abilities composing slick comfortable melodies with larger than life choruses and striking overhaul. Where most strike out, it is Perfect Plan's explorational tenure, which makes it work. The slickest melodies still hold up and the band always manages to put their mark. It is just sheer melodic mastery.





#perfectplan #aor #frontiersrecords #headbangerslifestyle #hbls #awayoflife