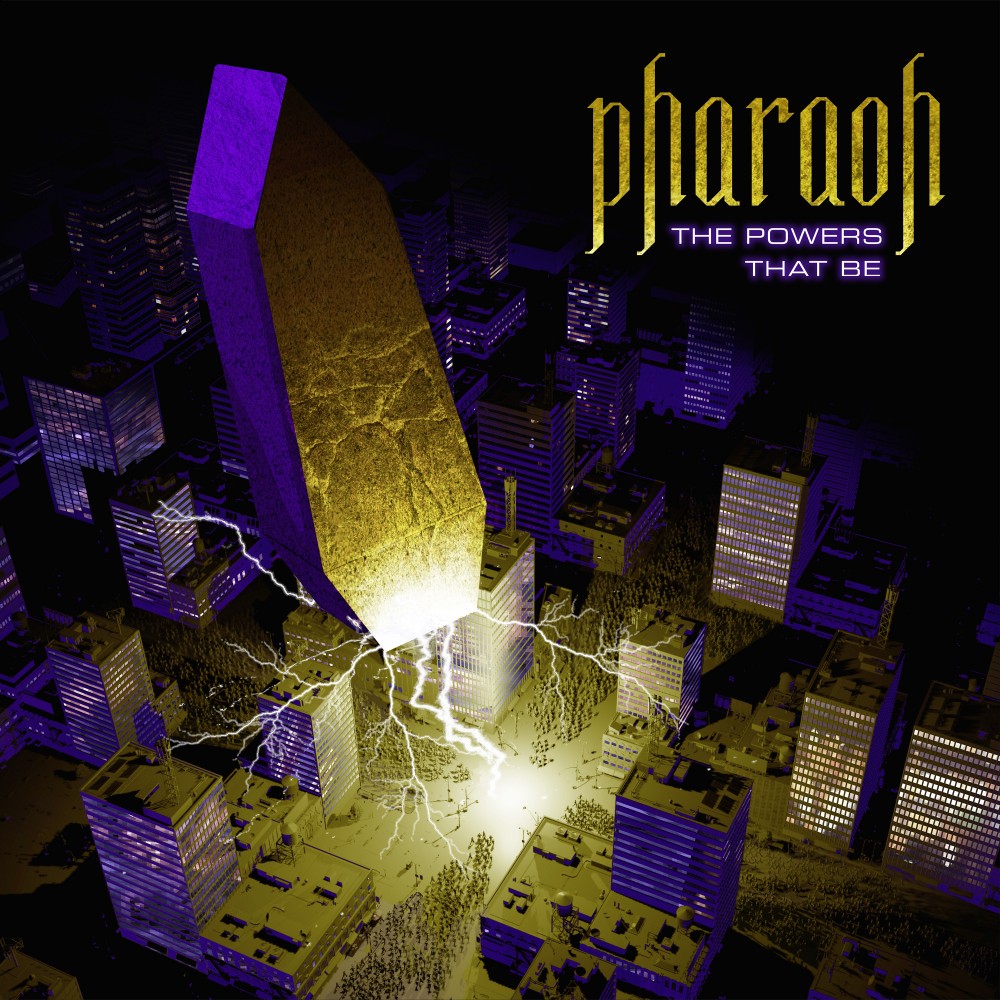 PHARAOH-The Powers That Be
Cruz Del Sur Music
THE POWER METAL RECORD OF 2021
Ready for a load of extremely well executed classic power metal?
Here's the power metal record of 2021! Pharaoh surprised many with their 2012 `Bury The Light' release and gone quiet since. Much to my surprise the band unexpectedly reports back and they do with a blast. `The Powers That Be' might be the best metal album of 2021.
Damn, Pharaoh means business!
The opening title track bursts into flames instantly, with the band firing on all engines. Don't expect metal for the faint hearted…. This band is sheer bliss in heaviness. ,,We Will Rise" is more melodic and its mid-section features some sophisticated staccato riffs and melodies that would Queensrÿche's Wilton-DeGarmo grasp for air. Perhaps that is the best to capture what to expect here: Pharaoh have the ability to write immense intriguing tracks with sophisticated melodies and structures that never for a second loose their heavy appeal. Ponderous and precise hammered such as Racer X's phenomenal records, they capture an intense guitar thrive and insane melodies, tied to Judas Priest `Painkiller' thrive and drive.
SUBLIME
The grim tinged ,,Waiting To Drown" features movie score grit and dirt as if Morricone himself got a shot of metal poise while composing the follow up to `Once Upon A Time In The West'. The shot-lives track wells with hints of southern rock and metal while keeping you on edge. Without lifting off, it does open towards the orbiting ,,Lost In The Waves" that picks up in power gradually. Epic choruses with Hittman/Heir Apparent reminiscent vibe the song oozes 80s and 90s grace. Subtle progressive twists and Matt Johnsons' riffs and solos pitching it into the melodic twin section of the record. Breaks and drum breaks mark time changes while Chris Kerns' bass ploughs on underneath the guitar extravaganza. Sublime is the word.
In the meanwhile, Tim Aymar's (Control Denied) powerful vocals stand fierce in this sonic battering landscape. His range is wide and powerful, while he also has the distinguished edge executing the warmest melodies. Listen how he breaks ,,Ride Into Hell" open. An upbeat double base infused track with driving wallop. Again, the technical soling of Johnson takes the spotlight while he duels with lesser-known guitar player (instructor) Jim Dofka, known for his collaboration with Leather Leone.
IMPRESSIVE PIPES
On ,,When The World Was Mine" the band opens all register for a prog driven outburst of perfection. Breaks are causing rifts from the power drive that marks the song. There's so much going on that you simply need to hit return for a 2nd and 3rd spin. It is an epic monster and one of the better tracks heard in years. That being said, you are in for another treat when they blast ,,Freedom" from your speakers. German Teutonic tinged it packs tremendous power and the double bass is crushing. The breaks and stop motion character provides progressive face with Johnson again unleashing some super crunchy riffs and fierce soling. Aymar delves deep and the epic chants add to his impressive pipes. Melodic it rolls onwards and truly captures the spirit of melodic power metal from the era that Vicious Rumors and Armored Saint (amongst others) rules the sonic metal wastelands.

SWIRLING FRETBOARD EXERCISES
,,Dying Sun" is opened with meandering guitars when the bass picks up and starts to propel the track. Impressive fretboard magic bends around the melodic vocal line and Aymar switching from sophisticated lower pitches to echoing power hauls. The song oozes melancholy and scatters over the board with intense mood swings like a rollercoaster ride through man's soul. The album closer ,,I Can Hear Them" is another battering ram that ponders the ear drums before it unleashes impressive Iced Earth-like melodic echoing chorus (,,Melancholy"). Swirling fretboard exercises from Johnson keep adding tremendous equilibrium.
`The Powers That Be' packs tremendous swagger with bold as brass metallic metal moments. The whole potion is executed with intense stride over finesse picking up where its predecessor left off 9 years ago (!!). Pharaoh manages to inject the best prog and sophisticated metal ingredients into their ravishing power metal, making `The Powers That Be' an album to reckon with. This might well be the best power metal album of the last couple of years and a contender for the best metal album of 2021 per say. Yes, it outclasses the wonderful Helloween album.