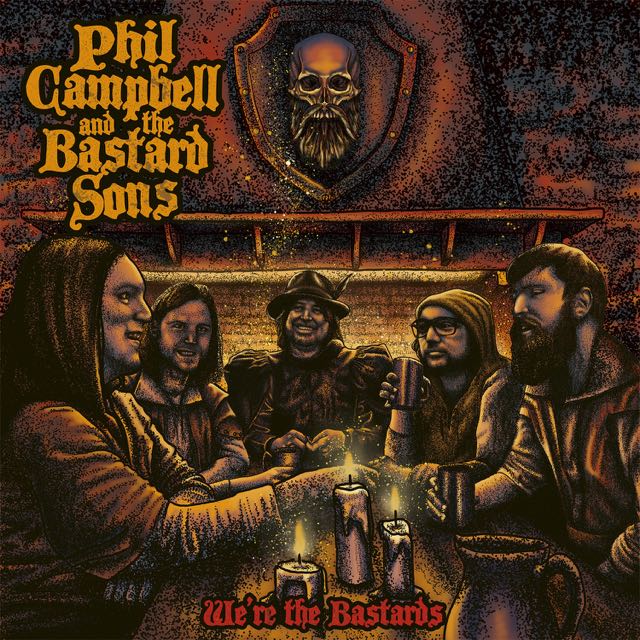 PHIL CAMPBELL AND THE BASTARD SONS-We're The Bastards
Nuclear Blast Records
Last year I was privileged to witness Phil Campbell And The Bastard Sons live in action. Promoting their debut album `The Age Of Absurdity'. Of course Phil is inseparable from his legacy as guitar shredder in Motörhead, but it is clearly not in his DNA to retire and join the local fishing club. Instead of that he surrounded himself with his talented sons, Todd (guitar), Tyla (bass), Dane (drums) and vocalist Neil Starr and does what he does best. Rocking loud and hard in a rock 'n roll band!!!!

This new release `We're The Bastards' takes off, where his predecessor stopped. Steaming riffs, dirty high-energy rock 'n roll. Catchy refrains and sleazy guitar solos by the master himself. Some are in a mid-tempo, some are with a faster pace. And of course some of the riffs could absolutely have landed on a new Motörhead project, but the Bastard Sons do also try out some different things. This is raw, bluesy & also kind of eager. This is a full-blown band and not just a famous guitar player with his backing band.

The title track ,,We're The Bastards" opens the album with a sleazy mid-tempo vibe, while ,,Son Of A Gun" opens with a real killer bass line. I think uncle Lemmy is smiling somewhere up there. And talking about the bass, Tyla has one big fat killer sound going on. Wow! ,,Born To Roam" starts with a southern rock like vibe, only to progress into another mid-tempo riff driven monster of a song. It is finished off with a dirty finger licking guitar solo. The riff theme of ,,Animals" yet again brings back memories of Phil's previous employer.
As far as I am concerned I could go on song by song, but I guess if you love this kind of riff-driven, kick-ass rock 'n roll, you do have to check this album. Period!!! And as soon as we do have the chance again, go and see this band. To me this is the newcomer that feels like it has been there for years and that's a great thing. Slow tempo album closer ,,Waves" is a sweet pearl that grows and grooves with its fat bass line theme. To me the highlights on this album are,,Born To Roam", ,,Animals", ,,Waves", ,,Desert Song". I am convinced the new tracks will raise some hell when played live.

Thank you Phil & your Bastards for releasing this album!!!! If this is the standard, I hope you will keep releasing albums for the next decades.