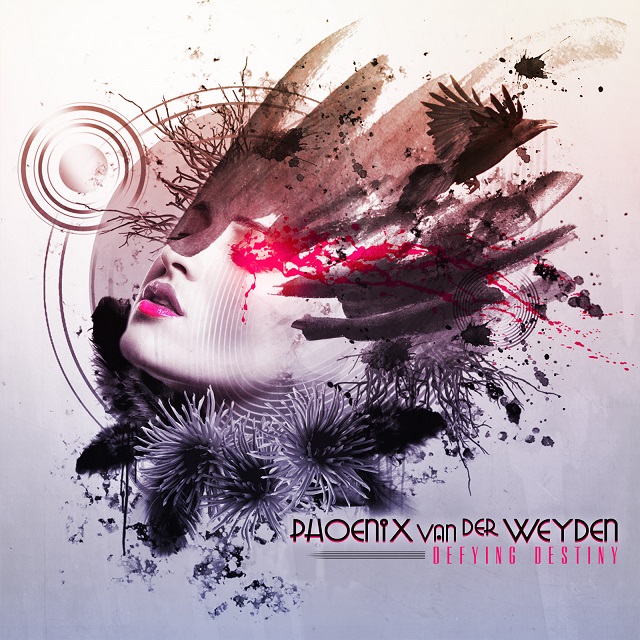 PHOENIX VAN DER WEYDEN-Defying Destiny
Shredguy Records
Unlike her last name suggests, van der Weyden isn't originating from the Netherlands. The born Brazilian likely has her roots planted deep in European soil, but the Brazilian temperament clearly outs her ancestors in its shadows. Temperament present all over this remarkable debut brought to my attention upon reviewing Steph Goyer and her Protean Collective. Though exploring more traditional and elemental 80's shred rather than redefining the standards, Phoenix delivers an interesting and almost terrifying brutal debut album.

She is clearly "Defying Destiny" on her debut release, which is packed rock solid with classic Shrapnel shred in the vein of Vinnie Moore and Tony MacAlpine's early releases. Let's not forget the road paved with numerous brilliant shred-releases hailing from the infamous label. Phoenix grips back to the best ingredients from the label's most celebrate musicians and poises the licks with her own unique flickering fast fret board shreds. Keenly focusing on melody the Brazilian diva also paws in progressive metal with steep curbs and turbulent timetables shifting.
It would do her to little justice setting her up as a player remeniscent to the above, as Phoenix constantly fuses styles into a unique cocktail of highly explosive shreds and techniques. Check her sweep up picking, much in the vein of Jeff Watson… yet with more speed and poise. To stay on the Night Ranger scale; Phoenix also covers a lot of ground from their other guitarist, one Brad Gillis. Occasionally she uses his long held notes and wide vibrato to unleash in short soaring bends . The rich sustained sound impacts on the overall lightning fast playing delivering uncountedable notes per minute. Underneath this extravagance of flash and glitter however, van der Weyden lays down great melodies and homnonies to erupt from. It's this keen ear for melody which makes me line her up with the great MacAlpine and Moore for instance. But when Phoenix rips, she truly rips and sets the fretboard on fire!
The high paced ,,Bushido" combines Friedman's rollercoaster style with chords progressions in the vein of Tafolla, while her Jackson is sreeching and screaming out of agony. Loud and forceful the song rolls in Racer X format forward to combust with a fingerlicking brilliant solo. It's much like John Petrucci's ,,Under A Glass Moon" solo, as Phoenix touches base with a wide variiety of shred styles and leaves no technical stone unturned. Just check out the amazing harmonies and anthemic section unloading in a rizz razz of arpeggios. The etherial sci-fi intro to ,,Crimson Skylines" is short lived and again Phoenix fires away in flashy style. The album is held together by a sci-fi storyline and storyteller ocasionally creating a wormhole in her songs with steep bends and musical momentum being changed. A swirling tornado of arpeggios hits us in the double kicked ,,Strange Ways". The riff is blunt and down toned with Phoenix coloring the musical landscape in diversity. The whirl of arpeggios over a whammy lush chord progression in impressive and the song more than once unleashes in sheer melodic power. It is packed with impressive soloing as it nests in your head. ,,System Failure" has Vai's typical chord progression colliding with Vinnie Moore's sleight of hand and impeccable soloing. Phoenix embraces all and most technical styles and melted them into her only unique style, accompanied by a quirky sense of hum such as in the opening of ,,Future Vision". Shuggling for a moment before she hits the pedal and brings it down. It's varied and impressive what she creates and is on par with some of the greatest. Oh yes; there's some things left to do and she will certainly benefit from guidance as a creator of music, but overall; this is absolutely magnificent and time consuming.

I don't honestly know if there's any ashes left for Phoenix to rise from. She literally burns up all waste on this impressive debut. Her skills are in line with the more melodic outings from Moore and MacAlpine, but also display an intriguing mash up of genre-like styles, from Van Halen's to the unique Gilbert shreds. Unfortunately the drum and bass offered on the album are too artificial and miss the organic punch Phoenix' playing would undoubtedly have benefited from. Double kicks and crashes are doing no justice to the impressive toning of Phoenix's playing and I truly believe studio musicians would have pushed the album further up to the top ranks of the genre. But it is all about the young Grande Dame of metal shred here!
Covering an impressive amount of ground technically, the young diva's star might be orbiting soon.
All fans of the genre: get a hold of this calling card!