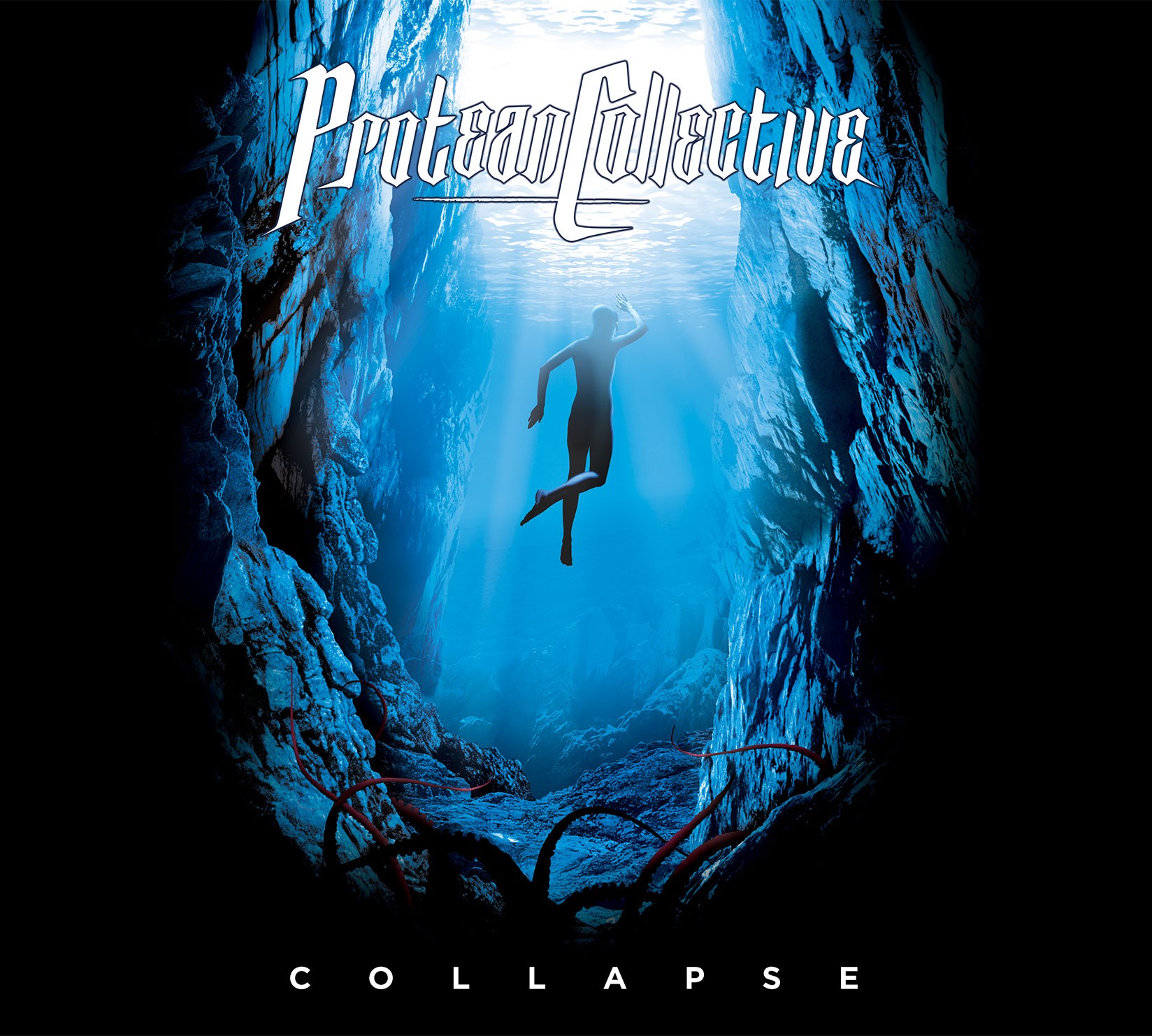 PROTEAN COLLECTIVE-Collapse
Bandcamp/indie release
With the Tony MacAlpine tour hitting Europe and my excitement rising, I was pointed out Steph Goyer and her band, Protean Collective. Goyer, not exactly unknown to me for her guitar tutorials on the Internet, recorded this 3rd album with her Collective in July 2017 and, though belated at HBLS, it is very worth reviewing as this might not slip through. It features not only Steph Goyer's jaw dropping guitar performances, but the album has a real band on display, with insanely crafted metal songs and ditto musical craftsmanship.

Protean Collective dates back to 2005 when the band was founded by the four attendees of the renowned Berklee College of Music; consisting of Steph Goyer [guitar, vocals], Graham Bacher [guitar, vocals], Dan Ehramijan [bass, vocals] and Matt Zappa on drums. Needless to say that musically, this is way above average and the skills are impressive.
But that is not what makes Protean Collective such a delight to discover. Protean's music is packed with musical wizardry but also features impressive melodies and captivating tracks that do not let go. Each song is an impressively constructed track displaying the band's impeccable musical presence as well as their keen eye for modern music with heads and tails. Inflated with a truly unique sound the band moves forward with thrive and enthusiasm, well captured in a crystal clear production. A transparent massive production that perfectly displays the forces at hand. Bass and drum interaction is dominant and prominently in the mix. Zappa injects the poly rhythmic shuffles with a third layer of drum rolls and impressive percussion work. The three-dimensional dynamics provide a perfect garment for Ehramijan's bass, which is uplifting and electrifying extravagant. Low-end dominance with thick groove over an overall jazzy feel, without losing focus of the Grande progressive metal direction the band has set sight for. But it is Bacher's vocals and Goyer's guitar that really make the difference. Graham's voice is melancholic emotive and heartfelt with vulnerable intension, tapping the vein instantly. Disgruntled and emotional he injects honesty into the lyrics that are crafted around infective melodies upholding the [insane] progressive bodywork of the songs. The anxiety is gripping and the serenity is alienating.
And then there's Steph Goyer who is one of metal's finest players in the field. Personally I like to dub her the MacAlpine of the modern age, with her keen ear for melody and her supernaturally elegant progressive runs that emphasize the outlines of Protean Collective's wonderful songs. Her fingers fly over the 7-string fret board of her Kiesel Aries A7 with a fluent and elegant style, avoiding the typical shred head comparison. Her interaction with Bacher is impressive as both unload their muscular and beefy riffs and dive into steep soloing with an occasional battle to entertain the masses. ,,Dead End'' has been on the web for a while and it still stands fierce with its memorable and gripping chorus. Musical wizardry is impressive as the song curbs with an almost Vader-like riffing falling into an excruciating daring solo with Goyer firing her razor-sharp string magic upon the audience. Pushing the envelope even further on ,,Under Siege'', the band plunges into the insane. Driven by heavy double base drumbeats the song blooms with a stellar chorus of epic intentions. It's a song instantly nesting in your head, as does most of `Collapse'. Take ,,You & I'', with its ethereal silent hummed undertone and the sudden explosion in G, progressing upwards with towering and gripping urge. With ,,Myopic'' the band touches avant-garde-like alt rock, tarnished with intense melodies and heavy loaded riffs, as were the pedal goes down on the racer-like ,,A Thousand Years'' with its jaw dropping arpeggios and whirling turmoil. Rush' ,,Red Barchetta'' comes to mind as it touches race speed, and the song unexpectedly bursts into its stop motion section, lead in by an impressive short solo which returns when the song returns to form. This pending urge also pulls forward the highly melodic ,,The Drought''. The song again features Graham's intriguing vocals over a lush chorus, though the song is pulled forward with exquisite bass and drum interaction. Double bass fires at your ear drums and bass picks with impressive jazz intentions. Goyer puts in an impressive Petrucci [Dream Theater] solo, answered by the band in an ending with DT magnitude. Both; impressive and spectacular.

The latter remark to capture the contents of `Collapse' most perfectly. The variety offered is infectious and entertaining and will have the listener hit the repeat button over and over. Unlike most musicians studied Berklee, Protean Collective isn't focusing on their musical abilities rather than on crafting well thought and thoroughly arranged songs. Musically touching perfection yet also relaying on their power and energy packed in the sub tones of the tracks. Enough room to shine and unleash their personal qualities, while packed into thin foil cooking ingredients into a stew of emotions and heartfelt honesty. ,,Beneath the Surface'' is a perfect example of the balance between their song writing capabilities and their marksmanship as players. The track is almost benchmark for `Collapse' and hints both sides of perfection. Impressive & Spectacular!