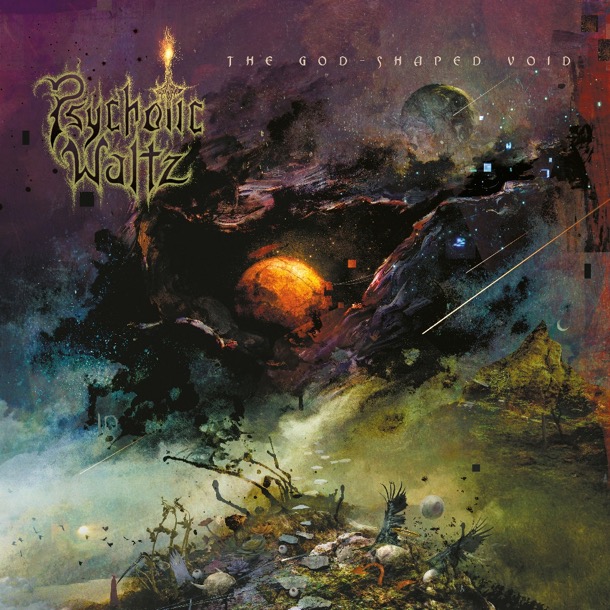 PSYCHOTIC WALTZ-The God-Shaped Void
Inside Out Music
Has it really been 30 years since their `A Social Grace' debut?
Apparently time flies by really fast when it comes to enjoying epic classic releases. And a classic is what they recorded back then. Redefining the boundaries of progressive metal, injecting heavy metal with progressive and atmospheric elements in a withering melancholic setting that curbed edges and unloaded in elegance. Though dubbed progressive metal, I personally felt more comfortable labelling them as art rockers of the metal genre, as it does more justice to their intelligent approach and tenacious craft. With the band touring frequently relaying on their 4 raved classics, main songwriter Dan Rock started to feel the urge of creating new music, leading to this brand new `The God-Shaped Void'.

We have to be grateful for this man's craving to elude the repetitive set list and delve for new music. Hitting play on this new baby instantly baffles the listener. With ,,Devils And Angels" the band immediately crushes all prejudice. Scenic is its opening and Graves pulls out the flute to ooze a soothing Waltz comfort before the band starts to take off. It is all there: the melancholy and doom, spitting riffs and towering guitar melodies, hypnotizing vocals and intense orchestration and musical craftsmanship. Intense is the chorus' outline and Norman Leggio's drum and percussion fused rhythms. His polyrhythmic drum shuffles and odd time changes fluently steer the whelming emotive guitar melodies of Brian McAlpin and Dan Rock. Tribal rolls keenly injected give the track its gloomy feeling, enhanced by the prog bass breaks of Will Evans. And the best part of it all is that it never sounded better. With their classics musically having stood the test of time, this production benefits from the modern techniques injecting serious power and clarity. The transparency is staggering, and the tracks benefit from a powerful production and mastering. Ulrich Wind (production/engineering) drew up a perfect foundation for Jens Bogren (Opeth, Fates Warning) to come up with an intense and powerful overall sound, making the band shine like never before. The flourishing perfection leads to countless magical moments. ,,Stranded" is taken into position with piercing shred in the Shrapnel vein and it dives into a deep melancholic feeling. Pitch perfect hypnotizing licks pull forward over throbbing prog bass lines. The melodies are impeccable and Rock displays his immaculate style with howling fret board magic. The solos are impressive with arpeggios swirling through your speakers. It all lines up perfectly for Devon Graves' (aka Buddy Lackey) moaning and captivatingly executed lyrics. He morphs from his anguish and psychedelic outings into a heartfelt cry of despair towards the end of the track. ,,Back To Black" is a more compact song with insane dynamics. Clocking in at only 3:52 it is amazing to hear how many notes can be crammed into a metal track and still unload in progressive magnitude. There's a feeling of Dream Theater casted over it without losing the typical Waltz mark. The band's traditional verse – chorus – verse setting differs strikingly with the progressive structures and injects a pop rock entity in their complex music. The song buckles up towards its finale and leave you astonished eagerly awaiting the next grandiose moments. ,,All The Bad Men" opens with the typical melodies spawning and an ominous keyboard casts a doomy spell as riffs progress. Graves touches deep with his timbre reminiscent to Saigon Kick's Matt Kramer, empowered by the multi layered Beatles-esque chorus and background choirs. Put to the back of the mix it's hiding in plain sight. It is comfortably contrasting with the grim riffs and towering dissatisfaction in its lyrical content. Oozing comfort ,,The Fallen" aligns more with their debuting tracks. Acoustic opening unexpectedly sparking to have flames shoot up sky high with insane fierce power. Graves switches registers underlining the musical exclamation points made. It is a perfect stepping stone towards another great example of their benchmark marksmanship: ,,While The Spiders Spin". Scenic guitars open to the atmospheric track enrolling with tons of melody fused with melancholic power. The music is richly textured and spawns pristine doom underneath its fierce progressive timings. More metal it flourishes with tremendous force without distracting from their core gloom. The lyrical content is daunting as much as the sig riff of following ,,Pull The String". Almost narrative chanted lyrics take possession of the limelight with insane drumming from Leggio with Evans adding some steep low runs. A harsh break in the middle evokes the Jethro Tull UK prog when Graves picks up his flute before the band goes all mental. The classic dino prog makes way for a disturbing toned progressive metal section with impressive interaction, dense and powerful. "Angels Carry Guns…" chanted it moves towards a turmoil end. ,,Demystified" also oozes the typical comfort with timid vocals and instrumentation taking it forward. It unravels in doom pace and withering power. It hooks hard and hits deep in your central nerve system, instantly nesting in your heart. More discomfortable ,,Sisters Of The Dawn" opens with signature guitar melodies and dynamic drum rolls pasting the outline for Devon's disgruntled wailing vocals. The song packs insane power and a mystical sub note floating over the ominous keys shining through. Closing the album with typical Waltzing grandeur? ,,In The Silence" grips back to the emotionally laden acoustic signature. Leggio's cymbal play is Peart-iesh and adds a scattering ting before the band goes all soaring with psychedelic elements fused with astonishing heavy riffs. The duo McAlpin / Rock steps up in less ravishing style laying down a more metal foundation utilizing a 70's toned solo slowly powering up to piercing shred. The interaction is jaw dropping and the band makes the track and album fade out in lingering splendour.
`The God-Shaped Void' immediately puts a mark of perfection on the new decade. The album features the typical doom – prog ingredients and Waltz' trademark sound, brought vividly to life with a larger than life production. The outcome is an overwhelming masterpiece making the band's elusive past releases collide with their cult status without being forced upon its listener. The album has a soothing comfort over a sincere soar and it hits the right nerves at any given second. The musical craftsmanship is pristine as expected and the lyrical extravaganza of Graves adds posture to the luring interaction. It grips, it bites, it calms. `The God-Shaped Void' takes you on a journey and takes us into 2020 in style. Masterful!



#psychoticwaltz #insideout #headbangerslifestyle #hbls #awayoflife