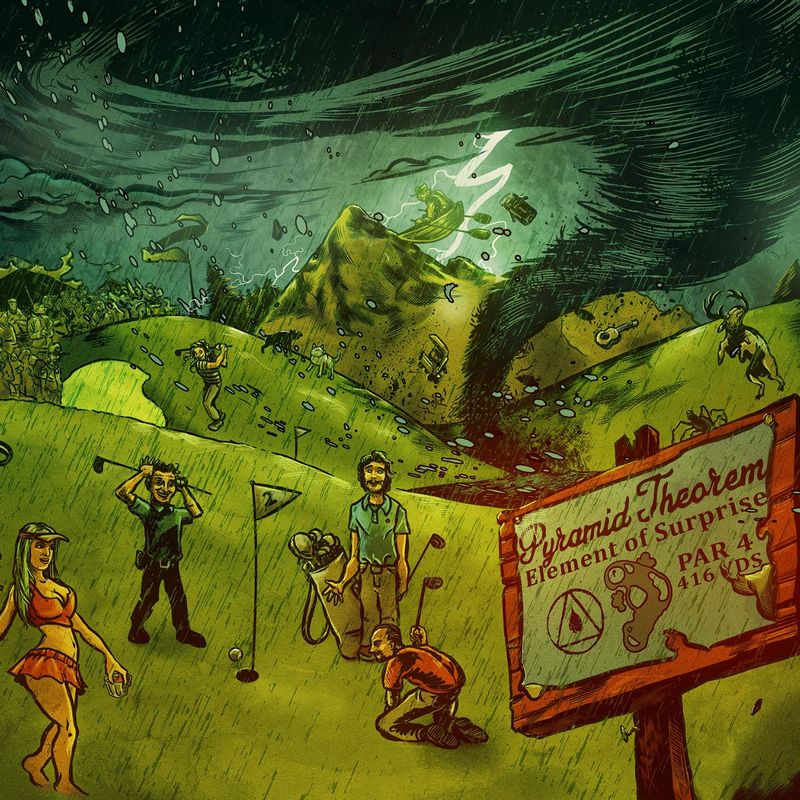 PYRAMID THEOREM-Element Of Surprise
Independent release
Canada sprouted quite some excellent progressive acts in the past with flag bearer RUSH generally named prog rock's finest. Hailing from Toronto Canada, Pyramid Theorem first struck base with their self-titled debut consisting of a wide array of musical influences brought together under the progressive rock moniker. The album to me sounded fresh and corky with enough unique elements interlaced with comfortable Rush-structured prog elements to make me as a Rush addict feel at home instantly. `Elements Of Surprise' unites the bands debut with a more persistent and fiercely stubborn uniqueness making this perhaps one of the finest bands in progressive rock today.
After the eclectic short-lived opening ,,The Scratch Funk", the band shifts up a notch and gathers momentum with the immaculate ,,Cliffhanger''. The song taps into the gothic vein during the taunting orchestrated opening, before diving off a steep cliff with progressive hooks and breaks hitting us from all sides. Expect the unexpected as the song sonically blooms with impeccable harmonies and jaw dropping musical craftsmanship. Midway it's guitar player Sam Embellini claiming the spotlight with his slick melodies and fierce riffs embedded in sniper-precise exercises most GIT students will break fingers over. A larger than life overhaul nests in your head on the spot underlining the guitar extravaganza boosting the melodic pompous atmosphere. Though dense, and complex, the melodies are so overwhelmingly beautiful they nest in your head instantly. It's a step up to the poppy shuffles over fierce riffs in ,,Toxic Holocaust''. Propelled by Vic Dee's (Vito De Francesco) impressive scourging polyrhythmic drives and combusting uneven double kicks, the song switches from almost polka shuffles to waltz swings before powerful riffs bring it home with heavy metal-like power. Sudden steep dives into jazz with flamenco interludes overthrown by a space-metal sauce make your jaw drop even harder, especially as the songs picks up power. Bedazzling drum-guitar interaction demands listeners to be focussed throughout this mind-bending rendition of skills. Whammy distorted and tuned in D drop, ,,The Fight That Never Ends'' suddenly breathes fire over a wall of sound with a high level of awesomeness!
Pyramid Theorem goes classic rock/neo-prog with the following ,,Outlaw For Blood'' revealing the band's wide musical influences, keenly embedded. Hinting Rush and 70's symphonic rock over an almost southern rock setting, the band manages to surprise over and over. The toning of the solo's are Lifeson meeting Vai and the randomly thrown in keyboards are of Yes' Edge-era magnitude. The sinister laugh ending the song sends shivers down your spine making you reach for the repeat button. But the Red Barchetta firing its engine for the Rush-rooted ,,Drive'' has your head dazzling as the song swings from left to right hitting all scales and tones. The melody partially reminds me of Little River Band's ,,Home On A Monday" but progresses in all directions in only 3:47. High-pitched Geddy-like vocals go hand in hand with impressive harmonies over some fretboard wizardry of both, bass and guitars. The mix served up in a near psychedelic maelstrom of off effect to suddenly dwell in more conventional prog territory of ever shifting time and key changes with comfortable vocal melodies masking the underlying layers of convoluted rhythms. Because of this, ,,Drive'' and previous tracks deliver on a number of musical levels, dependant of what the listener is in for. Keyboards and (especially) guitars alternate power and tons of passion, support and drive, ambiance and disconnection, while the rhythm section keeps the compositional framework upright and in constant state of forward motion.
All of this nerve wrecking musical perfection finally finds peace in the semi ballad ,,Lifeline''. A wondrous rock song, ambient and serene, almost surreal to experience after 5 songs of musical extravaganza. Rest assured; there are plenty of breaks and tempo shifts to throw you off. Even the most rusted and trusted old school prog rock fan will be surprised…. Sirens howl announcing ,,Tornado'', Theorem's magnum opus on `Element Of Surprise'. Firing on all cylinders the band reaches exceptional heights. Especially the guitars are fierce and powerful shooting the song forward in high pace meandering into etheric guitar etudes, resetting the mood in a comfortable way. It all feels so perfectly measured, there's not a moment it comes across unnatural. The grandeur of the track is gripping and visions of medieval untouched landscapes come to mind. It's also the only instrumental track on the album with the other 6 microphone duties being handled by either bass player Christian Di Mambro, guitar player Ermellini or guitar/keyboard player Stephen Di Mambro, all lending their own unique voices to match the moods and contrasts needed to fire the song into action.
Pyramid Theorem proves to be an asset in progressive rock with wide musical variety injected in their unique toned songs. The band has shed skin towards this new album as an element of surprise, steering away from the Rush tinged tracks and developing their progressive and persistent thriving musical cocktail. Converting the typical ingredients of progressive rock into a multi layered sonic outburst of styles moulded in Pyramid Theorem's unique transcendental wide universe. Executed with the utmost precision their music will appeal to musicians as well as progressive rock and metal aficionados worldwide. Difficult to categorize and label, yet in every case the compositional approach is highly original as are the arrangements playing and singing, all in equally inspired spirit. Think Dream Theater multiplied by 5, then cubed and divided by the number of tracks on `Element Of Surprise'.