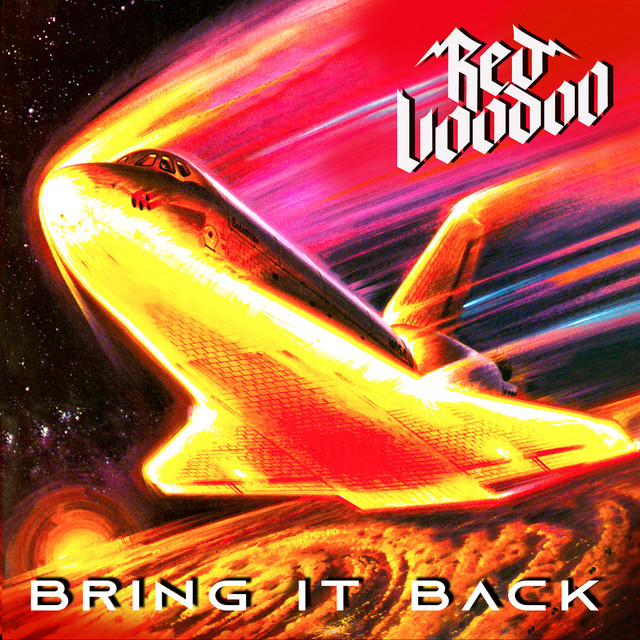 RED VOODOO-Bring It Back
fhp records
Some bands make you smile on the job. It is what Tesla-guitarist Frank Hannon must have done when he received a demo from a young cocky singer called Dino McCord and his band Red Voodoo. Captured by the cheekiness of the song Hannon decided to give these youngsters a chance on his own Frank Hannon Productions label, producing the nine-song debut-album 'Bring It Back' himself.
The band probably reminded him of the time when Tesla was first discovered themselves all those years ago. Back then with a bit of luck and some class in the music you got signed by a major label as Tesla did. In those days people like John Kalodner recognised rock talent and was ballsy enough to sign them for Geffen Records for instance. Today major record companies have deaf and dumb pen pushers without any feeling for real music doing A&R, so young bands hardly get an opportunity to show what they got. They rather sign dipsticks like Kanye West and Jay-Z. Can you believe that Jay-Z got nominated for induction in the Rock and Roll Hall of Fame? A dude that most likely never touched a guitar?!
Anyway, Frank Hannon sees potential in Red Voodoo that next to Dino exists of guitarist Davin Loiler, drummer Nick Pesely and Andrew Edwards (bass). These guys are just like Tesla from Sacramento and their message is very clear: they want to bring back the real sound of rock and roll, stuff that is being played by themselves Red Voodoo. The lyrics in the title-track say it all: out with the old, in with the new… Armed with that cocky attitude the boys prove their point by rocking hard and without making any compromises on the nine songs that are featured on 'Bring It Back'. It is certainly no music that is going to change the metal world in a hurry but one way or another these boys have got the right attitude and a selection of no-nonsense songs that rock straight forward with scorching guitar solos. And the band can also perform a decent ballad in the form of ,,Morgan Lane'' as well while the riff on which the song ,,Hourglass'' is based is just filled with rock attitude.
Dino is a fan of Sammy Hagar and that is maybe one of the reasons why this album every now and then makes me think of that legendary 1973 first Montrose album. The same roughness and hunger is present in Red Voodoo and it is good that an experienced musician and producer like Frank Hannon can guide these boys through the rock and roll jungle and hopefully find some new inspiration himself for Tesla as their last album 'Shock' was indeed a bad shock. For a first album Red Voodoo deserves a thumbs up but obviously there is still a long way to go in all aspects of the business. The youth has got the future they say. Let's see if Red Voodoo can live up to that.