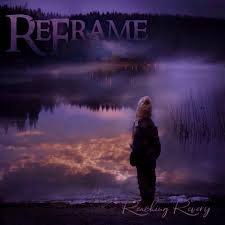 REFRAME-Reaching Revery
ReFrame Records/Independent
ReFrame is a band in the heavy prog genre with a stubborn appeal over genre specific ingredients. Their debut `Reaching Revery' draws from classic progressive and symphonic acts from the roaring 70s and 80s, from Rush to Yes, as well as modern prog in the vein of Neal Morse's many acts and releases. Tiles and Echolyn come to mind occasionally, as well as classic dinosaurs of prog Yes and Styx, and it depicts the typical stubbornness of their release.

Behind the musical mastery of ReFrame is Phil Berger, known for his work in Phoenix Down, who crafts an impressive collection of songs on this merciless debut. ReFrame opens with the 9+ minutes stretched ,,The Unbegun" that unites all of progs highlights of the last 4 decades. It is megalithic and crafted around intricate riffs and varying tempos executed with the utmost precision. More forward progressive they move in ,,And The Light Shall Lie" with its upbeat refrains and pitching guitar work flowing under its melody. Versatile drumming with loads of hooks and tempo shuffles pulls it forward. The song unfolds with metal riffing and tremendous drive with piercing vocals. It also reveals another facet as the turmoil is frequently wading in an eclectic and messy production doing justice to the intensity of the tracks. What doesn't help either is main vocalist Joe Murphy who is not only isolated in the mix, but his vocals aren't up to par frequently. Murphy is blessed with a wide range but the vocal lines aren't always matching his reach and more than once he sounds unsteady. Proven effective is the choice to use Bobbie Parker [Pengea] on the delicate piano ballad ,,All Yours" that evolves as an impressive duet with Jessica Pymm, who's gifted with a little country tear in her voice. ReFrame repeats this successful formula on the exquisite ,,April Showers", with its wonderful orchestration. Musically however it is all very well constructed and with a running time of 77 minutes you tend to wonder about the possibilities of ReFrame. Chopping up the longer tracks into shorter and more pointed progressive tracks, the band likely could benefit from a more recognisable course without losing their progressive overhaul. There's a lot going on on `Reaching Revery'. Tracks like the Styx reminiscent ,,Stronger Than Death" and the progressive infective dual parts of the epic ,,Fearless" are intricate and reveal true class and craftsmanship with Murphy feeling more at home hitting the Tommy Shaw highs and tenor. The tracks keep shifting shape but have recognisable melodic sections embedded, taking them forward with excellent drive.

On Part 2 there's a guest part of Living Colour's Corey Glover that is perfectly adding to the atmosphere of the song. When the band shifts back gear, or goes full throttle, their marksmanship is astonishing. Incredible turmoil and power is spit in ,,Invisible Gardener" that keeps shifting shape and casts a wide array of melodic emotions, and ,,Head In My Sand" just kicks up in high gear in more metallic manner, reminiscent to the heaviest Tiles tunes. `Reaching Revery' is brought to an atmospheric end with the third part of the ,,Fearless" trilogy, an only 2:30 long track with powerful gospel-like choirs and ethereal instrumentation. Contra rhythms and progressive intriguing patterns are evoking, and more than once throw you off completely on this debut album. On top of all this musical bliss the band manages to craft melodies and choruses that contrast deeply with the heavy prog bodywork of the song. Though the production of the album is not always up to par, ReFrame could grow tremendously. Allowing Joe Murphy rest by providing him with more tailor cut vocal lines. ReFrame could set a first step forward by bringing a seasoned producer to the plate for extra input and needed sonic balance.
Nonetheless I consider ReFrame one of progressive metal's hopefuls!


#reframe #headbangerslifestyle #hbls