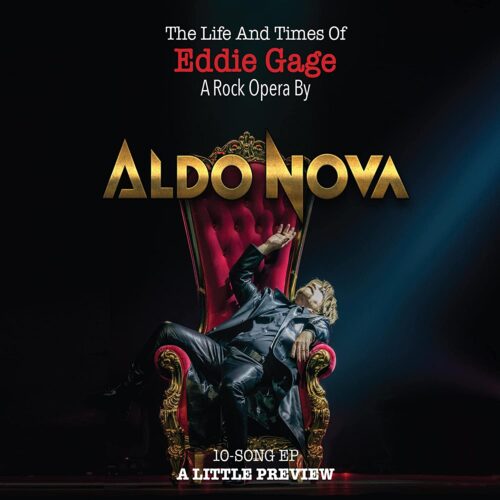 Review | Aldo Nova – The Life & Times Of Eddie Gage – 10 Song Preview A Rock Opera
Viral Records
Canadian singer/multi-instrumentalist Aldo Nova burst into the scene exactly 40 years ago when he released a self-titled album with blistering rock and AOR. The album was well liked by fans all around the world reaching number 8 at the US Billboard. It was good for double platinum sales. Album number two ('Subject… Aldo Nova'-1983) and number three ('Twitch'-1985) were less successful but still good for platinum and gold sales and were both very good records as well. In 1991 Aldo worked close together with a certain Jon Bon Jovi on his fourth album 'Blood On The Bricks'. Aldo kept working with Jon for a while recording soundtrack stuff with him.
Later on, he became a songwriter and producer for pop princess Celine Dion (gaining him some Grammy Awards) but his own career was kept more or less on a hold. His 1997 album 'Nova's Dream' (with a lot of instrumentals) was praised but failed to get any decent sales. Before that album Nova produced the 1992 'Saints and Sinners' album for the Canadian band Saints and Sinners featuring Sword vocalist Rick Hughes.
SILENT
After 1997 things became silent. Aldo Nova did not release any of his own material but kept working as producer and songwriter. And there were rumours that he started working on a rock opera called 'The Life & Times Of Eddie Gage'. He did do that, writing a big bunch of songs for that project but it took him years to record and complete.
RETURN TO RECORDING
In 2018 quite suddenly there was a new album entitled '2.0'. A seven-track record with re-recordings of six songs of his first album plus a new tune. Doing all the work himself I can't say that it was a great effort as he added lots of effects that did the songs no good. In fact, all songs were extended and hardly sounded anything like the original versions. Only the new track ,,I'm A Survivor'' was quite decent. The album tough inspired Aldo to return to recording.
HIGH EXPECTATIONS
When I caught the news that Aldo was going to release this ten track EP, a rock opera that would serve as an introduction to some more new stuff, I decided to take the gamble and order it. I did not have very high expectations. The booklet that accompanies this record tells the life story of Aldo Nova. His first steps in the music business, how he became a slave of the system and how he learned recording techniques. But most of all it tells you the story of how he became a free man with no musical or financial obligations to any person or any company in the music business.
One of the songs on this new record was written in 1989 and Aldo had to wait some 33 years before he was able to use it free of anyone wanting a piece of it. It is a quite interesting and above all honest story. Especially the bit where he says that he is as producer of the music very critical of his own performances. He has handled all singing and playing on the record.
CONCEPT
The concept of the album with its ten songs is actually quite simple. Aldo has created a bunch of characters but when you read his story and what he has written about the individual songs it becomes clear that this concept-album is about himself and all the obstacles he had to encounter and overcome during his career. Including people from the record company that held him for years in some sort of stranglehold and how he finally became a free man. The character of Eddie Gage is Aldo himself.
THE MUSIC
I must admit that the music is certainly not a disappointment. The album is very versatile but also very moody (not so strange if you look at the journey Aldo made). The 1989 song ,,Burn Like The Sun'' is the one that comes closest to his first records, a powerful AOR-ballad. The rest varies a bit from heavy rock that sometimes is injected with sound effects to more contemporary stuff. It is certainly not bad but it also becomes painfully clear at certain moments that the voice of Aldo has suffered throughout the years. Not that he is making a mess of things but some parts (especially when he goes for the higher bits) are 'shaky'.
As a composer, musician and producer he has delivered a decent stack. It seems though that this is only a preview. There is a release coming entitled 'Aldo Nova 2.0 Reload' (a 3-CD) with over two hours of music where songs from his catalogue have been stripped from lead guitar on one disc, stripped from lead vocals on another and also a CD with a regular remake. Judging on the one he did in 2018 I (yet again) do not expect that much of it, but who knows.
UNSURE
If you are unsure if 'The Life & Times Of Eddie Gage' is something for you I would suggest to check out YouTube for several clips while also the whole album can be heard there as well. That should give you a good indication of what Aldo Nova is all about in 2022. But should you ever encounter his first three albums in a bargain bin or something like that make sure you don't hesitate and get them.