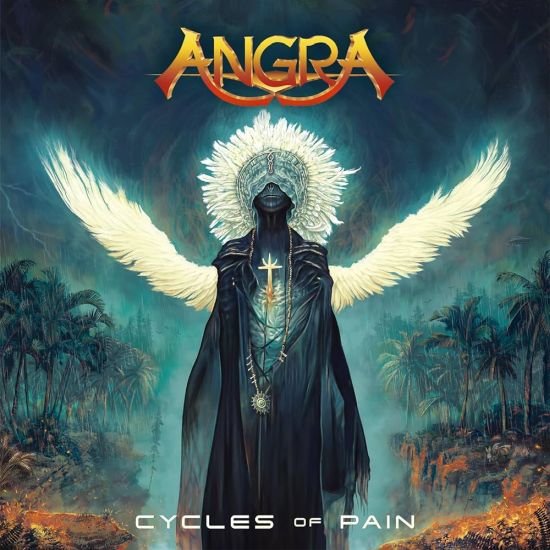 Review | Angra – Cycles Of Pain
Atomic Fire Records
Actually, it is really some time ago that I listened to Angra, but I still love/cherish their debut album 'Angels Cry' (1993) or the rather brilliant sophomore album 'Holy Land' (1996). Now, five years after the well-received album 'Omni' – which I have never heard yet, I must admit – Angra are back with their tenth album called 'Cycles Of Pain' and, yes, I can tell you straightaway that I love it!!
DRAMATIC
'Cycles Of Pain' is the third album from the third generation of Angra, featuring the following awesome line-up: Fabio Lione (ex-Rhapsody) (vocals), Rafael Bittencourt (guitars), Marcelo Barbosa (guitars), Felipe Andreoli (bass guitar) and Bruno Valverde (drums). The twelve new tracks tell the story of life and death and of endings and new beginnings. And most of them are really emotional and sometimes even dramatic.
ADDICTIVE
After the short instrumental almost classical overture ,,Cyclus Dolores", ,,Ride Into The Storm", the lead single of this album, hits you in the face like a sledgehammer. It is an up tempo, almost thrashy metal song, featuring an awesome addictive chorus. Follow up ,,Dead Man On Display" is another aggressive song with glorious vocals from Lione, but also some amazing twin guitar parts by Bittencourt and Barbosa. ,,Tide Of Changes Part 1 and 2" are typical Angra tracks truly reminding me of their first two albums. ,,Vida Seca" – with a guest vocal from the Brazilian singer-songwriter Lenine – is a musical surprise. It is packed with native instruments, and it is partially sung in Portuguese!
HEARTBREAKING
The title track of this album is one of my favourites. It is melodic like hell, dramatic, emotional and Fabio really shines in ,,Cycles Of Pain"; what a voice! ,,Generation Warriors" is a power metal track while closer ,,Tears Of Blood" – featuring Amanda Somerville on guest vocals – is another emotional rollercoaster as the duet of Lione with Somerville is heartbreaking.
CLASSIC METAL
For me, this is the best Angra album ever in their career as I cannot stop listening to songs like ,,Tide Of Changes", ,,Ride Into The Storm", ,,Cycles Of Pain" and ,,Tears Of Blood". They are truly addictive. Five years after 'Omni', Angra is back with a vengeance!! Not to be missed! Buy, or die as 'Cycles Of Pain' is a classic metal album packed with impressive tracks. Do not forget to play it LOUD!!!!
Release date: 3 November 2023