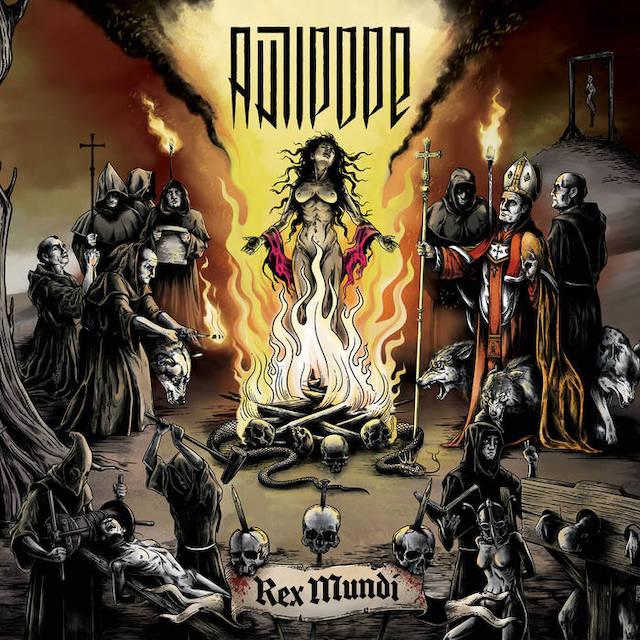 Review | Antipope – Rex Mundi
Independent Release
"No one defines us" is the statement applied on all of Antipope's previous six releases, and is rooted in the band's wide array of styles mashed. Since 2004 the Finnish band has walked their path of enduring growth and development with unrestrained compromises. With `Rex Mundi' dropping in the present, Antipope antes up again for a metal crusade through time, blending ingredients from the widest heavy metal spectrum, fusing prog dinosaur rock with dark progressive metal, touching the borders of death- and black metal, while exploring the most harmonious and melodic structures incorporated with the insane heavy momentum of the songs.
Adding to the blend is the conceptual story based on the brutal medieval Albigensian crusades and Cathar wars that gave the church of Rome its elusive powers through inquisition and relentless bloodshed oppressing the masses. The outcome is as tragic and brutal as the story itself, welling with tragedy and deep dark brutal matter.
A GRUESOME STORY
,,Plague of Heresy and Madness" opens in ominous doom and immediately takes me to the acclaimed Saviour Machine trilogy of `Legend'. Theatrical and pompous, melodic powerful it pitches into ,,Rex Mundi Aeternum" with Mikko and Antti's intrinsic guitar harmonies doubled up over the intensifying ponderous drums, before hitting the speed trap full throttle. Drums are constantly shifting gear and dynamics, displaying Tuska's black metal blasts and varied kick and floor dynamics. Heavy riffs and hooks give way to abrupt progressive breaks building towards lush harmonies and melodies unloaded over Joni's elemental bass melodies.
The epic 10-minute track unpacks ethereal cinematic sections fused to Antipope's ultra-heavy benchmark extremes, with Mikko belting out an evenly varied and distributed vocal execution. Melancholy gives way to the rural aesthetics, while the gruesome story unravels in anger-laden frustrated rough roaring, as varied as the music.
MUSICALLY CINEMATIC
,,Hounds of Lord" storms in with black metal turmoil slowly morphing with intense harmonies and twin guitars. The prog breaks are stacked while vocally Mikko roars, switching between 80s power metal and NWOBHM register over the towering riff. ,,Eye of the Storm" opens cinematic with subdued choral chants and arrangements, before getting injected with swirling close harmony guitars and storming prog hooks and time changes. Lush structures throughout, the song keeps morphing.
Musically cinematic, the tracks pack excellent guitar interaction, with bass frequently taking the helm before delving into the heavy dark progressive death and black metal, like on ,,Glory of Slaughter", ,,Hell on Earth" and the classic metal stomper ,,Twilight of the Grey Gods", with its attracting chorus and ominous low pace and gradually building ponder and soloing. It contrasts deeply with the banger single ,,Church of Wolves", with its relentless ponder and towering guitars pulling it forward like a freight train run rampage. At the gear shift Tuska lays down blast beats and insane tempo, abruptly stalling in melodic polyrhythms and breaks. Bass is roaring in the underground, with riffs meddling in the dense middle. The song reveals Mikko's frailty in range, not always on par in the demanding musical stratosphere operated. It reveals the band's Achilles heel, unfortunately.
THE POTENTIAL OF ANTIPOPE
Though overall extremely consistent, there's some highlights we cannot surpass. Songs that mark the enormous potential and striking style mash of Antipope. Not only its title is a medium paced neck-wrecker and tongue-twister, ,,Nameless Ritual to Traverse the Abyss between Darkness and Light" also traverses between styles and structures in wide variety. Rumbling time changes and starling riffs and harmonies, suddenly doubling up for fierce melodic discharge. The song oozes classic rock and 70s prog, packed in a Ghost Ship Octavius blend of darker prog and metal. The melancholic underscore is emphasized by its intrinsic close harmony melodies, pawed in an oriental Phrygian scale variant, pitching up the notes.
Mikko's vocals are switching from raw metal and towering Halford-ish howls. Together with the following ,,When the Day is Done" and the opening double treat, it marks the grandeur of `Rex Mundi', with its intense delivery, balancing the heaviest of powers with the insanity of melodies and harmonies. The exchange of licks and melodies between Mikko and Antti is simply astounding, while their riffs are extremely sharp and nesting. ,,Mysterious Ways of Loss, Grief and Distress" is a bridging piano fragment with dense choral orchestration lushly meandering the sonic paths that push the conceptual tenure. Aural fragments also opening standout track ,,Hell on Earth"
THE CONCLUSION
`Rex Mundi' is a bold statement by this Finnish quartet. An album with loads and loads of diversity that lure the listener in. Its concept adds perfectly, with Antipope able to adjust the gears and get the musical mechanics in place for this inflammable prog potion. A lot going on, and even more to enjoy, the album unravels with towering sonic allure. Vocally it would benefit from a more appealing singer with wider range to exchange vocal duties. Mikko delves deep and constantly surprises, but somewhat lacks the right tone in some performances. The isolation in the mix doesn't help either, without dismissing him as the band's fronter. His passion is radiant, just narrows the market in attracting possible new listeners (IMHO).
But by all means: Check out `Rex Mundi' and get acquainted with the ponder of Antipope!