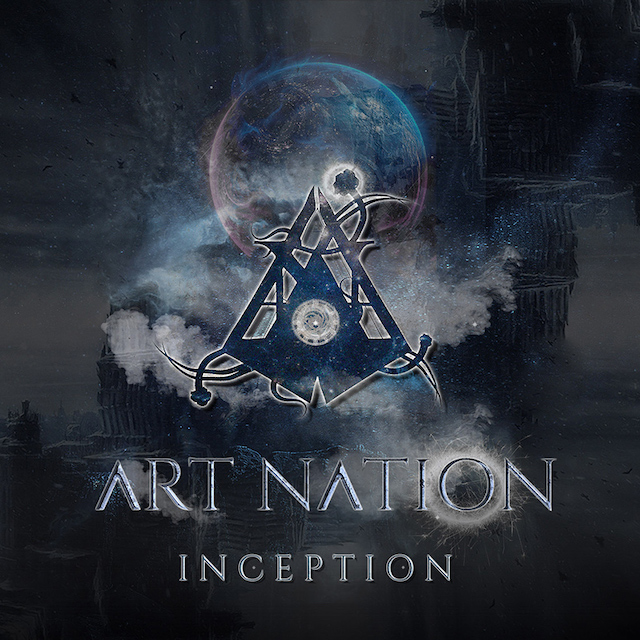 Review | Art Nation – Inception
Frontiers Music Srl
`Inception' sees a reunion of founding member and songwriter Christoffer Borg (Taste, Art Nation) and vocalist Alexander Strandell (Crowne, Art Nation) resurging the band after a 4-year hiatus. Together with bassist Richard Svärd and Alexander Lundgren on drums, Art Nation resuscitates their melodic laden heavy hard rock and warps back to the highest ranks of the New Wave of Scandinavian Melodic Rock which they, as one of the front runners, initiated almost a decade ago.
THE BREAK UP
Art Nation's press announcement bears no secrets addressing why the band 'broke up', with Strandell opening up on his tumultuous times with the band that shot up so fast. He displays frailty reporting the effects of decisions made and how it affected the band's members and status. He cheers the return to form and the reinstallation of founder Borg, and this affects the outcome of `Inception'.
The new album picks up where `Liberation' left off and reveals why its follow-up (`Transition') failed to deliver. Brisk and storming melodic anthems with a metallic edge from start to finish! ,,Brutal & Beautiful" does justice to its title, going all in on immediately. Strandell belts out fiercely Borg's rich guitar tone adds to the melodics with great riff and lick delivery. Lundgren's drums are mega-dynamic and the double kicked bass enhance the metallic edge. It wells with wonder, morphing into a towering bridge and chorus balancing on the edge of tackiness.
SHRED INFUSED MELODIC METAL AND SCANDI-ROCK
Opened around modern tech hinges, ,,Last of the Burned" packs tremendous anger and swagger with Strandell roaring loud before pitching into the wonderful chorus with its anthemic afterburn. This modern tone reverbs all over `Inception'. Excellent melodic rockers like ,,1001" and the double kicked dynamic ,,Somewhere I know I belong" well with class without walking the predictable 'paths-of-old'. Exploring this sonic range farther, Art Nation delves into more stagnant (prog-tinged) hooks and breaks on ,,Fight Fire with Fire", which is bold of nesting hooky riffs and unpacks a high-octane melodic chorus. Pitching this format up they deliver a cross blend of shred infused melodic metal and Scandi-rock on ,,Break Up", with stabbing keys and guitar hooks atop the surging groove. The chemistry oozes and Strandell and Borg make inevitably clear Art Nation is back. The interaction is pristine with momentum charging.
When shifting (down) gears, the band unloads an epic symphonic metal stance on the wonderful and daunting ,,Echo" which fuses the best from symphonic metal bands with unique melodic wonder of their debut. It wells originality checking all boxes of future melodic rock.
ART NATION – EXLAMATION POINT
Shifting back further Art Nation opts a bluesy tone on the opening of ,,Light the Fire" before mining classic 80s hard rock vibes amidst their typical dense modern orchestration, and Borg reviving the dazzling solos of the era. The gradual build motion of tone is what makes `Inception' as a whole bloom. It is almost like surfing a wave from the eighties that crashes on the shores of modern melodic rock. Listen how that 80s vibe extends into ,,The Legend Reborn", fluently following its predecessors' path while very systematic building into the modern present unleashing ,,Superman" and album closer ,,Powerless" onto the listener. The latter as the exclamation point of the return of the band!
The reunion of Art Nation's driving forces ensures high quality melodic rock returning above the fold. `Inception' is action-packed anthemic wonder bringing out the best musical variety possible. Mega melodic anthemic choruses laden with gigantic hooks and towering melodies, all shaken up with a wide range of era-spanning influences, are what `Inception' provides. Especially when exploring the sonic borders, Borg and Strandell emphasize why rock will never die!
Release date: 9 June 2023