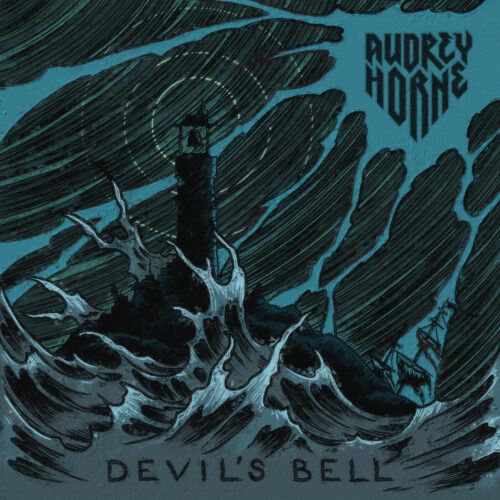 Review | Audrey Horne – Devil's Bell
Napalm Records
Active since 2002 and with 'Devil's Bell' releasing their seventh studio-album and this dipstick of a writer has never ever encountered the music of these Norwegian rockers with members of Enslaved and Sagh in the line-up. I must admit that I completely missed this band and that the nine songs on 'Devil's Bell' are my baptism of fire as far as this group is concerned.
CLASSIC ROCK AND METAL
Looking at the past (and present) of some of the musicians involved the music of Audrey Horne on this album is to be described as very classic rock/metal. A lot different in comparison with Enslaved. When you hear the riff and general tone of the track ,,Break Out'' you can't help to think about the first two Ozzy Osbourne albums with the late great Randy Rhoads. The instrumental ,,Return To Grave Valley'' has unmistakable Iron Maiden features galore.
Is that a bad thing? Not in my book, as this band might not be original perhaps but what they bring on a musical level rocks your socks off like no end. There are two guitarists (Arve Isdal and Thomas Tofthagen) who are spreading riffs and solos like there is no tomorrow. Backed by a solid rhythm section (bassist Espen Lien and drummer Kjetil Greve) while vocalist Torkjell 'Toschie' Rod combines power, reach and a good sense for melody.
AHA MOMENTS
Yes, you will encounter quite of lot of 'Aha' moments as the band does not pretend to bring something new or something fancy. Audrey Horne (the name comes from the TV-series 'Twin Peaks') on this album seems to pay a musical tribute to artists they and we grew up with. I have always said something better be a good copy than a bad original and that is exactly what is the matter with this album that also has some 'arena' rock touches. It is an exciting and rocking trip throughout the late seventies and early eighties but brought to you with a more modern power production. I think I have to invest some time and money in the past of Audrey Horne.