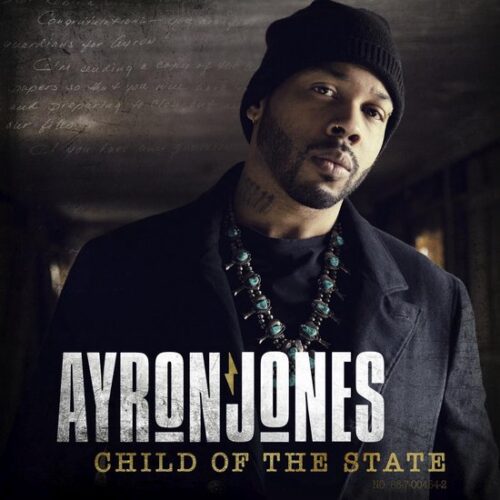 Review | Ayron Jones-Child Of The State
Big Machine Records
Sometimes while you are shopping and/or browsing on the net some surprising suggestions come to your attention. While yet again browsing on Amazon suddenly the name Ayron Jones appeared as an artist that might be of interest. I looked on YouTube and bumped onto the song ,,Mercy'' from his third album 'Child Of The State'. At first glance it sounded to me like a harder version of Lenny Kravitz but with more flair and also heavier.
GAMBLE
As so often I took a gamble and ordered the CD and it is most likely one of the best moves I have made this year so far! Ayron Jones is a 35-year old guitarist/singer from Seattle, Washington who works as a solo-artist. His influences come from all over the place, varying from Stevie Ray Vaughan, Kravitz, Nirvana and Soundgarden. I can't say that the material on 'Child Of The State' really makes me think of Nirvana or Soundgarden but Vaughan, Hendrix and Kravitz sure do come to mind on the twelve songs.
Take for instance the opener ,,Boys From The Puget Sound''. It starts off with a small (friendly) tirade towards the police but it spins into a crunchy rocker with great vocals and gritty guitar work. And there is a whole lot more of tasty stuff to be heard on this energetic rock album that touches blues and soul at times.
Take for instance song number eleven ,,Emily'', that really rocks your sock off while closer ,,Take Your Time'' showcases a more mellow side of Jones who is a guitarist with razor sharp features and a singer with a very pleasant voice. Do not let the cover fool you. Jones might look like a black rap artist perhaps but his music is a whole different cup of tea indeed. Ayron Jones is a versatile and inspired heavy rocker who has multiple musical layers on offer on 'Child Of The State', but is first and foremost a rocker with some surprising guitar moves and really excellent songs. This is certainly an artist that hopefully finds his way to a large audience as there is hardly anything wrong with his third album!