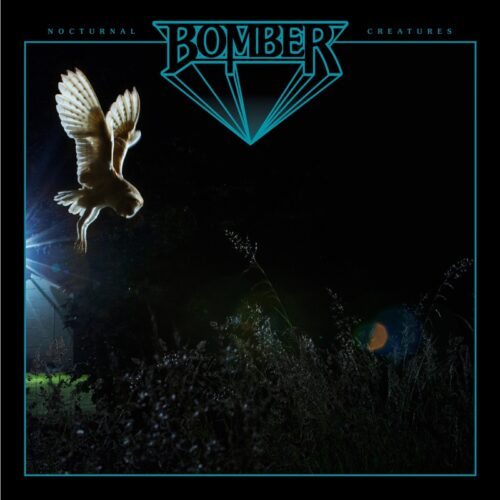 Review | Bomber – Nocturnal Creatures
Napalm Records
Bomber is a hard rock band from Sweden consisting of Anton Skold (vocals, guitar), Love Andersson (bass guitar, vocals), Rasmus Grahn (drums, vocals) and Max Hudden (guitar, vocals). They "bring back" the glory days of classic hard rock from the seventies and eighties. 'Nocturnal Creatures' is their debut album and Bomber already released three singles from it of which ,,Fever Eyes" is the latest one. ,,A Walk Of Titans (Hearts Will Break)" is a rather "complex" track, filled with dynamic melodies and some extreme heavy drumming. This one surely brings back memories of classic hard rock bands like Thin Lizzy and Def Leppard!
HARD ROCK ANTHEMS
,,Hungry For Your Heart" and also ,,The Tiger" burst with energy and both sound like huge hard rock anthems; indeed, so very suitable as live scream along songs. Both new and old fans of classic hard rock will really like this album. Most of the songs feature screaming guitars, pounding drums, catchy anthemic like choruses and more than excellent vocal performances as Anton Skold's powerful, raw voice suits the music perfectly. One of the highlights of the album is ,,Zarathustra", a track that features all the aforementioned musical trademarks of Bomber.
MAXIMUM VOLUME
Of course, I must also state that Bomber does not come up with something innovative, what you hear is what you get, meaning straightforward classic hard rock deeply rooted in the seventies and eighties. My personal favourites are definitely ,,Kassiopeia", filled with brilliant hooks and awesome solos and ,,Black Pants Magic". Check those two out at maximum volume if you can. Lyrically 'Nocturnal Creatures' is an album about the night and musically speaking it is a hell of an album as these four Swedes set the hard rock world on fire with their powerful sound. Highly recommended indeed!
Release date: 25 March 2022