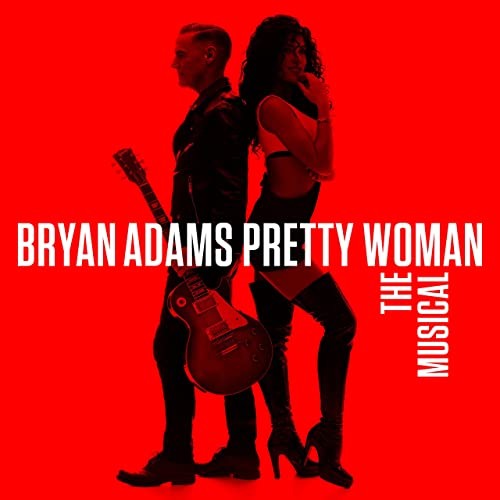 Review | Bryan Adams – Pretty Woman – The Musical
Badams Music Ltd.
I admit it gracefully: chickflick and feel-good movie 'Pretty Woman' is one that makes me smile! Really… That radiant wide smile from Roberts still tickles the senses. Her out of tune and quirky singalong to Prince's ,,Kiss" is carved in movie-history. But I didn't see this musical version coming, nor did I expect mainstream rock icon Bryan Adams to be part of its creational team. Together with that other 80s hit prompter. Jim Vallance, Adams started the creation of the music. Their productivity streak produced 16 original tracks, with a couple more landing on 3 subsequent albums. A hit machine reunited writing and performing a hit musical. Let's take a closer look to what they created…
BROADWAY
Dedicated to lifestyle we may not discard offerings like Bryan Adam's musical score. `Pretty Woman' has been turning its rounds at the theatres worldwide and proven a blockbuster. Sold out theaters in the USA, Germany and the UK prove the appeal of the classic novel and movie. Since February 2022 the soundtrack of the musical, performed by Adams himself, was made available one track at the time. All songs were re-recorded during the sessions for his recently released new album `So Happy It Hurts', we get presented refreshed versions of the original score. Contrary to the Broadway cast's recording, Adams injects the songs with his personal appeal (read: hoarse voice) and bravura.
Exactly that, combined with those typical theatrical musical ingredients, make it pop. The opening ,,Welcome To Hollywood" oozes eighties grandeur, much like Styx' ,,Paradise Theater". A perfect curtain call with Adams fitting in perfectly. Poppy, but rocking out with a punch. Bryan's voice still has the power and hoarse edge to give the tunes an extra (less cinematic) boost. Styx' trademark ingredients are pleasantly present in the following ,,Anywhere But Here", which is pulled along an effective beat and acoustic-electric guitar interaction. Again, Adams' vocals add enough valor and color to pick it from its initial poppy setting, warping us back to his heydays of, say… `Reckless'.
THE STORY
Perfectly catching the content and feelgood spot of the movie, Vallance and Adams, manage to revive the story in lyrics fused to a bodywork of melodic hooks and recognizable melodies. Standout tracks follow each other in high tempo with the story unfolding. ,,Something About Her" is transferable to the movie, followed by the piano ballad ,,Luckiest Girl In The World" with typical Bryan Adams touchy-feely ballad stylistics. The 4 opening tracks build towards the hard hitting ,,Rodeo Drive" with its bluesy drift. Heavy throbbing bass, off and on guitars welling unloading into a sticky rough riff. Rocking out heavily it contrasts with the slow-moving rumba ,,On A Night Like This", blooming into a tango with acoustic guitars and mariachi appeal over a rocking foundation.
Very soulful and moody it bears reminiscence to his hit ,,When You Love A Woman" with a hint of Caro Emerald's ,,Night Like This" 60s swing. ,,Don't' Forget To Dance" has a jazzy soft note with a deep narrative from Bryan using his deep hoarse vocals, swiftly flowing into the feelgood toned ,,Freedom", a modern track in the vein of Train's hits. Touching the emotional vein, it has an uplifting message.
EVERYBODY'S LIFE STORY
Typical Vallance/Adams is the riff spun semi pop rocker ,,You're Beautiful" that would be a sure hit in the 80s or 90s. It is impressive how both songwriters managed to mold the storyline into appealing lyrical content with high hit potential. ,,This Is Your Life" is remarkable and very narrative, while ,,Never Give Up On The Dream" carries a deep message transferable to everybody's life story. Both songs have insane nesting melodies and choruses with Bryan Adams displaying his immense qualities as a performer. He is able to bring out the best in these songs without all the musical appeal of the original score, performed by the Broadway cast. Rougher around the edges, the songs gain momentum and rockier appeal.
Even the rap section in ,,Never Give Up…" still packs enough rock-swagger to sit it out. Rolling into the wonderful rock ballad ,,You And I" tapping the emotional vein with benchmark Bryan Adams and Jim Vallance grandeur. Sheer brilliant.
U2
,,I Could Get Used To This" features a rousing riff and throbbing powerful bass with modern hints of acoustic and electric interaction. ,,You Can't Go Back" is constructed around an ,,Eye Of The Tiger" reminiscent riff which morphs into a U2/The Edge echoing riff style, and Bryan Adams calling out the chorus. The song unites Adams' rocking edge with U2's fine light guitars. Again, the deep bass tones add to Bryan's hoarse loud vocals. It gels well and is ear mingling, even for those who dislike the Irish pop icons. Typical is the momentum in Adams' voice, exactly knowing when to power up and call out with rousing power.
It leads us into the grand finale of the touching ,,Long Way From Home" (with accordion?) which powers up in the best 80s rock ballad tradition with pitching guitar lick and keys. Typical Adams, typical eighties above all. ,,Together Forever" is the albums exclamation point. Feelgood vibe and uplifting guitar lick. Poppier than any of the previous tracks the song unites the musical cinematic ending with a call for hand clapping and a blunt stop whaling in desired applause upon performance.
THE FINEST EIGHTIES TRADITION
It is clear Vallance and Adams did their homework as the 16-track soundtrack enrols like a freight train, keeping the pace high and switching emotions. In an interview director Jerry Mitchell said that the score "Will have the feel of late '80s-early '90s rock: That's one of the great things about Bryan Adams; it's where he lives." He was spot on with his remark. The album is an example of the songwriter's creative aspiration which stand tall after 4 decades. `Pretty Woman' definitely became an AOR/Melodic rock album in the finest eighties tradition.