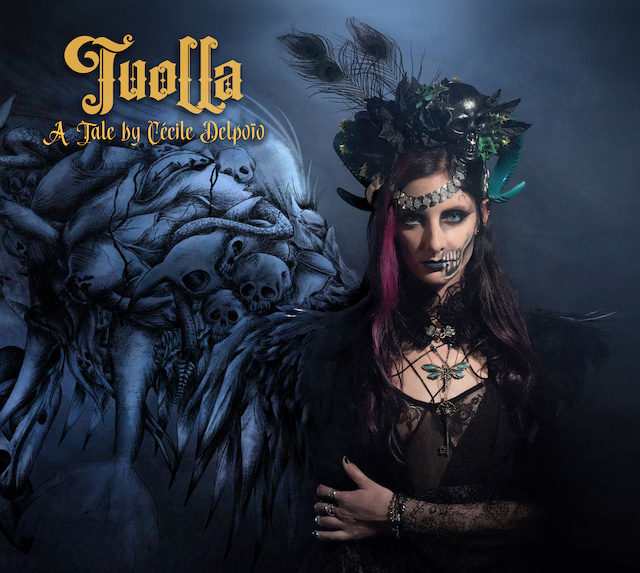 Review | Cécile Delpoïo – Tuolla 
Independent Release
Cécile Delpoïo is a French creative producer and artist known for her videoclips and fantasy illustrations. Her work is elaborate and dark, while her videography is enchanting, trying to expose manifold parallel worlds capturing the seasons wavering beauty and enchanting exposure. Contrasting with the images is her dark art of drawing and photography, luring you in instantly.
Expanding her horizons, Cécile decided her imagery's necessity put to music, taking us on an enchanting and dark journey with `Tuolla' sonically telling the story of Aodrëna's path to self-destruction in a quest to find happiness.
A DARK FAIRY-TALE
`Tuolla' is an ominous and dark fairy-tale opened by chants and medieval instrumentation with Cécile's angelic frail vocals. ,,Aodrëna" is a dreamy meandering song with cinematic exploration of the enchanting fantasy world of floating lands. The story unfolds with lingering sadness on ,,Highest Dreams" and the wonderful and colorful arranged ,,Au Sommet de la Tour" which has uplifting playful instrumentation and lyrics that sinisterly do not convey the lyrical content. It is the contradiction in music vs story that is compelling and Delpoïo reveals, more than once, her creativity chipping away on feelings and emotions that not necessarily line up with its content. The outcome is daring, somewhat off throwing and equally enticing.
,,Above the Sky" aligns with the song's story perfectly. Playful piano takes Aodrëna up in the sky, audible as the climb is welling with piano and strings intensifying. Higher upward it is spiralling towards a glorious momentum with welling grandeur of string arrangement and angelic chants. A calming serenity sets in, to be diminished by a dark passage opening ,,Erimaïlma", telling the story of mischief and disillusion as Aodrëna's part after leaving Tuolla. The ominous darkness makes way for the reflective vocals, accompanied by lush string arrangements and piano with melancholic underscore. The song wells with emotion as Cécile chants. The 10-minute track suddenly erupts with cinematic large arrangements in the vein of Hans Zimmer, casting a dark shadow. It is that moment Aodrëna hears of her homeland perished in her absence. Cécile Delpoïo sings in despair, frail and emotional.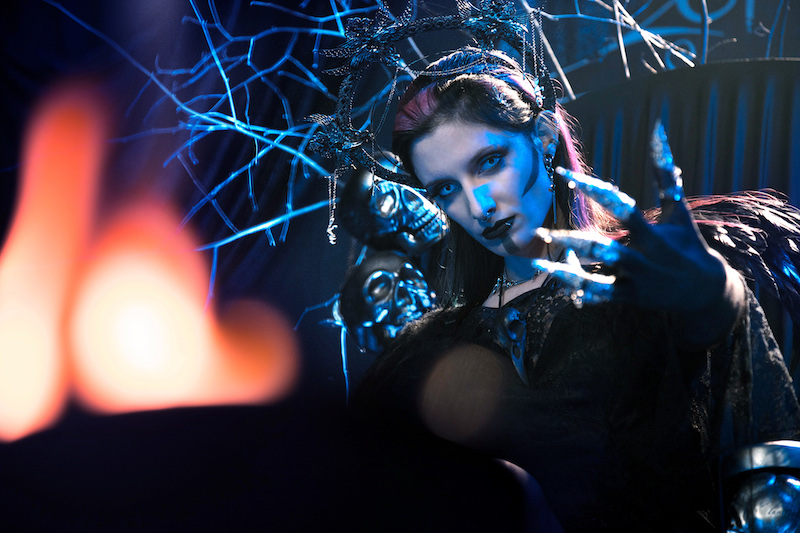 CINEMATIC VOCAL INTERACTION
It calls for her return which is set in on the piano driven and slow meandering esoteric ,,U-Turn" and while crossing the forest travelling she hears the distant horns calling from the castle. The princess' return is celebrated with a dense and explosive orchestra welling. Arpeggios take point with drums and bass powering up for an intense solo part discharging towering emotions. Delpoïo's angelic chants and vocals interact on multiple levels, with the story of the song escalating and a lamenting short end depicts the passing of the queen upon Aodrëna's return.
,,The Ungrateful Daughter" reflects on her mother's passing, wicked as she is, frail and vulnerable, yet still bearing the grudge against her daughter's past journey. The vocal interaction is cinematic again and off operatic allure, welling with pain and emotion, dying out with the strike of a high key. It opens to the gloomy ,,The Serpent's Venom", going back and forth in swinging emotions.
HANS ZIMMER
The album is concluded by the frail piano ballad ,,Stars" that gradually builds in tension towards a glorious grand finale that dies out in linger with ,,Flying" revisiting ,,Above the Sky" with its wonderful vocal and violin interplay. The lush orchestration and humming vocals add to the experience of the story passing by in your mind. The end is an intense piece with warm vocals, as the closing chapter summarizing the spiritual growth throughout the journey, overcoming desperate times and places.
Cécile Delpoïo adores and explores the musical wonders of Hans Zimmer's cinematic empowering arrangements and musical direction. Welded onto a carcass of melodic wonder and meandering musical beauty, it is captivating and emotional. A sonic rollercoaster-ride that lures you in instantly. With Delpoïo signing for the fantasy story, guitar, piano and vocals, it is a wise move she brought in a third party (composer Olivier Reucher) for the orchestral arrangements, balancing the intricate emotive music on this album.
`Tuolla' is not the typical dark gothic record but a lush fairy-tale told in a foreign language, slowly drawing you in for the cinematic journey travelled. The art and photography are simply astounding and add up to the presentation of her mesmerizing first endeavour.
Release date: October 26, 2022