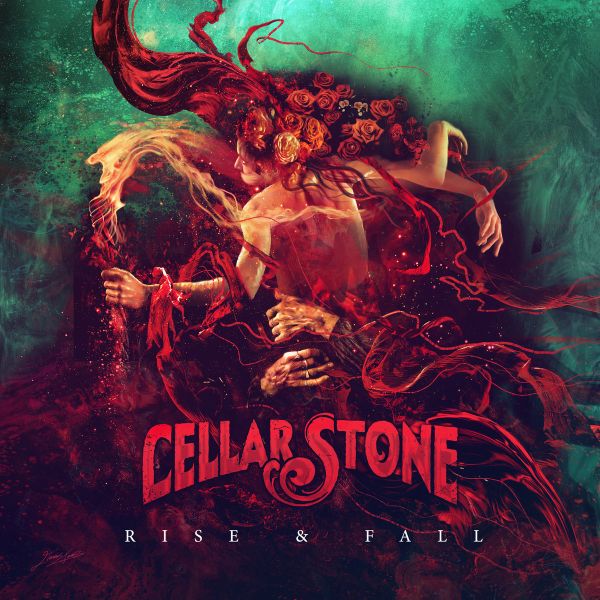 Review | Cellar Stone-Rise & Fall
Rock Of Angels Records
Following their 2018 debut 'One Fine Day' Greek melodic metallers Cellar Stone report back with their eponymous album 'Rise & Fall'. An album packed with classic melodic rock bordering with groove metal and injected with modern metal. Cellar Stone delivers a memorable album that you must hear.
FRESH VIBRATING APPROACH
Impressing with their debut, the new album unites the ingredients of 4 years ago with a fresh vibrating approach and tremendous melodies and energy. Proceeded by two YouTube videos, Cellar Stone instantly managed to impress. ,,Going Under" is brought to life with a hollow drum roll and fierce memorable riff. Reminiscent to Mastodon's ,,The Motherload". It breathes fire. The somewhat distorted remote drums add to the luster and the songs hook and chorus are intense. It has a ring for hit-success to it without lacking the kick and punch.
,,Time to Fall" outdoes the song on all accounts. Driving solid groove and dynamic drums and rhythm changes pull forward. Vocally it flexes ravishing roar around memorable melody-lines and a chart-topping chorus. It is the driving riff fused onto the middle eastern tinged guitar melody that give it the extra punch and touch of slickness.
HOLLOW ECHOING
Hopes were high upon both calling cards and you can rest assured these are solid introductions to 'Rise & Fall'. The album maintains to get ahead of itself with tremendous drive and rouse. Opening with distant drums approaching, ,,Borrowed Time" spits instant turmoil. George Karlis' drumsound is very untypical with hollow echoing and kick dominant throb over the load and varied pass lines of Akis Rooster.
The song perfectly opens to the video singles ,,Going Under" and ,,Time to Fall", to be followed by the ominous roaring ,,War We Can Win", featuring Chris Robertson. The song has a scorching grunge drive with southern kick and glory.  On top of the gritty drive and thumping drums it wells with marvelous riffs and hooks delivered by George Maroulees. An absolute abundance of riff and melodies is delivered in fine form. The chorus again is extremely catchy with Aris Pirris flexing his powerful voice around the morphing melodies.
OMINOUS CREEPER
The potion swings with soul and swagger before ,,To The Core" brings its vibrating riff to life. Semi paced Aris displays his wide range and soulful appeal. Fueled with tons of energy and strut he breathes life into the verb and intense melodic chorus. Multi layered vocals enhance its appeal, with the drums again taking point alongside the guitars. ,,Demons" is another ominous creeper with Black Sabbath pretentions, as where ,,Save Me" evokes a (Vandenberg's) Moonkings vocal vibe, building tension. The song unloads on multiple engines with grandiose melody and bluesy appeal. The title track is propelled by intense drum patterns and load rousing riffs, with Pirris taking the helm for a versatile vocal execution.
PERFECT END
Insane drum dynamics and echoing melodic vocals provide another out-of-the-ordinary backbone to ,,Storm Is Coming", which also displays Maroulees' diversity in riff and melody execution. Echoing ebbing string bends are built around the effective riff, with an insane melody leading into an exemplary solo bold of bluesy notes and reverb. Drum rolls and polyrhythms intensify to revive the songs intense multi layered vocal chorus. The breakdown of 'Rise & Fall' is the whammy, southern driven ,,Runaway", which sees grit and gravel spitting up over the roaring engine. It is the perfect end to an album choke full of melody and rousing riffs. An album balanced on the ledge of greatness…
Cellar Stone delivers a fine piece of work, blending melodies and ominous tuned guitars with insane melodic versatility and towering choruses. Combining the best of the last 5 decades they manage to brew up an intense and insanely attractive cocktail of melodic roasted metal, with focus on top notch songs. Though the drum sound threw me off slightly it grew into a key ingredient of the overall sound. Last Crack soundwise came to mind as much as Alter Bridge and Mastodon, in their peculiar way. Crafted around memorable ominous riffs and attracting melodies however, Cellar Stone's tracks rock with an entirely different (and unique) appeal. Tip for the top!