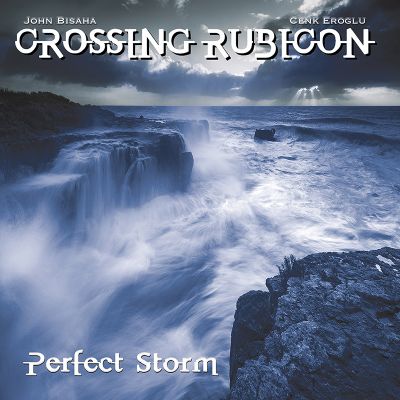 Review | Crossing Rubicon – Perfect Storm
Frontiers Music srl
Crossing Rubicon is a project put together by Frontiers' Serafino Perugino and unites the talents of Turkish guitarist/composer Cenk Eroglu and singer John Bisaha of The Babys fame. The latter first caught my attention on the metal musical 'Destiny Faire', composed by former Zaxas vocalist and songwriter Dale Anthony. Injecting the songs with his wow-factor vocal range he impressed on the spot.
Bisaha and Eroglu now unite for 11 brand new tracks rooted deep in the melodic rock era, yet without dismissing a personal touch and approach.
THEATRICAL APPEAL
The title track leaves no room for discussion. Fusing the ingredients from 80s and 90s melodic rock bands, they unite slick melodies and memorable choruses to a solid rocking backbone. Cenk's playing is clear and powerful, with Bisaha adding his excellent versatile vocals. The solo is dazzling, pitching up wildly. It brings together Foreigner, Survivor and Styx in one breath.
It is a high quality consisting as displayed on ,,Reason To Die", which somewhat suffers from its clinical sound. Subdued by the rousing riffs and memorable hook. ,,Scar" is one of those tunes that nests on the spot with its memorable riff and hook. Theatrical melodic execution and funky effects add to Bisaha's exquisite theatrical appeal. ,,Too Late" evokes the finest of Foreigner's catalogue without lacking uniqueness and appeal, ,,On The Run" is an arena rocker with ravishing melodic appeal and variety.
FUNKY
Speed goes up songs like ,,Cry Me A River" with its sticky melody, slick chorus and intense diverting guitar-keyboard interaction. Tapping a funkier rocking vein Crossing Rubicon delivers the towering melodic ,,Time (Without You)". Fusing the funky bass line and dynamic drums with a Magnum-reminiscent keyboard sections pumping it up. The chorus is appealing and its multi layered vocals add to the grandeur. Tacky and slick, over the top. The solo injects a bluesy scale and notes. It is clear that both musicians put their mark on the album, with their talents.
Absolutely marvelous is the slow paced ,,100 Thousand Years", with its wonderful orchestration and vocals. Pitching up slowly the song unloads wonderful melodies and a catchy hook that would have been hit material in the 80s.
BALLADS
It is one of the band's key features as proven on the following rip-roaring ballad ,,Never Again". Reminiscent to Winger's finest powerhouse ballads, the song also touches with Survivor's finest. Though a bit too much at first, the third and fourth ballad (!) are other prime examples of Eroglu and Bisaha's fine-tuned feeling for melancholy and drama. ,,Get Away" is classic tearjerking and ,,Crash & Burn" tops off the melodic finesse with Johnny and Holly Bisaha duetting.
Crossing Rubicon is another Frontiers project stepping out of the shadows. With Bisaha and Eroglu uniting, the label has two talented aces at their disposal. Memorable songs and melodies are unloaded plenty. Great guitarwork and solos are delivered in abundance, as are the exquisite appealing choruses. Everything making the 80s and 90s so pleasantly melodic is present. Walking on the safe side at times, it also sees promising musical experiments 'Perfect Storm' is certainly an album to check out. Don't expect it to shake your melodic foundations, but merely inject your catalogue with fresh new songs for future reference. I expect Crossing Rubicon's next effort shift up a notch or two.