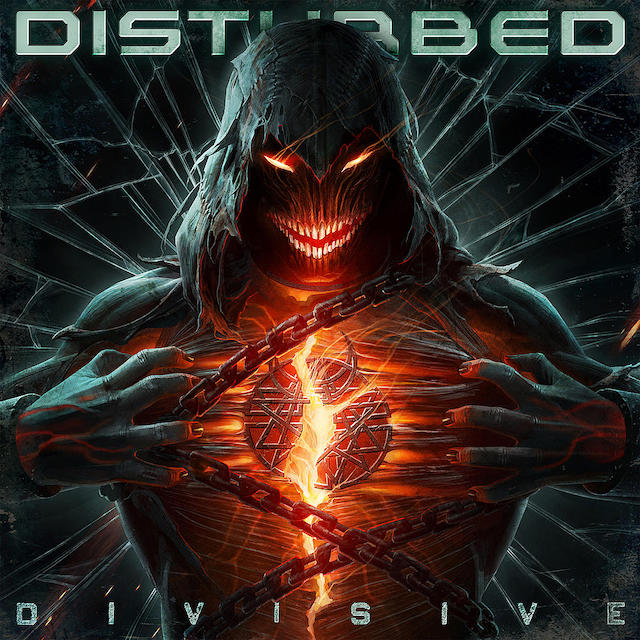 Review | Disturbed – Divisive
Reprise Records
On their latest studio record Chicago based quartet Disturbed make a welcome return to the metal and rock window. We are talking about a major name in the business here as all their albums were quite successful and the expectations for 'Divisive' are high, as they should be for a band with the status of Disturbed.
THE BEST OF FOUR GENRES
Throughout their early and their more recent years the band has combined the best of four genres, putting elements of metal, hard rock, nu metal and alternative metal in a big bowl and brewing their own musical cocktail from that avoiding being labelled as a follower or example of one of these four mentioned genres. Disturbed carved out their own route, set their own standard and rightly so looking at the multiple platinum sales of the various albums, the high position in charts all over the world, etcetera.
TWO FACES
'Divisive' has two faces. The first half of the album shows a band that is full of energy, gritty, aggressive and in your face with songs like ,,Hey You'', ,,Bad Man'', the title-track, ,,Unstoppable'' (one of the album highlights), and ,,Love To Hate''. Also closer ,,Won't Back Down'' belongs in that row. Singer David Draiman, guitarist/keyboardist Dan Donegan, bass player John Moyer and drummer Mike Wengren really turn on the style on these songs, in a way going back to the first part of their career but now armed with a better production and experience. The songs are full of bite and especially Moyer and Wengren are responsible for the high energy levels and forceful nature of the songs.
ANN WILSON
With the tracks ,,Don't Tell Me'',  ,,Take Back Your Life'', ,,Part Of Me'' and ,,Feeding The Fire'' Disturbed keeps up the energy level but these songs are more melodic and remind me more of the albums they made after 2015 'Immortalized' and Evolution' where the band had a more melodic approach. It has been a master move to ask Ann Wilson of Heart to participate on 'Divisive'. ,,Don't Tell Me'' showcases a perfect duet between Draiman and Wilson, a combination that works perfectly in a song that also features a scorching solo by Dan Donegan.
CONCLUSION
With 'Divisive' Disturbed delivers a pretty good summary of what their music is all about. It binds the old fans but it shall also please the people that got into the band after their 2015 comeback. It sounds heavy, energetic, modern and melodic. It is a well-balanced record that should consolidate the status the band has in the business. All in all, a positive conclusion.
Release date: 18 November 2022