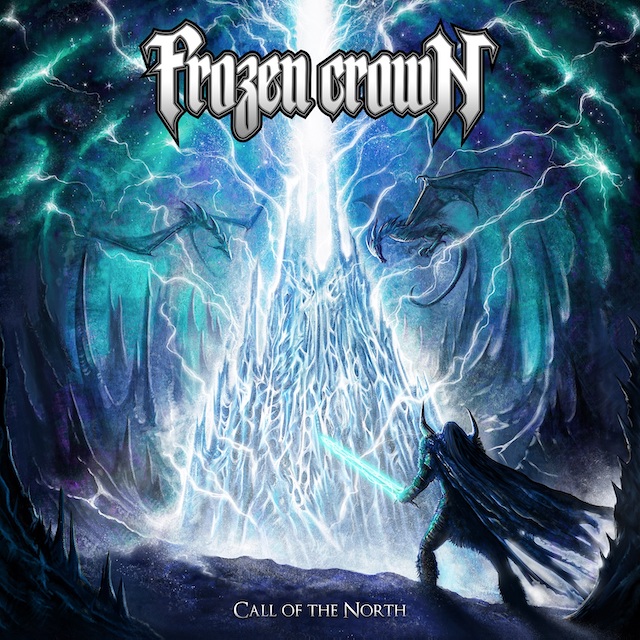 Review | Frozen Crown – Call Of The North
Scarlet Records
I first picked up on Frozen Crown with their second album `Crowned in Frost' dropping, following their mish mash debut `The Fallen King', and started monitoring their gradual growth. Expanding musical horizons and blending styles, `Winterbane' revealed harshened up their music in a blend of crushing power metal thunder and enchanting epic melodies. Two years gone past since `Winterbane' when new loot `Call of the North' drops below my radar.
THE REALMS OF METAL
If one thing applies to Frozen Crown, is their explorational growth. Again, redefining their typical nuanced blend of epic melodic power metal, the band maintains character. All benchmark ingredients are there while they delved deeper into the realms of metal. Head on collisions of brutal double bass execution and shrugging riffs propelling. Intricate progressive time changes and tempo shifts spin their melodic driven metal into motion. Especially Frozen Crown's guitar melodies and simultaneous execution of riff and melody unload is impressive. Twin solos and melodic harmonies fly all over the fretboard, reminiscent to the rich tone of Dutch power metallers Elegy and, more recent, Northtale!
In the meanwhile, the band around vocalist Jade and guitarist extraordinaire Frederico Mondelli put their foot down for avalanching tempo and drive. It can't get more epic than on the opening title track, summarizing all of their styles in a six-minute onslaught of melodies, riffs and harmonies. The Celtic folk structures pause the song for dramatic excellence, a proven formula repeated on the following drama-injected ,,Fire in the Sky". Bearing all the ingredients of symphonic power metal, the song flies forward with Jade Etro belting out her vocals.
Effective, clean and cut to form, she manages to morph along the borders of her range without dipping out of form. Impressive is the clean delivery, as if there are no effects on her voice. Doubled up with reverb on the choruses and echoing sections, Jade remains close to classic metal without discarding the symphonic drama to make it gracefully shine.
EPIC GRANDEUR
But it's Mondelli himself who takes the spotlight predominantly. The intricate guitar delivery of scorching riffs and drops is impressive. An onslaught of tempo and technique with tons of hooks and slick melodies that allude geniality in the harmonies and (twin) solos. Together with Fabiola 'Sheena' Bellamo, he injects the sonic combustion Frozen Crown embraced. ,,In a Moment" is a perfect example of their shred capacities fused to the epic drama of progressive vehicle running rampant. Dramatic twists and turns with rhythm shifts and static breaks full of polyrhythmic transgression that find accolades in the larger-than-life vocal harmonies. Complex, as if Rush themselves landed onto symphonic metal terrain for exploration of their metal edge.
It is these moments that Frozen Crown reveal the full skillset of the power metal hand they were dealt. Versatile and head on collisions of rhythm and melody, they manage to surprise constantly.
Whether it is symphonic power metal tracks like ,,Victorious", the mega melodic hammering ,,Now or Never", or the more divertive melodic ,,Legion", Frozen Crown keep jotting spectacle with epic grandeur. Riffs and hooks concussing the listener massaged into subtle melodies and giant harmonies with Jade running point with eye catching vocal versality (,,Until the End") and attractive rich tone.
FROZEN CROWN – THE CONCLUSION
Absolute cliff hanger is the double high on which the album closes. Mid-tempo ,,One for All" and seven-minute epic ,,Far Away" reveal the band's creative force. The opening to the latter evokes an Iron Maiden reminiscent chord mixture with melodies and hooks dropping suddenly. Moving away from the intro, the song starts to shift gear with Etro echoing powerful vocals while the band constantly shifts tempo indulging drama and sonic diversity.
`Call of the North' is Frozen Crown's most cohesive and jointed album, blending all ingredients with keen eye for detail. The progressive time changes are more intricate and technical than ever, without losing the wonderful harmonies and elegant melodic appeal.
The album is a juggernaut on all accounts, and I believe Frozen Crown not even reached their destiny.
Release date: 10 March 2023