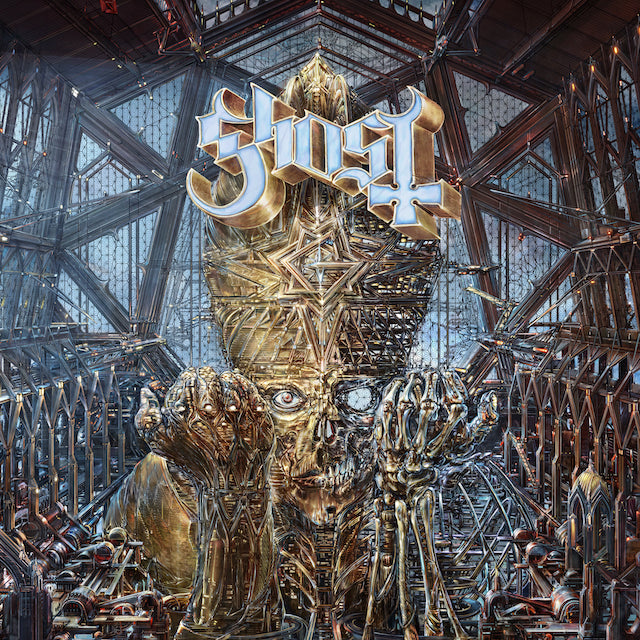 Review | Ghost – Impera
Loma Vista Recordings / Spinefarm Records
Okay let's say it right away: `Impera', WOW what an album! Maybe it even deserves the term brilliant! Swedish theatrical rock band Ghost really nailed it on their new, fifth studio album. The 12 tracks are hard proof of their incredible musical talent, vision and skills and also, extra kudos for the excellent production, mix and mastering.
CRAFTSMANSHIP
The cool thing is that Ghost sounds like Ghost but there is also something refreshing about `Impera'. The musical coloring and adventures are containing more uplifting melodies and brighter tones. Some happy feelings maybe? It's a craft how brainchild, singer, musician Tobias Forge, who manifest himself as Papa Emeritus IV this time, manages to reinvent the concept of Ghost with every new album. Presenting new storylines, visuals, characters and approaches the music and sound from different angles. But in the end, it is the voice and vocal performance of Tobias that defines the unmistakable sound and charisma of Ghost.
HAUNTING MELODIES
`Impera' is a varied album, with elements of surprise and that starts off with the drop-dead-gorgeous majestic anthemlike guitar intro ,,Imperium''. The long high-note yell that Tobias throws in the game at the beginning of the next song ,,Kaisarion'' knocks my socks; Ghost rocks da house down! This is a cool up-tempo and dynamic track, with not only a rock attitude but it also has an unexpected fat-prog metal-Rush-like section. Speaking of influences, listening to the entire album I hear hints of ABBA, Queen, Journey and The Beatles, to name a few and accessible pop elements are used in a very clever way. ,,Sillways'' is a great example of that.  
But then there is a darker track like ,,Call Me Little Sunshine'', that really creeps on you. Especially when you watch the stunning video clip.
THE ANTHEM OF `IMPERA'
`Impera' offers first class musical ideas and haunting, catchy choruses and melodies. And to pick out a few more listening tips? That would be ,,Watcher In The Sky'', that is a pounding hard rock track bringing me straight back to the good old 80s. ,,Twenties'' is striking and such a creative move. But the absolute anthem of this fantastic album is the beautiful melancholic power ballad ,,Darkness At The Heart Of My Love''. The album gets a convincing closure with the epic track ,,Respite On The Spitafields'' with a middle section seems to be a homage to Whitesnake's ,,Still Of The Night''.
`Imperia' is already a highlight of 2022 releases, it is creative, innovative and entertaining and fans are in for a treat. You don't want to miss out on this one.
Release date: 11 March 2022