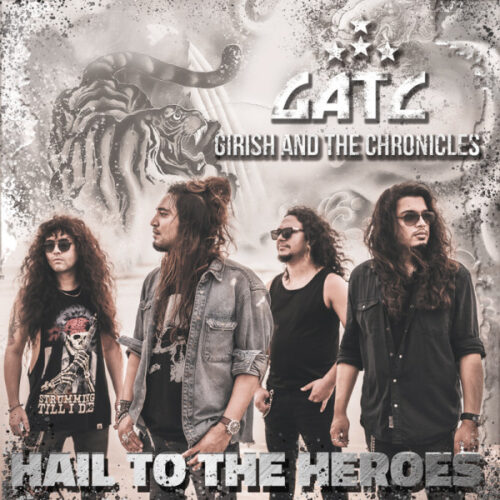 Review | Girish And The Chronicles – Hail To The Heroes
Frontiers Music srl
Bombastic and euphoric sounding metal hailing from India. Not a thing we hear often I suppose but on their third album (their first for Frontiers) singer/guitarist Girish Pradhan showcase a level that might come as a surprise.
ACTIVE FOR A WHILE
Girish and his gang (Yogesh Pradhan on bass/keys and production, lead guitarist Suraz Sun and drummer Nagen Nags) have been active for a while releasing the albums 'Back To Earth' in 2014 and 'Rock The Highway' in 2020 and have been recently signed by Frontiers, a label that has never been afraid to look for new talent in countries that you might not expect. I must confess that 'Hail To The Heroes' is for me the first time I have ever been confronted with their music.
STRAP YOURSELF IN
You better strap yourself in for a hellish ride. Clearly influenced and inspired by multiple eighties melodic heavy rock and metal bands GATC pay their own tribute to that era. They do that in a certain style. Up-tempo, yet melodic but with big sounds and ditto choruses and led by the aggressive vocals by Girish himself the group races through a dozen compositions in the hope to reach out to metal fans who don't mind melodic touches in the basically straight forward heavy rockers. It is not that the band is putting the foot on the gas pedal for a full hundred precent throughout the whole album as towards the end they even come up with quite a stunning power ballad in the form of ,,The Heaven's Crying''.
The thing that really got me going is the astonishing sound of the album as a whole. Girish and his boys have this arena rock sound on 'Hail To The Heroes' and if you add to that excellent instrumental and vocal achievements plus a bunch of very decent songs, it is clear to me that this album deserves the thumbs up although it might not have the highest originality. But my motto is: it is always better to be a good copy than a mediocre original…. Be a little adventurous and check these lads out.
Release date: 11 February 2022