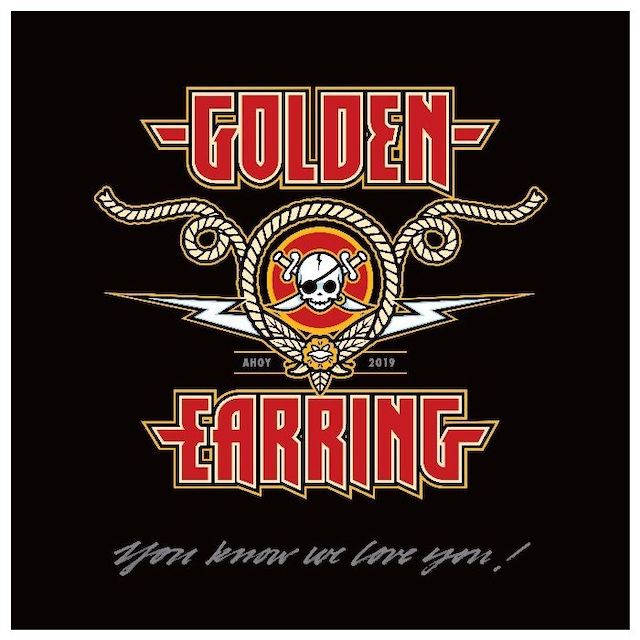 Review | Golden Earring – You Know We Love You
Red Bullet Productions
Little could anyone expect this would be their final performance…
Another sold out show, another ravishing gig in their 6 decades spanning career, Dutch rockers Golden Earring wave their fans goodbye with this CD/DVD release. The longest career in rock history (founded in 1961!) Golden Earring had to call it quits in February of 2021 when founding member George Kooymans was diagnosed with A.L.S. (Lou Gehrig's disease). Thus, ends the brotherhood Earring is. "We will not continue with one of us not present", was the official band statement, issued that month. `You Know We Love You' displays the band's intensity and comradery in front of the sold out Ahoy Arena in Rotterdam [NL]. Not intended for release initially, Golden Earring take their final bow with this document.
TIMELESS MUSIC
With a discography bold as brass, the Dutch band has countless songs to dig from. Golden Earring delivers, as they always did. The band's intense interaction and timeless music is transferred to their fans instantly. Opening with knuckle busters ,,Don't Stop The Show" and ,,I Do Rock 'n Roll" the band shoots into gear. Senior citizens in the meantime, they are living prove age doesn't matter. Radiating confidence and pleasure, it is a pleasure to watch them perform. The interaction is tremendous, with a crowd going wild. Just check crowd pleasers ,,Another 45 Miles" with George on vocals, and the masterful live cracker ,,Long Blond Animal". Intense and displaying the band's key features; Hard rock, memorable melodies, nesting hooks and classic thrive. It rocks hard and it swings with swagger!
Cezar Zuiderwijk's solid and versatile drumming in combination with Rinus Gerritsen's dynamic bass playing is the very foundation of the band's hauling live sound. George's guitar playing is pristine, laying down snarling riffs and slick melodies, topped off with classy solos. His voice is also in fine form, barely affected by 60 years of gigging and his age, he pitches high and mighty.
ROCKING EIGHTIES
,,Twilight Zone" packs energy and swagger, with George singing like in his prime. A rousing arena rocker standing firm and tall 4 decades in. From those successful melodic rocking eighties ,,When The Lady Smiles" and ,,The Devil Made Me Do It" come storming by, displaying their impeccable talents. Arena rockers with modern edge adding a sophisticated lustre to the band's varied repertoire.
New songs like ,,Liquid Soul" fall into place easily, bearing all typical ingredients of the band. Fused with their wide varied tastes it displays soulful swing and rocking vigour at the same time. The instrumental jam-sections add to it, with Rinus going all in, shaking his head left to right ferociously, pumping out the low groove. Though composed recently, it adds to grandeur of tunes like the 50 years old psychedelic progger ,,Vanilla Queen" (1973). The setlist is constructed around their long spanning career with variety and class.
"Say When" also falls into place. Crafted around a Tom Petty reminiscent riff and drive, it rolls forward with Gerritsen's thunderous bass, and double bass and floor tom dynamics from Zuiderwijk. Its piecing guitar licks scatter through the arena. Hay's voice, like Kooymans' hasn't aged one single bit, and them exchanging lead duties is still remarkable to witness. The chorus is simple and effective, contrasting with the carcass of the interesting instrumentation.
A PIECE OF ROCK ART
Overall excitement of the audience and band increasingly fires up the atmosphere, and songs like their Dutch smash hits ,,Going To The Run" (performance dedicated to the late Keith Emerson) and ,,Hold Me Now" have the 16.000 chanting. Sheer magic.
The musical prowess unleashed, it builds to peak after peak after peak, climaxing with rock's most covered rock song of all time: ,,Radar Love". Introduced with an extensive, yet interesting bass solo by Gerritsen, the song floors the pedal to the metal. Rough and raw it pushes forward with pulsating bass and sturdy driving riff, almost like racing down the highway. Barry's voice is powerful and typical. He bends his vocals around the jam-like sections of emulating instrumental drive and torque.
Packing the typical Zuiderwijk drum solo in the middle, and George's highly explosive "guitar solo", the song proves it still is a remarkable and timeless piece of rock art. Gradually building tension with insane musical interaction, the song packs tremendous live-poise. A masterclass in performing a classic.
Scorching guitars, give way for a tasteful David Gilmour-ish solo spot by George opening to the psychedelic ,,She Flies On Strange Wings". Throbbing heavy bass and prog drum patterns hold it up fiercely. Alt Saxophones from Bertus Borgers gives the extra kick. Less psychedelic than the album version the song and synthesizer section enrol with a powerful rock punch, to fit the evening. Barry belts the tune with sophistication and class, switching emotions and exchanging vocal duties with George in the intense middle section. There's something to the frontman which is uneasy to grab. Displaying class and elegance as well as that bad boy strut, both vocally and as a performer. Almost arrogantly striking poses, you also feel his reachability and humbling appeal. The perfect performer.
GOODBYE
The album is closed by another fresh tune from this era. ,,Legalize Telepathy" storms in with great drum rolls and double bass pondering, before the riff takes position and unleashing heaviness. Roots rock with contemporary classic elements, a touch of Americana groove and Hague swagger radiate from it, with the band calling out. Waving goodbye with Barry announcing "See you next year… you know we love you", little did he know this was their very last performance due to the pandemic lockdowns, and George Kooymans' illness developing. Life can be cruel….Underlining their pitch perfect live performance, the added DVD displays the band as a solid rocking machine with intense chemistry and comradery. There's a true heart