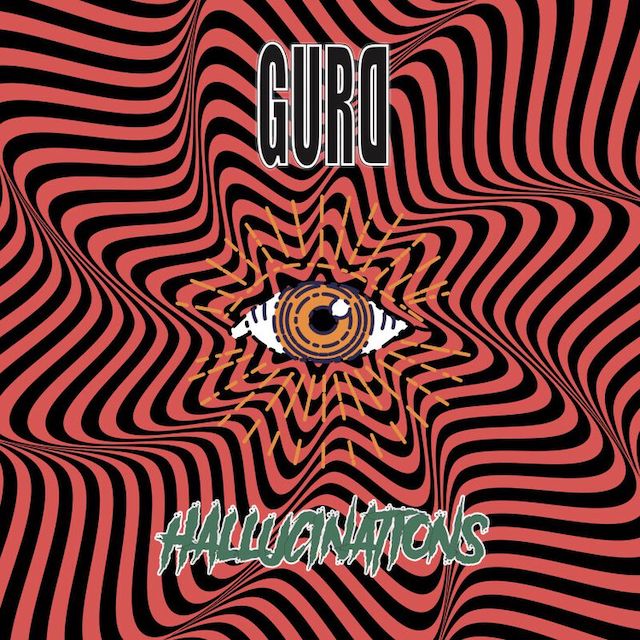 Review | Gurd – Hallucinations
Massacre Records
With `Hallucinations' Swiss grooving thrashers Gurd report back with their first full length album in 8 years. `Hallucinations' is the title drawn from the story of `Devil's Bread', about the population of one of Sicily's islands in mass hallucination. Their rye harvest being infected the alkaloids in ergot funghi, the inhabitants started seeing witches and demons, leading to mass hysteria. A fascinating story with the sober cover art aligning. But the album is not just about this historic story, it also unites Gurd with their own history…
A HOMAGE TO PRO-PAIN
Bursting into action with the galloping ,,Merry Go Round", Gurd means serious business. Heavy ponderous drums and riffs propelling the track with Winkelmann unleashing his vocals. An interesting guitar melody frequently returns to the front, to break the traditional wallop. But it is Gurd all over. Bordering with hardcore, the songs pack intensity and drive, more than once evoking mosh pits with dropping pace and rousing upheaval. Not coincidentally bringing Pro-Pain to the front, Gurd's ,,I Like the Pain" is a homage to their friends in the band, with whom thy toured relentlessly over the years. The song has the same loud welling tone drops and displays cool phrasing.
,,To the Floor" is another dynamite cracker with increasing pace, in the same crushing vein as the previously mentioned `Devil's Bread' with its lyrical wordplay, with ,,Taste for More" jumping to the front heavily thrashing. Galloping drums and Buzzsaw riffage pull it forward.
TYPICAL GURD TRACK
Songs like ,,Fear" reveal the melodic might of V.O. Pulver and Pat on guitars. Exchanging riff duties unloading ravishing grit, they more than once draw from a melodic register with wonderful solos and melodic hooks unloaded. ,,Out of Hand" features the same guitar interaction and pulls forward with a low groove and changing time signatures. Short solos pitching up over the driving riffs.
Pace drops for the intense groove rocker ,,Ghost of Black Holes" with its gloomy outline and droning riff. Karrer lays down an interesting beat, intensified with Winkelmann's plopping low bass and growling low vocal pitches. The dynamics are enormous with the guitar coloring the song's density. ,,Ship in Distress" is another typical Gurd track. Rousing sections and waving melodies combined with sterling riffs and Franky's growls make it benchmark.
More daunting and doom casting, the closing title track comes in with ebbing waves of dropped riffs. Ominous it crawls forward with growling vocals and curiously timed drums. The chorus is howling, almost hypnotizing. 5 and a half minutes of sheer doom unleashed.
THRASHING OUT
Gurd's `Hallucinations' reveals the wide varied musical scope of these Swiss thrashers. Not the typical racing wallop, the songs display variety and wide appeal. When the pace goes up, they are thrashing out with stride, the tempo drops call for rousing moshpits, and Gurd proves their persistence of power. Blending classic thrash and hardcore with punk outbursts they explode. Exploring the wider sonic palette, Gurd meanders into interesting territory, combining their dramatic or rousing drops with slow-mo hallucinated doom or creeping darkness.
The art of thrashing and grooving just got more interesting.
Release date: 23 September 2022