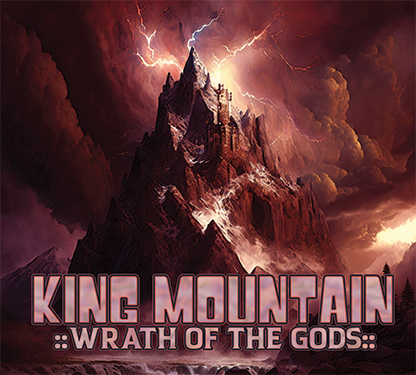 Review | King Mountain – Wrath Of The Gods
Grooveyard Records
On their sixth album the super trio of King Mountain continue where they left off with their last albums 'Kingdom Of Shadows' and 'Tempest At The Gate'. Guitarist/singer Stavros Papadopoulos, bassist John Christopoulos and drummer Chris Lagios have developed a certain style that is a combination between guitar driven hard/heavy rock with some stoner influences as well, although the accent on 'Wrath Of The Gods' lies clearly on heavy rock. Did I mention that they hail from Greece?
FANCY STUFF
Main man Stavros Papadopoulos is a bloke who does not do 'fancy stuff'. With King Mountain as well as his southern rock project Super Vintage it is all about basing his songs around a strong riff, simple yet effective vocal melodies, heavy rhythms, and flashy solos, all delivered in a classical rock style. Stavros' mission is to keep heavy and guitar driven rock alive and yet again he has delivered on all fronts. Starting with a more slow yet forceful anthem called ,,Tears Of The Earth'' King Mountain really fires up with the up-tempo stomper ,,Firebringer'' and follows through on the other eight tracks with the short but juicy song ,,Axecalibur'' and the fiery title-song as absolute highlights.
CONTINUATION
Yes, music wise this might be a continuation of some earlier work, but the main difference this time is that this album sounds stronger, is more cohesive and as a band King Mountain sounds tighter than they ever did before. Add to that a solid production and you are dealing with a straight forward, right in your face classic heavy rock album, that fires on all cylinders. No fancy tricks, no difficult twists, and turns here, is it all about the solid song, the cast iron guitar work and from time-to-time impressive melodies and changes in tempo. There is also a vocal guest role for Tania Kikidi on a few tracks.
DISCOVERY
King Mountain is certainly one of the best bands that Greece has to offer these days and Stavros Papadopoulos as a guitarist is just as impressive as his more famous countrymen Gus G, although both guitarists have a different style. Not familiar with King Mountain or even Super Vintage and you call yourself a fan of real classic rock?  Do yourself a big favour and go on a discovery journey.
Release date: 11 August 2023