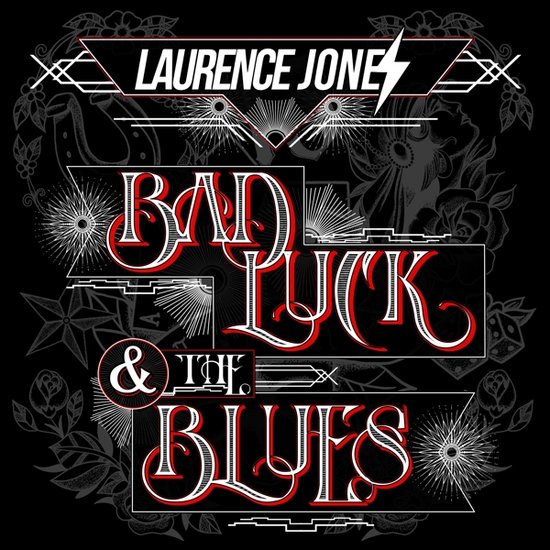 Review | Laurence Jones – Bad Luck & The Blues
Marshall Records
Sometimes you bump into pleasant surprises. Laurence Jones is such a pleasant surprise. This UK blues rocker is 30 years old and released his first album in 2012. 'Bad Luck & The Blues' is album number seven but for me it is a first meeting with this artist who seems to have built up quite a reputation in the UK and also in my native country The Netherlands with gigs on several festivals like Ribs And Blues and even a TV-appearance on the Dutch program Voetbal Inside.
Pretty sure that mister Johan Derksen (one of the regulars of that program) will claim him as his discovery, as he thinks that he has invented music in general. Furthermore, Jones has shared stages with people like Joe Bonamassa, Jeff Beck, Johnny Winter, and Glenn Hughes. It is safe to say that you must have some sort of talent if you are able to support such big names.
POWER TRIO
Laurence Jones started his career in 2012 with just a bassist and a drummer and later added a fourth member to his band. Now he has gone back to the power trio format with bassist Jack Alexander Timmis and drummer Ash Sheehan. Mentioning greats like Jimi Hendrix, Gary Moore and especially Robin Trower as his main influences his bluesy based hard/heavy rock has become a lot heavier as is displayed on this album that is full of scorching solos, beefy riffs, and solid rhythm section work. And at moments Jones and his mates sound damn raunchy as well.
STYLE
The style that Laurence Jones follows on 'Bad Luck & The Blues' is basically pretty simple. Is it effective though? Absolutely. Armed with a decent voice Laurence Jones uses the blues as his base but has added a whole of rock to the mix. He is in love with the tone of Robin Trower and you can just hear that come thru in songs like the slow rocker ,,I'm Gone'', the versatile title-track and the straight forward rocker ,,Lonely Road''. The musical message of this man should appeal to people that like Robin Trower, Pat Travers, Blindstone, Blindside Blues Band, James Jared Nichols, Lance Lopez, Kenny Wayne Shepherd or Jay Jesse Johnson.
As a guitarist the dude is very impressive indeed (listen to the madman solo on the track ,,Woman'') and the songs are very reasonable, and in some cases very good as well. 'Bad Luck & The Blues' is not shifting musical boundaries perhaps but the ten songs are entertaining and all very guitar orientated. Nice effort by Laurence Jones and co. I think it is time for me to go and discover more about his musical past.
Release date: 25 August 2023