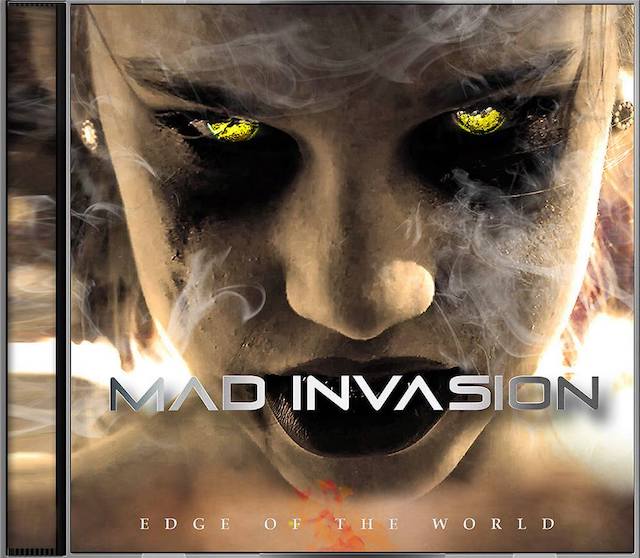 Review | Mad Invasion-Edge Of The World
MI Media Group / Guilty Gorilla indie
Gather together ye rockers, as Mad Invasion brings you their debut `Edge Of The World'. Mad Invasion is the brainchild of Bad Habits' mastermind Hal Marabel and consists of a line-up of seasoned rockers rediscovering the golden age of rock!
STAR-STUDDED
Vocalist Pete Sandberg [Madison, Snake Charmer, Alien, Midnight Sun, etc.] brings his powerful voice to the plate igniting the contemporary rock songs penned by Marabel [Bad Habit, Bai Bang, Arena-Sweden]. Driven by intense riffs and great solos from Bjórn Dahl, formerly of Billionaires Boys Club, and the rock-solid swinging foundation laid down by bassist Mats Jepsson [Raise Cain, 69-Hard, etc.] and drummer Mats Bergentz [Silver Mountain, Mister Kite, etc.] the album evolves with classic rock lustre. The star-studded Swedish line-up clearly enjoys themselves and the songs sparkle, fusing classic elements with a modern sound.
ROCK SOLID
The video title track, with special guest drummer Mikkey Dee, is a perfect example of that. Mid-Eastern ,,Kashmir" reminiscent scales fused with Rush-like breaks underneath driving riffs and Sandberg moaning and whaling the songs through its bridge and chorus. The song is melodic but with touches of classic elements, much like the slow paced heavy ,,Devil's Calling". Bone crushing riff and ponderous foundation it whales onwards with sincere power. As always Marabel manages to pin an undisputed melody on the tunes nesting easily. ,,Destruction" features the same dark pace and reveals the band's influences from the heavy metal era, without subduing the elemental background of the band.
Rock solid foundation and buzzin' riffs are the backbone for Sandberg to moan over. Also ,,Trial By Fire" is another key example of the band's elusive performance skills and craftsmanship. Modern sound elements and dark crushing riffs that are balanced out by nesting melodies and vocal lines. Dark and ominous, yet crisp and fresh it evolves with excellent strut.
BLAST FROM THE PAST
But it's not all heavy and classic. Mad Invasion also harkens back to the member's younger days diving into melodic anthems with recognizable melodies and hooks. ,,Scream 'n Shout" are memorable with party dose high, celebrating arena rock's heydays, ,,Crazy & Wild" pulls forward with crawling heavy pace under a sticky chorus. ,,Until The End" slowly waves in with whammy guitars and subtle keys and Sandberg shining. It is a 100% proof melodic track made up from the best of all members' past. ,,Fallen Angel" also fuses those recognizable ingredients with the low pace classic groove. Immaculate bridge and chorus make up for joy and memorability.
Tolling bell opens to the Iommi-heavy riff of ,,Walking In The Shadows". Pete moaning like Tony Martin on the overlooked ,,Eternal Idol" as the song takes a melodic turn over the chilling heavy riffs. ,,Cry Mercy" picks up the pace and revives the arena rock era with Scorpions-like riffing and progressive breaks. Scandinavian 80s and 90s elements fused with classic contemporary rock and a modern pulse.
THE BEST OF CLASSIC ELEMENTS
Though very recognizable and comfortable, the songs have a distinct touch avoiding predictability. With an overall lower pace, the songs create intensity and tension. Heavy riffs and powerful drum and bass interaction pull it forward with gloom. Melodies are implemented with keen ear for detail and the songs flourish with every spin revealing their insane marksmanship. Uniting the best of classic elements with each members' past and influences, Mad Invasion holds up in the sea of mediocrity. `Edge Of The World' is an album bold as brass. This album is a must listen for fans of all members' previous bands as well as fans of the genre. Impeccable calling card!