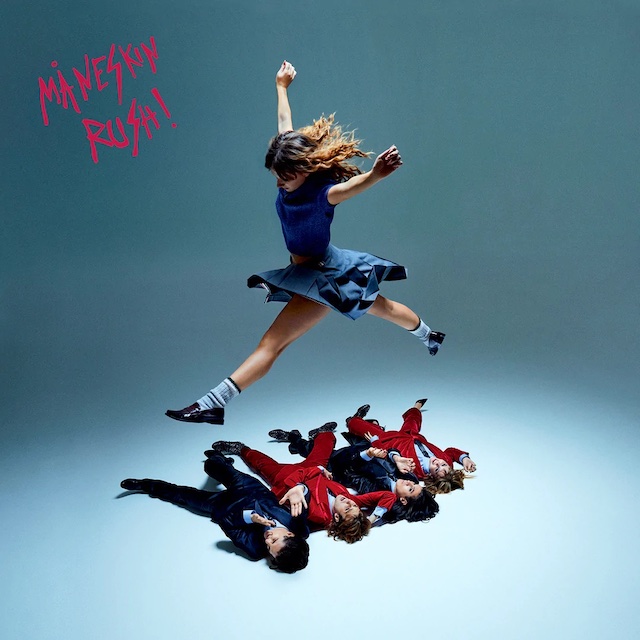 Review | Måneskin – Rush!
Sony Music
I have to admit, I wasn't impressed too much when Italian youngsters Måneskin won the European Song contest. With a persistent teenager in house that however changed over the years as she made me listen to the band playing her vinyl loud, and streaming it to my car stereo.
Thus, a (love-hate) relationship developed with the alternative glam rockers who now release their third full length album marking a minor break with the past. Not musically but lyrically, with `Rush!' being primarily in English, instantly gaining momentum to appeal to a broader global audience. Continuing their stride blending glam rock with driven contemporary rock, alternative or grungy distortion and punk elements, `Rush!' explores their debuting days' funky territory while maintaining thrive, even touching jazz. Bristled with energy, the album combusts with pop and hard rock!
MÅNESKIN IS NOT A TEENIE-BAND ANYMORE
Throbbing bass chord opens the riff driven ,,Own" and pitches us into the playing field of the beloved teenie-band. Måneskin however displays not only the teen-appeal, but also bridges gaps towards glam and contemporary rock. Thomas Raggi's funky whammy pitched guitar melody marks the melody for vocalist Damiano to lay down his typical raspy clear vocals mixing up pitch on the rhythmic content presented. Sharp and pointy the song swings towards its nesting chorus during which Victoria's bass playing starts to power up for a great interplay with drummer Ethan Torchio. It swings and rocks out loud, opening to ,,Gossip" with its growling bass guitar fused on the guitar lick with Damiano belting dynamic powerful swagger.
Touches of new wave and goth add to the song's glamour. Stop 'n go sections with sudden clean breaks are fired into action by guesting Tom Morello laying down a stylish wah-pedal action pitched solo.
EXPLICIT LYRICAL CONTENT
Reviving the term power ballad, Måneskin lays down the sliding lush ,,Timezone", swung into action with roaring sleazy and gripping vocals. Emotionally charged the song pulls forward over electrifying bass licks and subtle guitars which occasionally start to whale in lamenting fashion. Grooving heavily the beat combusts on the corky boasted ,,Bla Bla Bla" with its hip-shaking vibrancy and rapped punky vocals. Strutting forward with explicit lyrical content evoking grit and anger, while guitars are funky toned. With its groovy beat it rolls perfectly into ,,Baby Said", that unleashes the bands nesting intensity. Marching forward it fuses the beat-heavy cadence with memorable licks echoing with pitched glamour and drama. There are hints of pop and glam rock, while it breaks out with danceable dub.
Again, Måneskin keenly manoeuvres into the next track with a fluent fade. The ,,Baby Said" beat is transformed into a parading bass heavy beat with great bass and drum interplay. Raggi's licks gel well, weld onto the bass implemented heavy strut, Damiano's vocals pack the powerful swagger needed to invoke ,,Gasoline" with power combusting upon the break stopped opening to its rousing chorus. Loads of action scatters from the enigmatic instrumentation. Ultra-dynamic. Rapping vocal-section powering up midway making it orbit with grandiose hooks.
EUROVISION SONG CONTEST
Belting another rousing vocal line, Damiano breaks into ,,Feel" with the song set off by another danceable powerful groove and high intensity jump-mode. Referring to the Eurovision song contest with the tongue in cheek remark ,,Cocaine Is On The Table", Måneskin displays their feeling for drama addressing the journalists wash towards the alleged use of the substance at the contest.
One would expect the anger laden knuckles raised on the previous track instead of ,,Don't Wanna Sleep" with its powerful combustion and contemporary solo. Again, the throbbing bass deals the cards for the songs swagger. Damiano belts out more allure and power than we're used hearing from him. It is a consistency he follows on ,,Kool Kids", where he fills the void between Johnny Rotten and German Die Krupps with his raw vocal delivery. Riff in overdrive, the song packs punk stride with uttering bass and roaring vocals for a q and a on the chorus making fun of cool kids in the school yard not locking on rock.
MÅNESKIN ROCKS LOUD
,,If not for You" is a toned-down ballad with subtle instrumentation. Soulful, jazzy swinging, plucking echoing guitars and heavy bass. The song is injected with Damiano's warming vocals, making it ooze (dis) comfort. More poppy rocking, ,,Read Your Diary" follows the rocking structures of ,,Theatro d'Ira – Vol 1". Organic and open, with great parading beats it rocks loud. Louder however is the guitar opened Italian sung ,,Mark Chapman", referring to Lennon's murderer. Upbeat and with powerful drum strokes, the song flourishes with tremendous live accolades, with the spotlight on Raggi's impressive rich toned guitar work. Switching between riffs and scorching hooks, he pitches raining licks before he delves into a solo bordering with Ace Frehley's tone. Constantly morphing, the song is one of the most dynamic contemporary crossovers in their catalogue. A live cracker per se.
HEARTFELT AND FIERCE
,,La Fine" is the second Italian sung track. Held up by a funky (RHCP) lick and stomping beat, the song is lit by Damiano's diversifying vocals and unique vocal phrasing. Switching between narrated determined aggressive rap rock and pushy stretched melodic notes, he belts out with fierce wallop. ,,Il Dono Della Vita" is another slow mover with impressive instrumentation and subtle melancholic accolades. Tasteful grunge tinged guitar licks carefully thrown in, with bobbing bass executing wonderful melodies underneath, the song also morphs sonically with drum breaks injecting indelible stance. The solo starts pitching higher while bass takes over in the breakdown, and Damiano crooning the heartfelt register, almost whispering.
,,Mammamia" warps us to the pulsating punch of their chart busting video single. The stop 'n go beat fits the album's parading power perfectly. Swinging out on ,,Supermodel" and the wonderful ,,The Loneliest" closes `Rush!' with their three recent singles on an absolute helium height.
ON TOP OF THEIR GAME
Måneskin's `Rush!' proves the Rome based hipsters to be on top of their game. `Rush!' combusts with great energy and roars wildly, touching the chaotic. They swing, strut and parade with glamorous sexed up intensions, matching their discussed stage apparel malfunctioning from the mainstream. In the meanwhile, they gradually build to stardom and draw in the big markets switching to English.
With the 3 Italian tracks locked in last section of `Rush!' the album features a constant, zooming out while maintaining the lyrical appeal. It feels natural with Damiano's vocals belted in the right tone of voice to carry across its content. Damiano fronting, they also have a captivating personality behind the mic that is able to lure in listeners with his varied vocal delivery and ditto range. Raspy when needed, emotional at times, he is at the helm featuring a trident of solid musical craftsmanship blazing. Guitar wizz Raggi doesn't ditch the solo and transforms his sound constantly, switching licks, hooks and melodies in different colorful tone. At the heart and soul of Måneskin Victoria De Angelis' bass groove and chordal display guard the songs low end pulse.
The consistency of `Rush!' is in its fun and sexy swing, and pointy short tunes. The band touches numerous musical genres feeling natural. For sure: `Rush!' is a keeper!
Release date: 20 January 2022