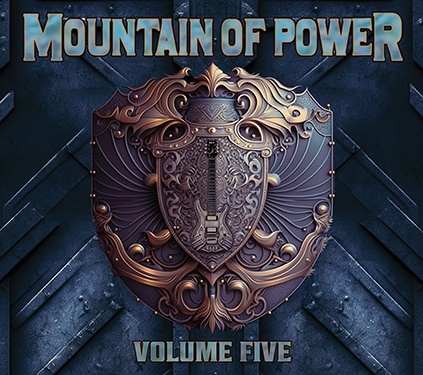 Review | Mountain Of Power – Volume Five
Grooveyard Records
When you look up the name of Swedish musician/author Janne Stark you bump into a discography that is mind blowing and astonishing at the same time. Janne has been active for many years now and he is a real music freak with a big knowledge of seventies rock. He is one of the people behind the two Budgie tribute albums that were released under the banner of Bandolier Kings (with a big contribution from guitarist/vocalist Tony Spinner) and among many other projects he is also very involved with Mountain Of Power. Under that name Janne revisits the seventies with his versions of songs once released by sometimes big and famous bands but most of the time he chooses for unknown and obscure bands that did their thing but never really made the big-time status.
CYCLE
The Mountain Of Power cycle started in 2005/2006 and we now have seen the release of 'Volume Five' where Janne and a whole bunch of friends and guest musicians revisit the seventies. It is typical for Janne not to pick the most famous tracks. Take for instance Black Sabbath. The medley Janne and co have recorded include ,,Supertzar'', ,,The Thrill Of It All'' and ,,Megalomania'', not the most popular songs from Sabbath. It is typical for this man. He is going for the more obscure songs.
DRIVER AND HYDRA
As I have a reasonable collection myself from the seventies, I was happy to find some bands that in a certain manner were/are close to my heart represented. Two examples? The Canadian power trio Driver that recorded only one album entitled 'No Accident' in 1977. The medley of their songs ,,Rock It To The Stars'' and ,,Boxful Of Love'' brings back some cool memories. It is an album that sometimes makes it to my turntable with the very cool guitar work of Driver-guitarist Peter Glindeman as main ingredient. And I must admit that his solo on ,,Boxful Of Love'' did not find its match on the Mountain Of Power version but who cares?
The second band that is very well known to me is Hydra from the USA. They made three albums ('Hydra', 'Land Of Money' and 'Rock The World') and if you look it up you might be able to find a CD that features all of these albums in one hit. Collectors stuff people!
BIG GUESTS
Obviously, Janne Stark has made use of several Grooveyard label-associates like guitarist Craig Erickson and Stavros Papadopoulos, Tony Spinner, and Martin J. Andersen but also singer Matti Alfonzetti (Skin Trade), Magnus Ekwall (The Quill) and even Cactus singer Jimmy Kunes play a role as does the one and only mister US Metal Mike Varney. Also guitarist Don Mancuso who has played with Foreigner's Lou Gramm in the band Black Sheep is on the ball as Janne Stark included the 1974 Black Sheep single ,,Stick Around''. But there are more people involved here, although we are not mentioning everyone.
A TRIP DOWN MEMORY LANE
All the Mountain Of Power volumes are a trip down memory lane. On 'Volume Five' you find versions of songs from Angel, Humble Pie, Axis, Scorpions, White Wing, Totty, Striker, and Medusa whose self-titled 1978 album featured Dutch guitarist Eef Albers. It is a very interesting mix of seventies rock, if you ask me. If you are into this era, you will enjoy the versions by Janne Stark and friends and it might even inspire you to look for some of these bands on YouTube where you can find a lot of this old but precious material. Maybe this is a release for the happy few but even young metalheads should make the effort to discover some good, and often ignored groups. There is plenty to discover.
Release date: 11 August 2023