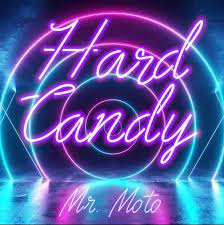 Review | Mr. Moto – Hard Candy
Viral Records
Some genuine rock and roll from the south of The Netherlands in the form of five-piece outfit Mr. Moto who have been active for a while. Recently the band around vocalist Freek van Hout made their return to the stage for the presentation of their third CD 'Hard Candy', the follow-up for the 2020 album 'Good Times'.
SMILE TO MY FACE
The ten songs on 'Hard Candy' bring a smile to my face. These boys have the right attitude in their approach and especially their sound. A sound that has been co-created by John Hayes, the guitarist of US-act Mother's Finest. Hayes has been living in The Netherlands for many years and has integrated into the Dutch music scene. But when Mother's Finest comes out to tour John is always part of the outfit. For Mr. Moto John is more than an ideal soundboard as he has added some guitar parts as well. He is beefing up the sound that is injected with a mix of punchy rock and a gentle touch of soul, combining some classic seventies rock with more modern influences.
VARIETY
The ten songs on 'Hard Candy' offer some very welcome variety although the emphasis with tracks like ,,Look Good'', ,,Hard Candy'', ,,Don't Fool Me'' and ,,Don't Wanna Leave Your Thing'' is on heavy rock with up-tempo breaks, flashy guitar exploits by Tom van de Ven and Wesley van der Torren in combination with the rough and ready singing from Freek van Hout who sometimes reminds me of good old Leon Goewie from Vengeance. But Mr. Moto's vocalist has a lot more to offer then just some straight forward stuff. Album closer ,,You And Me'' turns out to be a very nice and very sophisticated piano ballad where the depth of Freek's voice touches that of legendary vocalist Tom Waits while John Hayes added the perfect orchestration for the song.
When you hear the whole album ,,You And Me'' is definitely a stranger in a strange land compared to the other songs but nevertheless impressive indeed. And there are a few more little jewels present on this album that show Mr. Moto in a different mood and (slightly different) environment (,,Coming For You''). This is an album that surprised me and surely brought a smile to my face. They are also on Facebook and YouTube so plenty of opportunity to find out more about Mr. Moto if this review has made you curious.