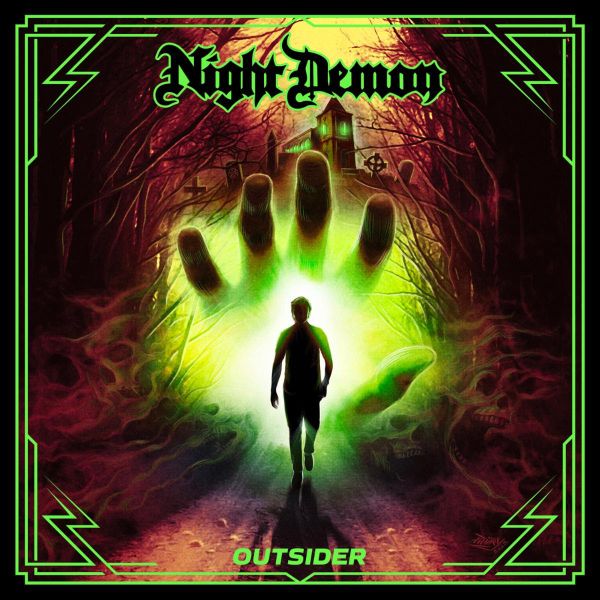 Review | Night Demon – Outsider
Century Media Records
'Outsider', Night Demon's third full-length album is certainly their best album so far! This American heavy metal trio hailing from Ventura, California even made 'Outsider' a concept album; lyrically speaking that is of course. Musically Night Demon's new album features eight brand new metal tracks packed with galloping riffs/hooks, pounding bass riffs, catchy, almost shout along choruses and soaring guitar solos. Of course it is also obvious that Night Demon is influenced by the NWOBHM-inspired metal, so pure heavy metal executed at a very high musical level. Take for example the song ,,Obsedian" which kicks off with a very fast guitar riff, followed by the heavy rhythm section before it evolves into a nice neck breaking heavy metal song par excellence, so play that one F…. LOUD if you can!
MASTERPIECE
,,Beyond The Grave", clocking in over six minutes, is one of my favs on this album as this one features a great doomy – hello Black Sabbath – guitar riff and a great guitar solo by Armand John Anthony. ,,Rebirth", which reminds me of Queens Of The Stone Age by the way, is again a real heavy stomper, which makes you want to bang your head for more than three minutes, while ,,A Wake" offers again a slight change of tempo as it almost sounds, but not really, as a metal ballad. However, Night Demon, saves the best for last as ,,The Wrath", the longest track of the album (7:26), is a heavy metal masterpiece. A very intense and dynamic song, a metal rollercoaster with lots of tempo diversity and great musical expertise.
Night Demon's new album is a real heavy metal blast, a more than excellent slice of pure "old school" heavy metal. Although it is clear what the influences of this band are, Night Demon certainly have their own original kick in the teeth metal sound making 'Outsider' already one of the best true heavy metal albums of 2023! Listening tip: ,,Obsedian".