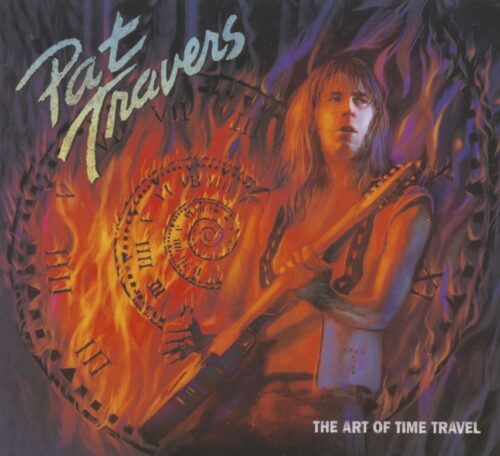 Review | Pat Travers – The Art Of Time Travel
Cleopatra Records
The popularity of Canadian singer/guitarist Pat Travers might not be overwhelming anymore but the man was a huge name in the seventies and he also had a successful spell in the nineties. As a young and ambitious musician Travers moved to London (he resides in Florida now) where he got signed by Polydor. He recruited bassist Peter 'Mars' Cowling and a certain Nicko McBrain (who landed later in Trust and Iron Maiden) and as power trio they did all right (in 2017 the live CD/DVD 'Pat Travers Live At Rockpalast – Cologne 1976' came out with that line-up, a pretty rough and dynamic sounding performance indeed). An album like 'Makin' Magic' made Travers into a guitar hero for many.
Things even changed for the better when guitarist Pat Thrall and drummer Tommy Aldridge entered the ranks. Suddenly the band was playing at stadiums and their albums 'Heat In The Street', 'Live! Go For What You Know' and 'Crash And Burn' sold pretty well. But a change of style on the 'Radioactive' album led to changes and Polydor dropped Travers who took the label to court as he still had an album to deliver which was 'Black Pearl'. From that moment on the popularity of Pat Travers became less and his albums did not sell that much. By the way, I remember a gig with that line-up in The Netherlands where they supported Journey and managed to blow them away with their enormous power and energy.
MIKE VARNEY
After a few difficult years it was Mike Varney who signed Travers for his Blues Bureau International label and in the first half of the nineties Travers delivered some scorching blues rock albums for that label such as 'Blues Tracks', 'Just A Touch', 'Blues Magnet', 'Blues Tracks 2', 'Lookin' Up' and 'Halfway To Somewhere'. Not that those records brought him major success but musically he had found the right track again. He toured regularly in Europe as well. For the last two decades Travers has stayed active and records kept coming out and they were lapped up by some faithful fans. Travers also worked together with Cactus drummer Carmine Appice (ex-Ozzy Osbourne) on a few albums.
LATEST EFFORT OF PAT TRAVERS
Travers' latest effort is called 'The Art Of Time Travel' that he recorded with long-time companions David Pastorius (bass) and Tommy Craig (drums). It is on the small US-label Cleopatra and on this ten-track album Pat Travers shows once again some signs of life. I am not saying that he has gone full circle or something like that but his guitar work reminds me of his early days, his voice is absolutely intact and he is rocking again with here and there a bluesy touch and plenty of energy. The album features also two instrumental tracks of which album closer ,,Natalie'' with its dreamy character might remind you of an artist like Robin Trower.
,,Full Spectrum'' is the only track that for me does not work as instruments like tenor sax, trombone and trumpet never ever have done the trick for me and in this case neither for Pat Travers. But for the rest 'The Art Of Time Travel' is a welcome sign and proof that there is still something good brewing in the 68 year old who involved some family members like wife Monica on background vocals. The old successful days are way behind Pat Travers and he is the first to confirm that but at the end of the day he is still doing what he knows and does best: making music with mucho gusto and in this case in a pretty convincing matter as well.
Release date: 19 August 2022