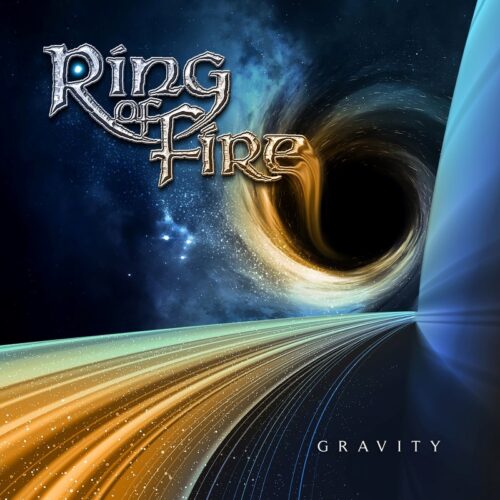 Review | Ring Of Fire – Gravity
Frontiers Music srl
I really had not expected a new Ring Of Fire-album after their 2014 epic story called 'Battle Of Leningrad', which came after a nine year hiatus. With 'The Battle Of Leningrad' the people that started working on singer Mark Boals solo-record 'Ring Of Fire' in 2000 and decided to continue as a real band, reunited. Mark Boals, Ukrainian keyboard magician Vitalij Kuprij and star guitarist Tony MacAlpine once again combined their unique talents. The only one missing was Australian drummer Virgil Donati. But after that album that did not do very much, it seemed that the band had reached the end of the line after four highly adventurous records.
RESTART
All musicians had their own agenda the last eight years. Boals worked with his own band Shining Black, Kuprij and MacAlpine worked on solo material and as session musicians, MacAlpine also releasing new albums and together with Kuprij touring with the likes of Trans-Siberian Orchestra. I am pretty sure that the high powers at the record label are behind the latest reunion although it is a real shame that Tony MacAlpine is not participating this time.
So, the Italian high powers teamed Boals and Kuprij up with three Italian musicians of which guitarist Aldo Lonobile is a guy that has plenty of experience being active in bands and projects like Sweet Oblivion (with Geoff Tate), Secret Sphere, Edge Of Forever and most recently The Erinyes. He is a musician that does a lot of work for Frontiers while bass player Stefano Scola and drummer Alfonso Mocerino also have the necessary experience and above all a certain flexibility that is highly necessary if you want to participate with Ring Of Fire.
CLASSIC NEO-PROGRESSIVE POWER METAL
If you look back at the history of Ring Of Fire and their four previous albums you most likely are aware that this band always stood for a relentless portion of classic neo-progressive power metal with plenty of melody, adventurous song structures, high pitched vocals and a pianist/keyboardist that is classically trained. Vitalij Kuprij (who was also part of Artension) is a true magician and together with the power vocalist Mark Boals in tow yet again he is absolutely amazing on 'Gravity'. Kuprij is of the same class as people like Jordan Rudess, Don Airey and Derek Sherinian, yet he is only known by the happy few.
In a way the same goes for Mark Boals. Yes, he was with mister Malmsteen, Joshua, Billionaires Boys Club and Royal Hunt and many other groups and projects, but he also has not really got the credits for a career stretching over four decades and counting. Together though Boals and Kuprij form a deadly musical combination and luckily the record label matched them up with excellent musicians such as Lonobile, Scola and Mocerino who have done a more than excellent job. Especially Aldo Lonobile has excelled on this record in such a way that I have not missed Tony MacAlpine at all!
MOOD SWINGS
As always Ring Of Fire makes music where the mood swings regularly, varying from a ultra-fast power metal track such as ,,Run For Your Life'' to a sensitive and beautiful song such as ,,Sky Blue''. With Ring Of Fire you are always in for a musical surprise. You have some sort of an idea what the musical direction is but there are always twists and turns in the songs that make the band sound just different from the rest.
Whether it is about the adventurous keys, the power and height of Boals his voice, the heavy guitar riffs, the sometimes very unorthodox song structures and the enormous variation in the arrangements combined with a power production, there is always something going on with Ring Of Fire that surprises and excites you. Yes, it might be music for the happy few but if you miss this record and call yourself a fan of neo-classical metal you can't be taken seriously!
Release date: 11 November 2022