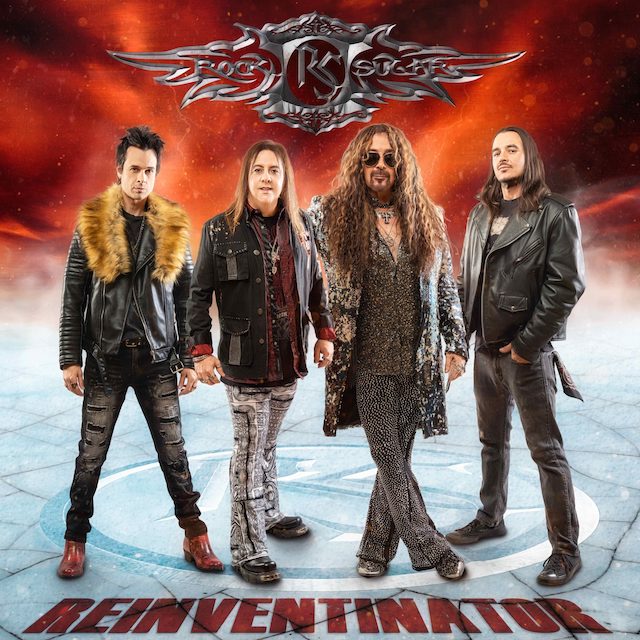 Review | Rock Sugar-Reinventinator
Independent
Rock Sugar unleashed their mashup madness onto the world over a decade ago with the groundshaking debut album 'Reimaginator'. Pushing the boundaries of music in its widest by mashing up tracks from hardrock, metal and popmusic, the band left their mark on an expanding range of cover acts and DJ's doing the same thing. Being one of the real front runners of the genre the band around Jess Harnell returns for this second attempt and hit it out of the ballpark.
If you thought 'Reimaginator' was a corky son of a hex, this brand new 'Reinventinator' is the equivalent of mega-corky with Rock Sugar firing on all engines. More songs, more flings, and more boundaries broken, they scatter through the world of hitsingles mashing it up to the extreme.
Sheer Joy
Opening with Suzanne Vega's ,,Tom's Diner" Rock Sugar fires AC/DC's ,,Back In Black" into orbit and fuses it with the vocal line from ,,Walk This Way" reverting it into Fall Out Boy's ,,Centuries". Oh, don't think you're there yet as midway the band kicks ,,Paradise City" into action with Harnell displaying his impeccable range and ability to give everything a pulse, pop, rock, sleaze and metal. When the guitar lick and pitch morph into Toto's ,,Africa", you know this album will be an hour+ of sheer joy.
Impressive how they manage to blend all into these mashups without the songs coming across blatant or plush. It all gels and even the most unexpected sidesteps fuse perfectly well in their symbiosis of hardrock. Putting their band Loud & Clear on ice Rock Sugar was born with Harnell, Ken Cain, Chuck Duran and Alexander Track. Proven their abilities as Loud & Clear ('Dis-Connected'), Jess and his squad orbit this 2nd album into party mode.
Over The Top
,,Crawling Numbly To Somebody Bohemian" fuses Queen's hit with Linkin Park's modern dark pop rock before unexpectedly falling into Queen's ,,Somebody To Love" after having meshes the lyrics of both previously mentioned. It is unpredictable and mind-bending at times as more flings and hits are imposed into the track with Harnell flexing his vocals around it all. ,,In The End", ,,We Are The Champions, ,,The Show Must Go On", and more roll into ,,One More Light" with ,,Who Wants To Live Forever" tugged away in this finale. Perhaps too much? Over the top a little? Well; both!
When dust settles the opening lick of ,,Sweet Child O' Mine" pulls up with Journey's ,,Faithfully" suddenly pitched by Harnell. More dominant keys take over with the elusive Slash-lick dominating frequently. It is impressive to hear Harnell switch the cleanest of Perry's voice and fuses it with the grit of Axl's raspy vocals. It is impossible to highlight all the songs included in this extravagant collection of songs, but Mötley Crüe's ,,Shout At The Devil" being infested by Tears For Fears' ,,Shout" is more out of the ordinaire than anything. And it works… again… and again…
Funny
Or what to think of the driving heavy ,,Live Wire" riff that is fused together with Henley's ,,Boys Of Summer" lyrics sped up full throttle and suddenly dropping into a downplay with Henley's lyrics back in its original form before picking up the wire again. Sticking with the Crüe for the immaculately wonderful and funny ,,Someone Like Home" when Rock Sugar fuse ,,Home Sweet Home" with Adele's ,,Someone Like You", creating one heck of a power ballad crossing borders in genre and decades.
In the meanwhile, Rock Sugar mashes Bruno Mars with Billy Idol's ,,Rebel Yell" effortless Bon Jovi and The Outfield in a shift back and forth of ,,You Give Love A Bad Name" and the poppy tech rocker ,,Your Love". Throwing in an extra Jovi fling with ,,Runaway" (keys and chorus) spices up the cocktail even further. Mashing Led Zep's ,,Immigrant Song" with Kelly Clarkson also is less obvious but it works, and hell; does this rock! Less fluent, and blunter pulled forward over Heart's ,,Barracuda" riff that shifts shape with Page's howling riff constantly. Scorpions' ,,Rock You Like A Hurricane" is kicked into gear while married to Adele's lyrics of ,,Rolling In The Deep" on ,,Roll You In The Hurricane".
Hits And Pieces
And there's so much more to enjoy throughout this exercise. Obvious and less obvious. Cruel is the symbioses of Nirvana's hair metal legacy killing ,,Smells Like Teen Spirit" molded into one song together with Whitesnake's genre-defining ,,Still Of The Night". Fusing hunter and prey in a song that is rocking out with Harnell again belting the impossible. Switching between the raw and bluesy, he truly shines. ,,Another Edge Of The Tiger In The Air" covers more ground again with Survivor's hit riff and Nick's ,,Edge Of Seventeen" with Genesis' whiffing by. Hits and pieces of Cindy Lauper pass by while Pink Floyd also tosses up the song. AC/DC's driving riff from ,,Highway To Hell" bluntly spices up Journey's ,,Anyway You Want It" with Jess' vocals again dominantly oozing Perry's typical style.
,,Countdown To Fireworks" is the ultimate album closer with Europe's famous opening keys pumping up for Katy Perry's ,,Firework" being propelled by thick layers of guitars and keys firing though one of the 80s most recognizable themes written. Breaking the heaviness Jess and Rock Sugar let themselves be swirled into the poppy abyss of Perry's hurtful poptune. Fusing not only music but aligning both choruses prior to Chuck Norum's… ehm, Duran's guitar solo, intensifies the fusion of tracks.
Party On
'Reinventinator' reinvents their mashup sound and takes it a million steps (and hits) further down the line. Including more fragments and less obvious sections from 'hits and pieces' all over the musical specter, Harnell and his band add more poise to the cocktail that is bubbling with energy and joy. The party cracker delivered 11 years ago finds it's equal in this 2nd album and volume turned up louder while fists pump the air more fiercefully. Rock Sugar sweetens the mash!
Party on Wayne…. Party on Garth!