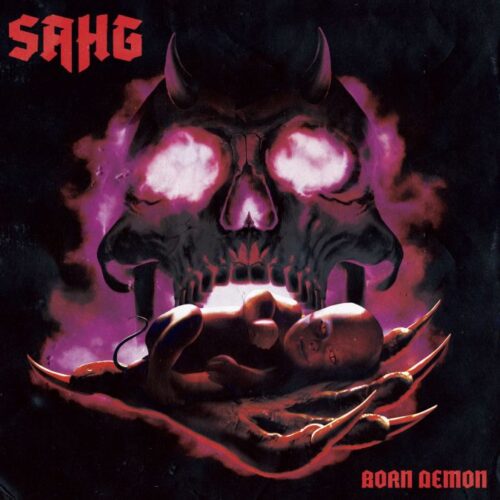 Review | Sagh – Born Demon
Drakkar Records
After their 2016 album 'Memento Mori' and a tour that also brought them to The Netherlands things became remarkably quiet around the Norwegian doom metal power trio Sagh. Luckily founding member Olav Iversen (vocals/guitar), Tony Vetaas (bass) and skin beater Mads Lilletvedt have found the inspiration to continue their musical journey and German label Drakkar has given the three amigos a new platform to release their latest and sixth album 'Born Demon' on.
DEVELOPMENT OF SAGH
If you are familiar with the career of this band and especially their first albums you will find that Sagh have made a big musical development throughout their whole existence. Let us say that slowly but surely the music has become a bit less brutal without the band losing its heavy character and doomy touch. With Iversen also producing the album Sagh now has a grim and dirty yet more melodic sound.
EVIL SOUND
The band does not sound as evil as the darkish band pictures might make you think. But don't think that Sagh has lost any of its grittiness. The ten songs on 'Born Demon' are still able to knock you straight in the face, delivering punches and uppercuts in the form ,,Salvation Damnation'', ,,Black Cross On The Moon'', ,,Evil Immortal'' or the first single ,,Heksedans''. In-fact the album is a perfect cross between doom and heavy metal, dominated by heavy riffs and mid-tempo rhythms. Lyric wise the topics are certainly not very light headed either having some things in common with the very first Black Sabbath albums.
Certainly, Iommi and company have been the main influence for Sagh, that has not changed in the 18 years of their existence. 'Born Demon' will find its way to the old fans of this outfit but if you are not so familiar with Sagh and are interested in doom and heavy metal combined in the best possible manner with a touch of the old Sabbath (,,Destroyer Of The Earth'' could have been an Iommi composition and is an absolute highlight) you will not be disappointed!
Release date: 21 October 2022