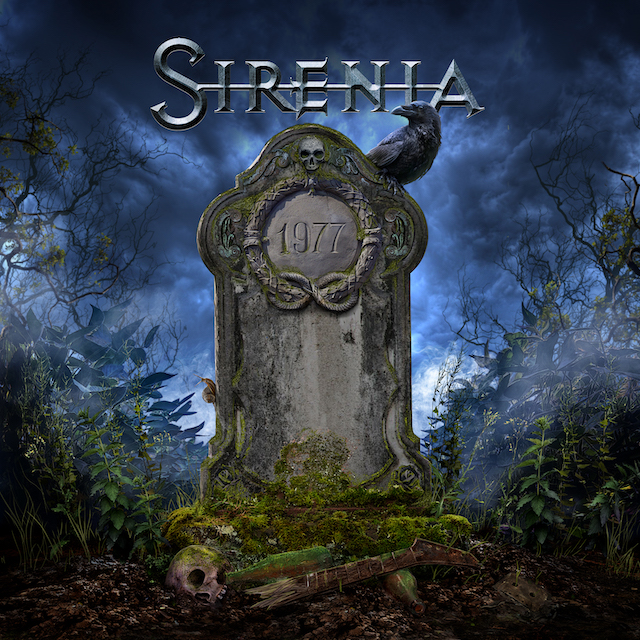 Review | Sirenia – 1977
Napalm Records
When I first heard their cover of Tanita Tikaram's ,,Twist in My Sobriety" I was baffled to discover it was Sirenia. Though mastermind Morten Veland and his band have been a steady factor in the symphonic metal genre, the song impacted severely due to its interesting fusion of dark atmospheric orchestration and heavy blunt riffs picking up for singer Emmanuelle Zoldan to shine over. It maintains the classic melancholy and powers up in agony. It triggered my interest for `1977'.
NEW BENCHMARK
Emmanuelle being a steadier factor than her predecessors, Sirenia found format finally. Setting themselves apart in the genre they walk a narrow path touching with the typical epic ingredients, while implementing a deeper welling agony and melancholy. This dark ominous impact is what makes Tikaram's cover gel so well, and impact deep in the chest of the listener.
Aside this new benchmark song '1977' displays more of the same, without straying from their previous albums in terms of accessibility. Following the experimental growth of the previous `Riddles, Ruins & Revelations', the new album packs tremendous thrive flourishing with enchanting melodies and mesmerizing melodies unpacked in the densely orchestrated songs. The addition of industrial electronics is subtle and adds to the swirl of this potion. Evergrey frequently comes to mind if only for its ominous tendencies and blistering riffs full of drive and agony. Overall however it is Sirenia checking boxes with wonderful symphonic melodic metal that strikes, and Zoldan feeling right at home in the front of the songs. Her versatile classic trained vocals add the exact amount of drama, power and agony. 
ABOUT THE ALBUM
Video single ,,DeadLight" opens the album. A sublime song full of techno keys and effects drizzling in the side-line. Lush atmospheric melodies with multiple layers of harmonized instrumentation, gigantic hooks and empowering guitars pull forward. Atop the nesting song it is Zoldan laying down a mesmerizing, somewhat poppy, chant that lures in the listener. ,,Wintry Heart" opens with piano before going full frontal with pumping keys and heavy slick riffs. It is benchmark, as are driven heavy tracks like the excellent ,,Nomadic" [with Zoldan hitting the soprano high notes perfectly], the rousing heavy ,,A Thousand Scars" with its ravishing riffs and angelic chants, and ,,Timeless Desolation" is absolutely enchanting with its great orchestration and heavy ponderous outline maintained recharging Sirenia's powerpacks constantly.
,,Dopamine" is benchmark symphonic metal at its very best. ,,Delerium" touches the same classic ingredients and introduces the male grunts balancing Zoldan's angelic soprano vocals. Recognizable in the front, yet interesting raining with more modern stabbing keys in the front. Exquisite is the electronic funked ,,The Setting Darkness" that fuses past and present into an appealing cocktail of melody and power. More progressive and severely dynamic is the immensely interesting ,,Fading to the Deepest Black", a song that will need a spin or 5.
Welling with bitter emotions is the slow moving ,,Oceans Away" with its blistering guitars powering up, intrinsic drum patterns, enchanting keys and vocals over a meandering warm melody.
SIRENIA – THE CONCLUSION
`1977' is perhaps Sirenia's best album to date. It sees a great interaction in vocals versus orchestration. Zoldan is in the front with Veland cherishing the vocal perfection at his disposal, creating intense melancholic moments leaning on the intrinsic interaction between band and vocalist. This wide palate of experimental flavors finds a well gelling interaction musically and the addition of the modern electronics injects a different mood and atmosphere that goes extremely well with the bands classic sound. It is dense and still comes across vulnerable, it is powerful yet subtle, it is enchanting as much as mesmerizing.
This is one for the books!
Release date: 26 May 2023