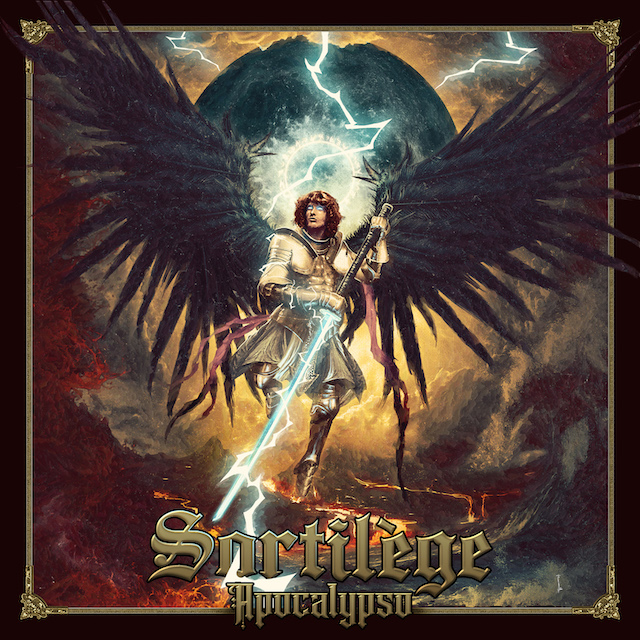 Review | Sortilège – Apocalypso 
Verycords
Sortilège, the most well-known French metal band started way back in 1981 and thirty years later they made their come back with their original shouter Christian Augustin. 'Apocalypso' is their new album featuring ten brand new tracks and a new line up (Christian Augustin (vocals), Bruno Ramos (lead guitar), Olivier Spitzer (guitar), Sebastien Bonnet (bass guitar), Clement Rouxel (drums), and also featuring a couple of special guests such as Myrath, Kevin Codfert (Adagio) and Stephane Buriez from Loudblast. 
OLD SCHOOL SORTILÈGE
The sound on 'Apocalypso' is a kind of "forced" blend between the music of the old Sortilège, classic heavy metal, and the new era music of the French rockers. ,,Poseidon" (with UDO-like vocals), ,,Valkyrie" and ,,Trahison" (Judas Priest-like) are typical examples of old school Sortilège heavy metal tracks, featuring the more than excellent vocals of Augustin, melodic almost catchy choruses and headbanging riffs in that recognisable French metal style! ,,La Parade Des Centaures" features grunts from Buriez and also some doomy down tuned guitars, while ,,Encore Un Jour" is the obvious obligatory ballad. ,,La Sacre Du Sorcier" kind of reminds me of good old Iron Maiden actually, while the title track almost sounds "progressive" due to the musical assistance of Kevin Codfert.  
FRENCH LYRICS
However, the real heaviness as we used to know from these Frenchies is sad but true gone, resulting in a rather mediocre metal album that will go under in the ocean of metal releases for sure. 'Apocalypso' lacks originality and the metal spark of the good old days of Sortilège, as the album really features a couple of fillers that are not of the musical standard that Sortilège used to compose and record. Furthermore, I still, and always had, difficulties with the French lyrics as I think – my personal opinion here – that the French language is not very suitable for heavy metal music. But, as always, judge the album by yourself! 
Listening tip: ,,Poseidon".
Release date: 3 March 2023