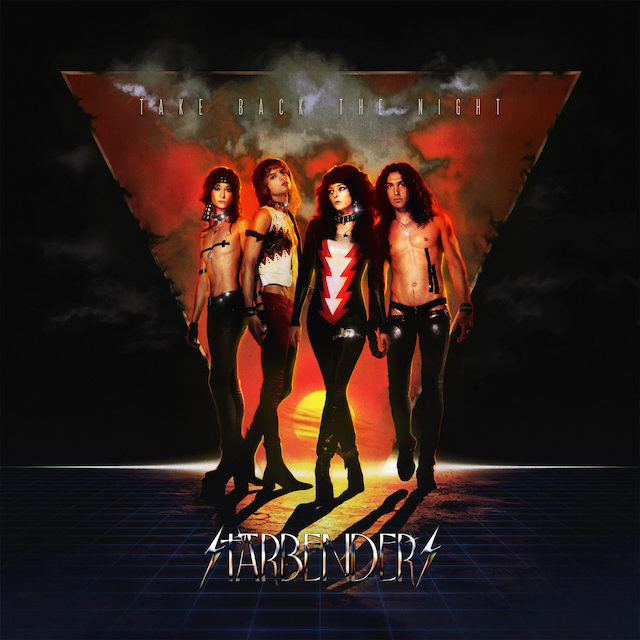 Review | Starbenders – Take Back The Night
Sumerian Records
As if The Sweet and Ramones had offspring, is the best way to address US rock-brigade Starbenders. Raunchy attitude, nipples taped, skin 'n crossdressing, provoking lyrics and music that is glam rocking and punk-laden with a psychedelic thrust, is what Starbenders have to offer. With a load of releases in their 8-year spanning rise to fame, Starbenders bring `Take Back the Night' to the fold, the follow-up to their acclaimed first full-length offering `Love Potions'. Bold of poppy rock tracks loaded with glam and punk elements, the band swings their bats.
GLAM AND STARSTRUCK
Instantly recognizable are singer Kimi Shelter's attractive vocals and melody lines. Her register unites punky rock attitude with Kim Wilde reminiscent 80s wave tone and classic rock powerhouse vocals drenched in Ziggy Stardust melancholia. Eye catcher is drummer Emily Moon, who can easily fit the line-up of Italian pop rock sensation Måneskin with her blistering sexy appeal. Stylistic she carries the torch of classic rock's Jason Bonham with powerful dynamic drumming. Loads of resonance that find accolades in Aaron Lecesne's ripping bass lines a droning chordal play.
All of this glam and starstruck musical extravaganza is topped off with fierce soloing and ditto licks and guitar melodies that are build atop memorable hooks and riffs. Kriss Tokaji unites the classic guitar hero escapades with modern playing and great feeling for tone and drama, adding a silver lining to the musical diversity of the band.
SLICK 'N NASTY
Nesting on the spot, the songs pack enough energy to carry across their potion of psychedelic glam rock. Opening strong with the wonderful ,,The Game", in which they display their wide scale influences and tone variety, Starbenders leave no room for debate. It is corkscrew memorable, piercing the gut on the spot. Radiant attitude and psychedelic vocal unload with drama and power; Slick 'n nasty. Going in punky ,,Sex" blows from the speakers. The song's throb and wailing subnotes adds raucous sensation. With Kiss around the corner ,,Body Talk" evokes Ratt hair metal strut and classic 70s rock into a modern cooking tune full of sticky melodies.
Parading dominantly, ,,Marianne" is an oddity bordering with Joan Jett's power and Cyndi Lauper's corky vocals. The raining keys in the chorus indices a light 80s vibe. ,,If You Need It" fuses the same memorable ingredients with a Fleetwood Mac vibe and lush structures full of wailing vocals. A powertrip through the eras finding Kimi belting out ferociously. ,,Midnight" has the some withering vocal works that slowly power up for a glam driven chorus, with danceable beat and parading guitar-strut. When rocking out with Ramones stride, the band channels more power around the droning bass chords and riffing guitars.
GOING PSYCHEDELIC
,,The End is Near" is simply astounding; the chorus is a ravishing modern outcry psychedelic emotion-laden nester unequaled in rock history. Kriss' solo is raw and blissful, with Moon's drums rolls and groove packing tremendous energy. Adding her vocals, she boasts Kimi's strut. ,,Blood Moon" is another example of their punky glam bliss, but has a sudden break from root when it start rolling in tremendous powerful drum dynamics and scorching guitars. Going psychedelic, Starbenders bring forward the lush ,,We're Not OK", with echoing guitars and bass reverbing. Kimi belts sexy, new wave seductive vocals, with gripping (in)sanity. Tokaji takes the spotlight on the opening of the equally meandering ,,Seven White Horses", with LSD trips radiating through, before powering up the engines in raw rock bliss.
Delving deeper into her heartfelt register, she sings ,,Cherry Wine" into orbit with poppy Stevie Nicks accolades. Frail and stretching her mid-range, she adds a linger that lands deep. It is twisted, aligning with the guitar-laden screech. Drums are powerful, claps included, it vibes psychedelic feelgood drama with a spin. Powerful and laden with psyche is their version of the Alice Cooper classic ,,Poison" receiving a glam metallic layer and intricate vocals. It needs spins for it to win you over.
STARBENDERS – THE CONCLUSION
The album is closed with the wave-ish ,,Say You Will", that displays progressive short drum breaks and stroking keys. The bass drones its low growl before bending stars in a pompous melodic frenzy full of raw guitars and flat-out great drum interaction underneath another easily nesting bridge and chorus.
`Take Back the Night' displays a band firing on all engines. It is modern, fresh as it is classic and punky. The attitude is tremendous and the songs sparkle a unique yet refined recognizable classic spark. Starbenders is balanced all over and the sheer talent towers. And yes: Kimi certainly is the poodle-haired glam sensation radiating power and stride, easily overthrowing any prejudice. Starbenders' `Take back the Night' is simply sensational!
Release date: 22 September 2023