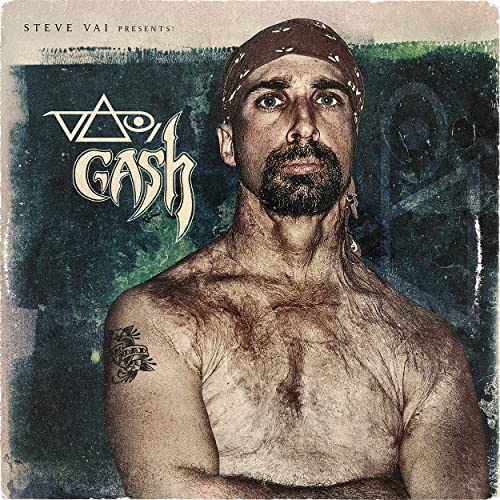 Review | Steve Vai – Vai/Gash
Favored Nations/MLG
Yes, this is a new release by star guitarist Steve Vai and actually it is not really. More than 30 years ago (around the period that he recorded 'Sex & Religion') Steve Vai recorded a bunch of songs that he had written for fun. Being a motorbike fanatic and regularly mixing with co-fanatic bikies he had struck up a friendship with Johnny 'Gash' Sombrotto who some years earlier survived an horrific accident which left him with third degree burns. He got literally 'patched' up but obviously was left with enormous scars and only one ear. But being a motor freak Gash climbed back on his bike and went on rides with Vai.
INVITATION
Vai handed Gash an invitation to come down to the studio to spent some time with him and one thing led to another. Gash started singing the songs Vai had written and the guitarist was stunned by what Gash brough to the table. A raw rock and roll voice fitting perfectly with the bunch of biker songs that needed singing. Although nothing was done at the time with the recordings Steve Vai always came back to those tracks, especially after he received a call some years later that Gash had died after a renewed motor bike accident.
STEVE VAI DID SOMETHING DIFFERENT
After sitting on the eight songs for some three decades Steve Vai finally found it time to release this material. The songs are quite raunchy, simple, to the point and would do well in a place like Sturgis where the bikies come once a year for a gathering called the Sturgis Motorcycle Rally. It is an event where fans of rock and roll, motor bikes and not scared of a stiff drink come together to party and have a good time. Pretty sure that this record will be played there this year. 'Vai/Gash' is an album that you might never hear again from Steve Vai, a man that on his own albums prefers to do instrumental stuff mainly.
This is something different, done spontaneously and certainly not aimed at getting into the charts or something like that. If you see it like that you can enjoy an opener like ,,In The Wind'', a song about the freedom you feel when riding a bike. A freedom for which Johnny 'Gash' Sombrotto paid the ultimate price at the end.
Release date: 27 January 2022