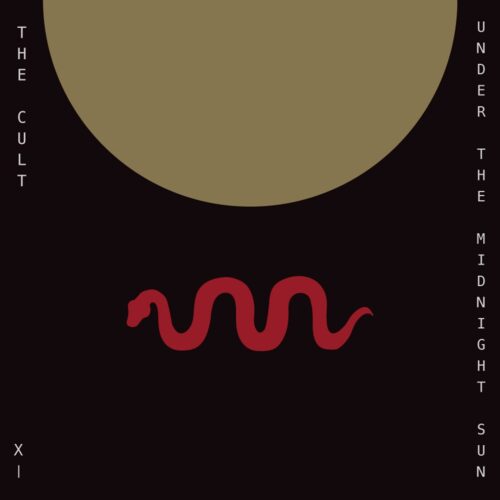 Review | The Cult – Under The Midnight Sun
Black Hill Records
After the 2016 album 'Hidden City' we saw tour activity of The Cult. The fact that they signed with Black Hill Records in 2020 was a sign of new things to come but it still took main men Ian Astbury (vocals) and Billy Duffy (guitar) a little over a year and a half to finalize the writing and recording.
CHANGE OF PRODUCER
With their eleventh studio-album Duffy and Astbury decided it was time for a change of producer. Instead of Bob Rock, who had worked on the previous five records with the band, this time Tom Dalgety (Ghost) worked with the group (drummer John Tempesta, Damon Fox on keys and guitars and bass player Grant Fitzpatrick) on the eight songs that finally made it to the record clocking a total playing time of just thirty-five minutes plus a few seconds. That is nowadays severely under par, as far as I am concerned.
A FULL CIRCLE FOR THE CULT
Apparently, The Cult worked in the Rockfield studio where they recorded in their very early days. And when you hear the whole album, the atmosphere, the songs, the sound and everything else involved, it seems that The Cult has gone full circle. This record has elements of albums like 'Love', 'Sonic Temple', 'Electric' and 'Ceremony', but that is something that is not bad at all.
The baritone voice of Astbury, the twanged guitar sound of Duffy (this dude has a unique sound), fragments of post-punk, gothic, psychedelic, rock and metal, it is all there in its full glory embedded in tracks such as ,,Mirror'', ,,Impermanence'' (very gothic) and the laid back title track that sounds very sombre, psychedelic and with plenty of atmospheric orchestration. One of the best tracks is ,,Knife Through Butterfly Heart'', with its six minutes the longest piece of the pack that has a beautiful soulful character and a riff that carries the bulk of the song. The solo by Duffy is absolutely outstanding!
THE LYRICS
As always Astbury's lyrics are full of mystique, idyllic, haunting, dark and partly dealing with religion. His voice has not lost any of its strength. He still sounds intriguing and brings atmosphere to the table. The Cult also has not lost any of its musical expression. With the voice of Astbury and the guitar of Duffy as main weapon The Cult has made it into 2022, armed with their own sound and musical ingredients. No idea of the band will be able to repeat the success of some of the above-mentioned records (that featured some hit singles) but for me this album is a winner. Unfortunately, way too short but filled with quality.
Release date: 7 October 2022