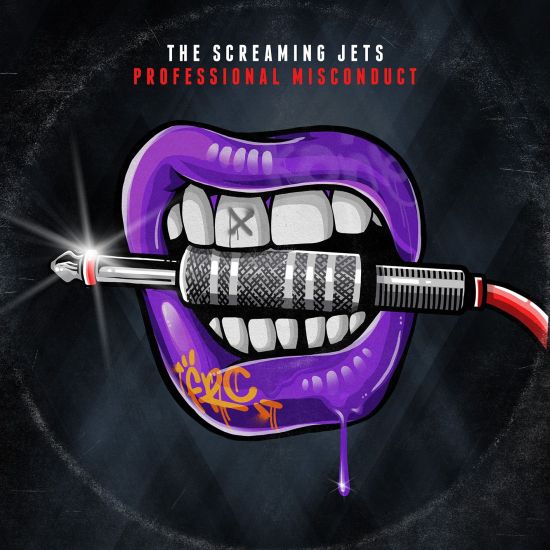 Review | The Screaming Jets – Professional Misconduct
Rocket
On the eve of the release of their tenth studio-album 'Professional Misconduct' Aussie rock band The Screaming Jets suffered a terrible loss as founding member/bass player and main song writer Paul Woseen passed away on September 15 at the age of 56. After careful consideration the band (singer and co-founding member Dave Gleeson, the guitarists Scott Kingman and Jim Hocking plus drummer Cam McGlinchey) decided to go ahead with the planned release date of October 6 and early November they will embark on an Australia-wide tour that will run until February of next year. All this to honour and remember Paul Woseen. A replacement bass player is yet to be announced as everything is still fresh but the band is confident that this is what Paul would have wanted. Carry on and rock hard!
NEW MUSIC
The ten songs on 'Professional Misconduct' (Woseen co-wrote nine of them) is new music from the band for quite a while now. Their 2018 album 'Gotcha Covered' was a 15 song cover album while in 2021 they re-recorded and re-released 'All For One', their first album that came out in 1991 and put the name The Screaming Jets firmly on the Australian but also international map.
They had moved from their homes in Newcastle in New South Wales to Sydney and a bit later they moved to the UK (remember the EP 'Living In England'?) where they supported Thunder on a big tour and also in the USA the band had some gigs. But their main market was and always has been at home in Australia where they had several songs climb the national charts and the track ,,Better'' (from the first album) became their absolute anthem. It is a song that you hear almost every day on Australian radio while also another older track called ,,Helping Hand'' gets regular airplay
RADIO SHOW
Talking about radio, singer Dave Gleeson, who also had a long spell with the Angels has a very popular radio show on Triple FM, a quite famous radio station in Australia that favours rock music. Last year he left the Angels to concentrate on his radio activities and to work on a new Screaming Jets album that now delivers us a bitter sweet taste with the passing of Paul Woseen.
NOTHING HAS CHANGED
I have always followed this band from the start. When 'All For One' was released in 1991 their label rooArt had big plans and brought the band over several times for interviews. I had the pleasure of meeting these guys in person and was impressed with their self-confidence and their music. Their first three, four albums were really something, had cheeky lyrics and the band was out on the prowl. We are now some three decades further and when I hear the ten songs on 'Professional Misconduct' I must conclude that nothing has changed.
The lyrics are still cheeky while the style of the band is still the same. It might be not as wild as it used to be in the early days but then this group has always had a keen eye for variation in the songs. It is still a cool mix of heavy rock, a ballad or two and, also there are some contemporary moments in their new repertoire. But then, why not? This band has nothing left to prove after some 35 years in the business. They have earned the right to follow their own lead!
RECOGNISABLE
The Screaming Jets have a specific sound, call it a recognisable aspect. The main reason for that is the voice of Dave Gleeson who is not blessed with a fancy technique but just as his hero Doc Neeson (the man he followed up in The Angels and Dave was a perfect stand-in) he has got the charisma and the abilities to bring it across, even at moments with just spoken word. He knows how to tackle and direct a song. And then there is the second voice of Paul Woseen who from day one beefed up and co-carried the singing department. Especially in the choruses he was a key element, as you can yet again hear on 'Professional Misconduct'.
It makes you wonder if the band after fulfilling their commitments will carry on as the influence of Woseen on all proceedings was enormous. But that is something we will find out in due time, I guess. For now, let us enjoy some genuine and honest Aussie rock brought to you by one of the best bands of Australia. If you cannot find the CD or vinyl in your local shop, it might be wise to visit the website screamingsjetsofficial.com.au, as an international release might not be on the cards.
Release date: 6 October 2023