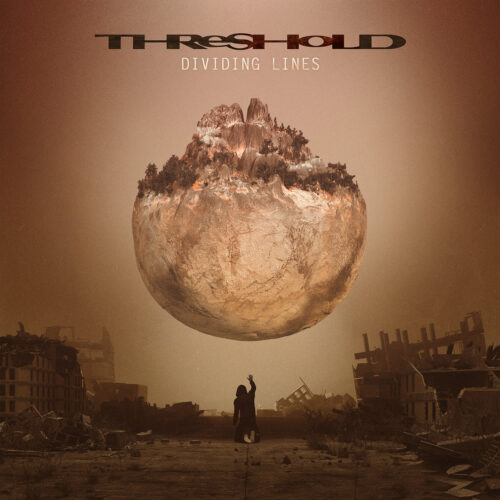 Review | Threshold – Dividing Lines
Nuclear Blast Records
With especially founder/guitarist Karl Groom and keyboardist Richard West as the main players giving Threshold stability and a certain style, it was about time for this UK progressive metal band to come up with a successor to their 2017 album 'Legends Of The Shires', the record where their former singer Glynn Morgan made his comeback after an absence of some twenty years. Morgan by the way released two albums with his own band Mindfeed in 1997 and 1998, both extremely strong. Our own HBLS-columnist Johanne James has been the Threshold drummer for several decades now and also bass player Steve Anderson has been a steady factor for many years.
STABILITY
But it is safe to say that Groom and West have given Threshold a certain stability and a sound that is quite profound and recognisable, no matter whether Glynn Morgan, Damian Wilson or Andrew McDermott (who passed away in 2011) have been standing behind the microphone. I always found the work that Threshold did with Morgan was my favourite Threshold period so to find that he came back in 2017 and played a crucial role on 'Legends Of The Shires' was an unexpected surprise. During the years the style of Threshold has not really changed that much.
With the heavy guitar work of Groom and the inventive keyboard sounds of West plus the pulsating style of the duo James/Anderson it was always a pleasure to hear this band. Their albums always were adventurous, moody, melodic and combined progressive song structures with metal influences, making Threshold most likely the heaviest band in the progressive rock genre.
TWISTS AND TURNS
Also, on their 12th studio-album 'Dividing Lines' Groom, West and Company come up trumps. The band itself reckons that 'Dividing Lines' is a slightly darker and moodier older brother of 'Legends Of The Shires'. It sounds a bit more aggressive to me and as always Threshold delivers an album that has the necessary twist and turns, longevity, complexity and value for money with a playing time of close to 65 minutes. As per tradition several songs are expanded with ,,The Domino Effect'' and ,,Defence Condition'' being the tracks with a playing time of ten minutes plus where all band qualities are fully displayed. Morgan sounds better than ever before on this album.
He has got all the necessary ingredients for this kind of music whether it is reach, melody, feeling or power. But is not all about the singer. Listen to the song ,,Complex'' where the rhythm section absolutely is setting the pace.
FINE PRINT
Mind blowing stuff indeed and as always, a Threshold album is a thing you need to give time and a lot of spins to discover the fine print of it all. You will most likely come to the conclusion that yet again this group has raised the bar for the genre and that 'Dividing Lines' is a superb piece of work. Threshold may have taken five years to come up with new work but is has been worth the wait.
Release date: 18 November 2022