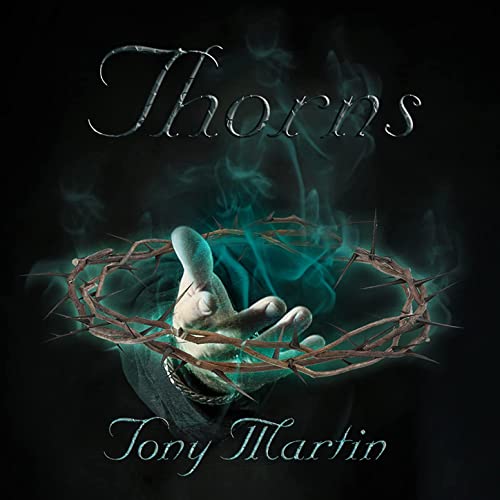 Review | Tony Martin – Thorns
Battlegod Productions/Code 7/Plastic Head
He has been around for more than 3 decades, but when you look at the discography of UK vocalist Tony Martin it is actually not that big. He has made only a few solo-albums and has been working with Dario Mollo, Forcefield, the Giuntini Project, Misha Calvin, Rondinelli, Silver Horses and (his most prestigious episode) Black Sabbath. During his Sabbath days he sang on albums like 'Eternal Idol', 'Tyr', 'Headless Cross', 'Cross Purposes' and 'Forbidden' and he was actually the perfect vocalist for that band.
Black Sabbath boss Tony Iommi has often been asked if he would work again with Tony Martin in the future and he left that open for debate, so who knows. In order to put bread on the table Tony has guested for many different groups and artists during the last 20 years or so and he has contributed to the new Star One album that is due later this year. And with 'Thorns' he welcomes his third album under his own name, recorded for the small Australian record label Battlegod Productions.
LONG OVERDUE
This new album by Tony Martin has been long overdue if you ask me. I mean, his last own album 'Scream' came out in 2005 so it was time for something new for the now 64 year old power singer. The main musical partner on 'Thorns' is guitarist Scott McClellan of Breed Of Aggression who sent a whole bunch of songs to Tony to pick and choose from. It is mainly because of him that 'Thorns' is quite a modern heavy metal album. The duo avoided the (maybe) obvious Sabbath style by writing and recording very diverse songs. Other helpers for Tony Martin are Venom drummer Danny Needham, who has done a remarkable job delivering at times a Bonham type of power, former Hammerfall bass player Magnus Rosen and former Alice Cooper bass player and veteran Greg Smith.
EMPHASIS
The emphasis of 'Thorns' is about genuine power and diversity. I can't say that the album has songs that completely jump out as being superbly outstanding but the overall quality is strong and fact also is that the singing of Tony Martin is absolutely up to scratch. You find that singers that get on in age (with the exception of Glenn Hughes that is) sometimes lose some of their reach, strength and power (with Don Dokken and David Coverdale as sad examples) but Tony Martin sings like a young God. ,,Run Like The Devil'' and ,,Passion Killer'' are two heavy metal pieces that really shake the foundations and are tracks that sound like modern metal with their feet firmly planted into 2022.
On the other hand there is ,,This Is Your Damnation'', a piece of diversity that 'Thorns' could have done without, as it is more a spoken word thing. But believe me when I say that this song is basically the only dissonant on an album that will bring the name of Tony Martin back in the picture. It has taken the man a long time to get it together but with this new calling card Tony Martin makes a firm statement. A very convincing record that combines classic (the voice) and modern metal (the music). Tony Iommi, what are you waiting for?
Release date: 14 January 2022