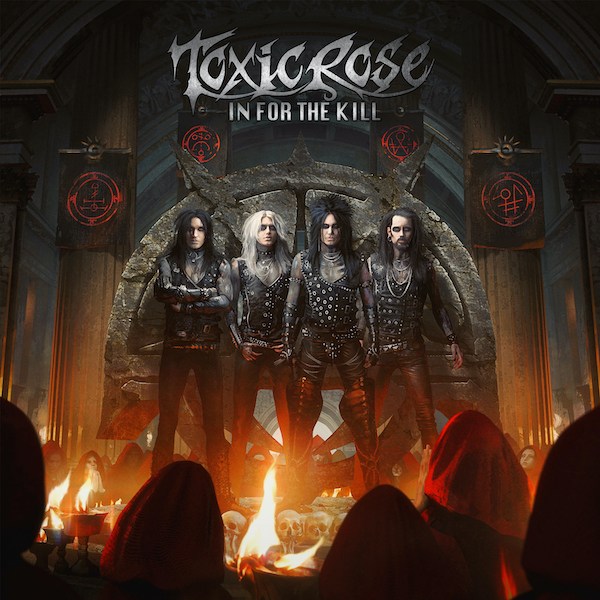 Review | ToxicRose-In For The Kill
Crusader Records
Swedish dark sleaze metallers ToxicRose are about to release their second full length album. `In For The Kill' is the successor to their 2016 debut `Total Tranquility'.
The band is following the same musical path on this album as on their first album. The change of personnel, now having bassist Johannes Sandberg in the line-up, has obviously not led to a big change in their music and style. Perhaps this album is a bit more melodic and therefore maybe a little more accessible.
SLEAZE AND THRASH
I think it is clever that the band tries to combine the classic sleaze rock of the 80s, with in some cases, hard-hitting riffs that wouldn't be out of place in the repertoire of any thrash orchestra, such as in the middle part of ,,Domination". Sleaze rock with a touch of thrash metal and a dash of symphonic metal is a formula that makes the compositions unpredictable and surprising.
It took me a few listens to get used to the voice of singer Andy Lipstixx, who did not immediately blew me away. I have to say that with each listen I felt his voice fits better in the musical landscape that is called ToxicRose. Production-wise, these gentlemen have done well, because the album sounds great. Not overproduced and with a nice raw edge.
Songs that are above average are for instance ,,Blood On Blood", that was released as a single last year. The grooving title track ,,In For The Kill" and the surprising ,,Domination", that starts with a Nu Metal vibe, transitions into a kind of power metal song and manages to surprise in the middle with a thrash guitar riff that is really great, and then pour a hint of symphonic metal over it.
MIX AND MATCH
To me the strongest point of the band is their ability to mix these music styles into something that eventually becomes very recognizable ToxicRose. The Stockholm based band has managed to deliver a good album, which will certainly charm the enthusiasts of the first album. With their minds set out to bring back the big shows again, ToxicRose promises a wild night filled with energy! I'm definitely curious how a live show of the band will be.
Let yourself be surprised by these guys. I can't predict if they will dominate the world with their music, but they are definitely a band that isn't 13 in a dozen. That alone should be reason enough to listen to this album.